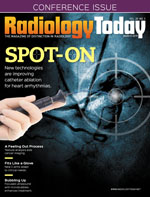 Fits Like a Glove
By Keith Loria
Radiology Today
Vol. 20 No. 3 P. 20
Technological advances increase C-arms' versatility.
New hardware features and advanced image processing are driving improvements in C-arm image quality and technological versatility. Those are attributes that surgeons and surgical technologists are looking for in the operating room (OR) these days.
"OR directors have been focusing on finding technology with the greatest clinical versatility to allow for more flexible surgical planning," says Dan Strauch, chief marketing officer at GE Healthcare Surgery.
Lisa Reid, director of surgery and urology segments at Siemens Healthineers North America, says the biggest trend right now in regard to surgery is the movement of many procedures into the outpatient setting, and this is driving the sales of mobile surgery units and mobile C-arms.
Kristin Jones, senior manager of strategic development, vascular business unit, for Canon Medical Systems USA, says a trend in C-arms that is gaining prominence is flexibility. Customers are interested in doing more with the systems, including different types of procedures—such as cardiology and radiology—in the same room. Another trend she's noticed is combined systems that can do angiography and CT, so customers can perform procedures such as stroke interventions in one room and not have to risk moving the patient.
"Our systems cover a wide variety of procedures, from basic angiography exams to more advanced neurology, cardiology, or oncology procedures," Jones says. "Our customers are interventional clinicians from a range of facilities from rural hospitals to major university medical centers."
Ronald Tabaksblat, business leader of image guided therapy systems for Philips Healthcare, says the company has seen an increasing demand for solutions in the area of image-guided therapy as patient numbers continue to rise. Health care providers are looking for solutions that address pain points around imaging flexibility, limited radial access, and inefficient use of space in the interventional suite and the operating room.
"Our latest offerings in this space include our extension to the Philips Azurion portfolio, Azurion with FlexArm, and our new mobile C-arm platform Philips Zenition, which we launched in January and February this year, respectively," Tabaksblat says. "FlexArm enables physicians to work fully around the patient, resulting in improved workflow, enhanced patient and staff experience, and significant time and cost savings."
Also, the Zenition mobile C-arm platform leverages innovations in image capture and processing, ease of use, and versatility that were pioneered on the Azurion platform and applies them across a range of surgical specialties, including orthopedic, trauma, and vascular procedures.
"The Zenition C-arm is easy to move between operating rooms and simple to position around the patient, making it optimal for use in modern hybrid setups like office-based labs and ambulatory surgery centers," Tabaksblat says.
Martin Ringholz, director of global marketing for Ziehm Imaging GmbH, says the company has seen complementary metal oxide semiconductor (CMOS) detector technology becoming state of the art within the mobile C-arm industry, with more and more CMOS flat panel systems being launched onto the market.
"It is definitely a technology that will stay around and get further developed at the moment," Ringholz says. "Another hot topic still is the rising awareness for the patients' care, which calls for further dose saving technologies. The challenge hereby is the offering of minimal dose levels while maintaining extraordinary image quality."
An additional trend he sees is the emphasis on providing seamless usability for all clinical personnel, in order to boost efficiency and make the lives of the operating staff as easy as possible.
Increased Flexibility
Siemens Healthineers introduced two new products at RSNA 2018 that were approved by the FDA at the end of October. One is the Cios Spin, a mobile 3D C-arm that delivers precise 3D images for intraoperative quality assurance.
"With a lot of the trends in surgery moving to utilizing navigation, mobile C-arm is absolutely required, especially for spine surgery, but it can also be used for facial surgery and different types of orthopedics," Reid says. "It's very versatile and enables surgeons to perform intraoperative corrections based on 3D images and confirm their results. This C-arm will do standard 2D type imaging as well, for vascular as well as other types of procedures."
With Siemens' Retina 3D scan technology, 16 cm X 16 cm X 16 cm volume, flat panel detector system, metal artifact reduction, and isocentric technology, the Cios Spin can visualize structures such as implants, screws, and devices with a low dose of radiation. The Cios Select is a lower-end flat panel detector that's geared more towards basic surgery for pain management–type clinics. Siemens Healthineers also introduced an upgraded version of Cios Alpha with CMOS detectors.
"If you're doing a lot of cardiac, small vessel–type imaging, you achieve better resolution with CMOS detectors," Reid says.
Last year, GE Healthcare completely refreshed its OEC family of mobile C-arms. At RSNA 2018, the company introduced real-time live zoom technology to surgical suites with OEC Elite CFD's new Live Zoom feature. Live Zoom enables clinicians to zoom up to four times on a live image and take additional fluoro shots or cine runs with no change in X-ray technique.
"[T]he split block design of the X-ray housing on the OEC Elite system … enables a larger field of view and greater maneuverability around the patient and the table in the OR," Strauch says.
Other new features include Digital Pen and General HD profile—which softens bone and dense tissue on an X-ray while sharpening the catheter and guidewire outlines, so clinicians can more easily see catheters while performing procedures.
"The OEC Elite with an Ergo C-arm has multiple pivot joints that move easily, so clinicians can position in a broad range of angles, including rainbow positioning, without having to physically move the C-arm base itself," Strauch says. "The OEC One also makes positioning around the patient easier with its radial dials, long handles, and low lateral heights."
Lower Dose
Ringholz notes that Ziehm Imaging is striving to optimize C-arms in terms of technology, as well as hardware and software.
"In 2019, we are launching our Ziehm Vision FD C-arm with a 31 cm X 31 cm flat panel, which offers a bigger field of view that mostly finds use in large-scale orthopedic procedures such as hip replacements," Ringholz says.
The company is further developing its Ziehm SmartDose concept, which enables physicians to apply less radiation exposure while optimizing image quality.
"While most of our products are providing solutions for high-performance orthopedic imaging, we also enable cardiovascular imaging by offering our latest Ziehm Vision RFD Hybrid Edition CMOSline," Ringholz says. "Next to the more traditional customer group of hospitals of all sizes, we are reacting to the growing trend towards office-based lab settings, which lie in minimally invasive procedures only, so they require different OR setups than a hospital's OR."
At RSNA 2018, Canon Medical Systems USA launched the Alphenix platform. These systems are designed for flexibility and feature multiple configurations.
"With the launch of the Alphenix platform, we also launched our new 4D CT configuration that includes the Alphenix Sky+ with the Aquilion ONE GENESIS CT system," Jones says. "The new pairing, called the Alphenix 4D CT, allows clinicians to plan, treat, and verify in a single clinical setting. We just installed the first Alphenix 4D CT in the US at West Virginia University."
The company's Sky+ systems feature a double sliding C-arm and a 12 X 16 flat panel that has a 270-degree C-arm rotation with a full-body 3D imaging capability. Additionally, the newly launched Alphenix Biplane and Core + configurations include a new Hi-Def detector, which offers the highest resolution images in the market, according to Jones. The platform includes Canon's DoseRite technology.
"DoseRite encompasses many dose-saving technologies, including our Dose Tracking System, which estimates dose delivered to the skin in real time and displays it on a color-coded map during procedures, so physicians can continuously monitor and Spot Fluoroscopy, which can result in lower dose by superimposing the Last Image Hold over live fluoro, eliminating the need to open up collimation," she says.
Table Talk
Canon also offers a number of table options. Jones says the latest is the Hybrid Catheterization Tilt/Cradle Table.
Ringholz says the latest STILLE ImagiQ2 low-dose enabler, designed for image-guided endovascular procedures, teams up with the Ziehm Vision RFD Hybrid Edition CMOSline.
"The imagiQ2 surgical imaging table is optimized for advanced mobile hybrid OR procedures as well as more conventional office-based endovascular repair," Ringholz says. "The … carbon fiber table top provides at least 60% more translucency than the average imaging table top on the market, with a transparency of 0.4 mm Al equivalency. This enables the C-arm to reduce dose without compromising image quality."
Strauch says GE Healthcare offers tables for a variety of surgical settings, from orthopedic to vascular to urology.
"We continually work with table manufacturers, as well as OR lighting manufacturers, to provide a cohesive experience for our customers," he says.
Looking Ahead
Tabaksblat notes that the range and complexity of diseases that can be treated with minimally invasive procedures continues to expand. As a result, the procedures are also becoming more complex, requiring physicians from different disciplines to work seamlessly together as a team, in the same room with a unified workflow.
"While the key customer groups for our [image-guided therapy] business have traditionally been interventional cardiologists, interventional radiologists, vascular surgeons, and orthopedic surgeons, we are currently seeing a significant strengthening of our customer base in the area of surgery, such as spine, neurology, and lung, as the field continues to grow," Tabaksblat says.
In 2019, GE Healthcare will be broadening its offerings and technology to new care areas.
"We will continue to assess and invest in technologies that will advance surgical imaging and improve overall workflow in the OR," Strauch says. "Artificial intelligence is a major talking point in health care today. In the future, we could see this influencing imaging automation, navigation, and user experience."
With an emphasis on dose savings continuing to increase year after year, Ringholz expects it to grow even further within the next few years. He also sees price pressure in the low-end and mid-range C-arm market segment continuing to rise.
"Furthermore, we strongly believe that the CMOS detector technology is going to be further developed because of its higher value and benefits compared to image intensifiers," Ringholz says. "As for the development of customer structures, we will probably see the number of [office-based lab] settings increasing in the next few years in North America and Europe and, in the more distant future, also in the rest of the world."
Jones believes that, in the future, the industry will see additional automation and more intuitive design when it comes to C-arms.
"I think it will always be a 'hands-on' modality, but there is room for increased simplification and more advanced processed and imaging tools," she says. "I am also looking forward to seeing more about AI and how it can be applied to interventional imaging."
— Keith Loria is a freelance writer based in Oakton, Virginia.