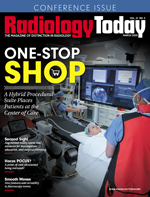 Smooth Moves
By Keith Loria
Radiology Today
Vol. 21 No. 3 P. 20
New features add versatility to fluoroscopy rooms.
The first decade of the millennium saw significant advancement in DR and MRI but not as much investment by manufacturers into the fluoroscopy space. That has changed in the past couple of years, as original equipment manufacturers are now installing features that make workflow easier for radiologists and help improve images as well.
One of the big trends is more convenient positioning of the equipment so that it moves around the patient and physician. Another is touchscreens that can be used in the fluoroscopy suite, so physicians don't need to leave the room to check prior images. Some of the new features that they like the most, compared with other systems within their department, are the significant increase in image detail and reduced noise.
Multipurpose Rooms
According to Stefan Mintert, senior portfolio manager for DXR at Philips, due to the relatively stable number of fluoroscopy procedures, hospitals are trying to maximize their investment by improving the utilization of these examination rooms and increasing throughput across the entire radiology department.
"As a result, fluoroscopy rooms must be capable of performing additional procedures, such as radiography imaging—chest, abdomen, extremities, and others—and angiography studies," he says. "Diagnostics with high image quality at minimum dose levels that can be flexibly adapted to the patient's need are seen as a standard now."
That means digital flat-panel utility is a must-have technology for state-of-the-art image quality, low dose, and cost.
"With cutting-edge digital radiography capabilities, these systems can convert a traditional fluoroscopy room into a high throughput, two-in-one solution, offering faster, higher-quality images that enable a more confident diagnosis," Mintert says. "In fluoroscopy, we have developed a family of solutions that are designed to perform both radiography and fluoroscopy studies."
CombiDiagnost R90 is a remote-controlled unit and ProxiDiagnost N90 is a nearby operated system. Both utilize Dynamic UNIQUE, which harmonizes contrast to enhance faint details, and its noise reduction feature further enhances image quality, particularly in low-dose images.
"Both systems also share Philips' Eleva user interface, which is easy to learn and more intuitive for staff use," Mintert says. "The SkyPlate wireless detectors found in both systems can also be used in other radiography systems from Philips, such as mobile units or radiography rooms."
Koen Billet, global manager of DR marketing for Agfa, says, overall, the industry is moving from dedicated fluoroscopy or DR rooms into single, multifunctional rooms to replace aging fluoroscopy rooms. The goals are to improve utilization rates and make better use of existing floor space.
"Stitching studies, such as scoliosis and long leg imaging, integrated into multipurpose rooms improve the workflow of these exams significantly and make it much easier on the patients and technologists," he says. "We encourage live collaboration between multifunctional teams or clinical specialists during the procedures directly from the room/acquisition workstation."
Francois Hensen, senior product manager for fluoroscopy for GE Healthcare, says there has been a widespread shift to flat-panel imaging. Clinical case mixes are trending away from traditional gastrointestinal studies and toward research focused on areas such as modified barium swallows for speech studies, image-guided solutions for line placement and pain injections, musculoskeletal arthrograms, and minimal intervention.
"Also, we are seeing an increase in the use of radiology/fluoroscopy rooms for radiology," Hensen says. "This makes system flexibility all the more important—both in terms of the exams the system performs and the patient populations it can serve. Access, capacity, and mixed use are key."
GE has recently added the Discovery RF180 to its portfolio, and it can accommodate immobile patients, pediatrics, and bariatrics. The system has a high capacity elevating table that holds up to 705 lbs, maximum access from all sides of the patient, and full automation.
"Also, the system easily adapts to radiology, fluoroscopy, advanced fluoroscopy, and intervention, affording increased access to other advanced techniques such as automated stitching," Hensen says.
Adjustable Tables
Laurie Falk, clinical product manager for the X-ray business at Siemens Healthineers North America, says the biggest thing happening in fluoroscopy is height-adjustable tables for tableside fluoroscopy systems, which increase comfort for technologists and radiologists.
"In 2011, Siemens came out with the Luminous Agile Max, the first height-adjustable table with a flat-panel detector and, within the last year or two, we're seeing other vendors start to invest in this feature," she says. "In fluoroscopy, the height-adjustable table is beneficial to patients, technologists, and physicians because it's easier to transfer patients to the table; they feel more secure, plus the radiologists can perform the exams at any height. So, if you have a super-tall doctor, they don't need to be scrunched over the table, which reduces stress injuries."
The 43 cm X 43 cm flat-panel detector also reduces patients' radiation dose because the radiologist needs fewer images to see the area of interest. Siemens' most recent system is the Multitom Rax Twin Robotic X-ray system, which includes noise reduction algorithms that improve the image quality.
Ryan Whitney, manager of X-ray solutions marketing for Canon Medical Systems USA, says the industry is focused on maximizing the utilization of the systems and creating the multipurpose room.
"Traditionally, it's a room that gets busy, then it's slow, and it's not very well utilized," he says. "Vendors are starting to understand the benefits of creating this multipurpose system that can be used throughout the day."
One of Canon's newest products is the Ultimax-i, a flat-panel system that is a multipurpose room. It utilizes C-arm technology, allowing for different positions and procedures, and enables traditional radiology work.
Whitney says the features are designed to provide an ease of action to patients, something many radiologists look for. Additionally, automation with one-button pushes is on the rise, helping with ease of use.
Hansen says radiologists are most excited about new features that increase access, flexibility, and image quality as well as optimize dose. For example, the open access afforded by GE's Discovery RF180 enables radiologists to easily load a stretcher patient and adjust the table's working height to increase full rear and left-sided access for a line placement. Additional system design elements help to increase flexibility, enabling users to seamlessly switch from one exam type to another.
Rise of the Touchscreens
Most experts agree that touchscreens are the next phase of digitization in this space and help meet the demand for seamless workflow. With touchscreens, radiology staff can schedule patients and procedures, set parameters, and confirm postprocessing of images—helping staff work faster and more efficiently. The technology enables radiologists to interact with the screens while wearing rubber gloves.
"By adding touchscreens and preserving the ability to connect a mouse and keyboard, these solutions become easier to use for all staff, which is important for overall job satisfaction," Mintert says. "With pressure on imaging departments mounting amid rising patient volumes and a global shortage of qualified staff, it is critical that health systems consider technology as a part of their strategy to improve satisfaction among radiology staff."
Falk notes touchscreens are popular in the exam room because a radiologist or technologist needs to make changes quickly, and it's easy to use a touchscreen monitor to manipulate parameters as the exam is in progress. The same is true of touchscreens in the control room.
"Everyone is so used to smartphones and tablets, so that's what most people do instead of using a mouse anymore," Falk says. "It really comes down to ages. Some older people don't want to use a touchscreen, while the younger set don't want to ever use a keyboard again."
Billet notes Agfa's software has been designed around touchscreen applications for many years and has been popular among technologists with CR and DR systems for some time.
"Since radiologists use these rooms now, as well, they also see the ease of use inside and outside the fluoroscopy room vs using a mouse or keyboard to control the user interface," Billet says.
Turner Imaging Systems has recently released the Smart-C, the world's first wireless, battery-powered fluoroscopy system. The Smart-C also makes use of touchscreen technology.
"The carbon fiber mini C-arm weighs 16 lbs with the lithium polymer battery installed and can be folded and packed into a luggage-sized case," says Mike Orthner, product manager for Turner Imaging Systems. "It sends fluoroscopic sequences wirelessly to a touchscreen tablet for review by the physician."
Streamlining the Process
Mintert notes that, in addition to features such as touchscreen technology, clinicians are interested in technology that streamlines the amount of time it takes them to accomplish a task, ultimately giving them more time to interact with patients.
"Fluoroscopy involves live viewing, so relevant diagnostic information in the images must be visible straightaway at the correct level of brightness and contrast," Mintert says. "Additionally, because the human eye is very sensitive to temporal variations, the contrast and brightness impression must be stable over time."
Mintert says Dynamic UNIQUE automatically determines the signal level in the anatomical region and maps it to an appropriate brightness level so staff can experience live viewing with immediate brightness stabilization. "Diagnostic information for each frame is displayed with clarity, at the correct brightness, and with very low latency, meaning images are consistent and stable, even when the image content varies rapidly," Mintert says. "Radiologists who are using our new generation of DR/fluoroscopy systems have also expressed excitement around the FluoroGrab feature, which enables them to use stored fluoroscopy frames to document findings, instead of doing an extra exposure that would add time to the procedure and additional dose to the patient."
According to a recent study that was conducted by Philips among radiology staff, technology factors—equipment quality and capability, mastery of the technology, and ease of use of imaging equipment—were the second highest (36%) barrier that prevented them from getting the image right the first time.
"Imaging staff are on the frontlines of patient care, and it is essential to arm them with the right tools to enable a workflow that gives them more time with patients across all modalities," Mintert says. "With fully digital fluoroscopy and radiography combination systems, radiology departments can save rooms, work faster, and still produce excellent images."
Focusing innovation efforts on the needs of imaging staff has great potential to improve workflow and throughput, enhance patient satisfaction, and decrease staff stress and burnout.
Looking Ahead
"Anything that will help the radiologist in performing and reading the exams will be where the trends are going in the future," Falk says.
While AI is already starting to leave its mark in CT and MRI, it is poised to make its presence felt in fluoroscopy as well.
Billet believes AI will help utilize fluoroscopy systems in more safe—correct dose settings, body part recognition—and efficient ways, even before images are taken. He says AI will also assist post exposure, quality assessment, and repeat/reject improvements. Other new trends will include more cybersecurity features and virtual workspaces to help technologists.
Mintert notes that more accurate and specific diagnoses, including identifying patients who may be at higher risk of certain conditions, will allow health care professionals to more effectively and cost-efficiently provide treatment.
"This larger trend will continue to shape the accuracy that is critical to effective fluoroscopy equipment," Mintert says. "While I expect much of the industry will continue to address the challenges that hospitals face with underutilized rooms, innovation will increasingly shift to address the high diagnostic demands and patient and staff satisfaction needs that are appearing due to current burnout levels."
Another less discussed trend is related to imaging mobility and portability. Turner Imaging Systems expects that to change immensely over the coming years, as computer efficiency, wireless technology, and battery technologies evolve.
"As products become more interconnected and automated, the ability to perform remote, over-the-air detection and diagnosis is always interesting," Orthner says. "Thinking about how an image could be taken in a remote location or on a sports field then uploaded to the cloud for near real-time review and analysis is fascinating."
— Keith Loria is a freelance writer based in Oakton, Virginia. He is a frequent contributor to Radiology Today.