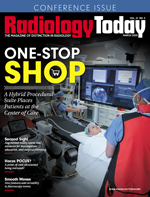 One-Stop Shop
By Kathy Hardy
Radiology Today
Vol. 21 No. 3 P. 8
Hybrid procedural suite places patients at the center of care.
Patient-centric care is taking center stage in the ongoing discussion about how to provide quality health care. Nowhere is that more evident than at the Mayo Clinic in Rochester, Minnesota, where a team led by interventional radiologists has worked with other specialists to bring together a variety of imaging tools in a unified space to serve complementary roles in complex, minimally invasive cancer treatments.
Called the Hybrid Procedural Suite, this three-room arrangement brings together CT, ultrasound, fluoroscopy, and MRI, with modalities on C-arms and wheels brought gurney side. The suite's creators, who began work on the space in 2015, believe this approach to health care brings a new option to cancer patients and dovetails with the goals of improved outcomes and patient experiences.
"The Hybrid Procedural Suite enables us to bring minimally invasive treatment to patients with cancers that cannot be treated with other methods," says Anil Nicholas Kurup, MD, an interventional radiologist and head of the IR oncology ablation practice at Mayo in Rochester. "Tumor ablation is an option for patients who have failed chemotherapy or radiotherapy or are not surgical candidates."
The suite enables the patient to "remain static" in the room. "The suite changes the mindset regarding workflow," Kurup says. "We're not sliding the patient around to different areas for each aspect of the ablation procedure. The equipment is moved to the patient, who is located at the center of the room. It's literally patient-centric care."
The Hybrid Procedural Suite, located within the Mayo Clinic Hospital Saint Marys Campus, advances the practice of tumor ablation, the needle-based treatment that destroys cancerous tumors or otherwise abnormal tissue. Radiofrequency ablation uses radiofrequency energy to destroy a targeted area and, in medical practice, is used for a variety of treatments such as treating heart tissue that could be causing an irregular heartbeat or cancerous masses in the kidney. Imaging guidance assists in locating the tumor and in placing the needle that will deliver the treatment element. During follow-up, imaging allows doctors to see whether margins were captured and helps in tracking treatment progress.
What's unique about the suite is its hybrid aspect, especially as it pertains to bringing fluoroscopy into the CT suite as well as allowing for those tools to be combined with MRI. Kurup explains that each room has ultrasound tools, while other rooms contain various combinations of CT and fluoroscopy. MRI resides in an adjacent room. In addition, imaging technology within the suite not only can run in a symphonic harmony but also can be operated independently with unrelated procedures occurring simultaneously. The result is a complete solution-based approach.
Ablation — Before and After
Kurup credits department chair Matthew Callstrom, MD, PhD, with pioneering creation of the suite. In a press release issued by Mayo Clinic, Callstrom says the "driving force" behind the suite is "to improve outcomes for patients." He adds that combining the various imaging modalities in one location will allow for more objective measurement of the success of ablation procedures and provide opportunities for the approach to be standardized and improved.
"Right now, I'd say the world operates along the lines of using tools that are not designed specifically for use in ablation," Callstrom says in the release. "You find workarounds and try to do the best you can with the tools that you have. We need a standard approach to treatment and to drive toward very predictable outcomes."
As Kurup explains, tumor ablation would normally be performed by an interventional radiologist in an angiographic catheterization suite, ultrasound suite, or CT suite. Ultrasound would be used to assist with needle placement. From there, CT—contrast or noncontrast—would be pulled in for the treatment phase of the procedure. There could also be a need for an area within the room to enable viewing of previous scans for comparison purposes.
"All processes would normally be done individually, as has been the case for decades," he says. "For example, the standard of care for kidney or liver ablation tumors is for the procedure to be done in the CT suite and maybe we would bring ultrasound into the room."
Kurup believes workarounds that occur in the traditional ablation process are made based on which modalities are feasible for use in the course of the procedure. While a level of flexibility and innovation in processes are characteristic of IR, he says, it can lead to compromises.
"We have to make decisions on the fly as to what would make the process work best," he says. "For example, a particular modality may not be the best imaging technology to use to target needle placement or to confirm that the therapy was completed successfully. It's what we have at the time to use in the space. However, with the suite in place, we can use the best modality for the right phase of treatment."
In one example, Kurup describes a situation involving a patient with a spinal tumor undergoing ablation and the circumstances in which having all tools necessary in one suite would have been beneficial. With this spinal tumor, the soft tissue component was easily visible during the procedure, but the area of treatment within the dense bone was not as visible. Kurup says that while the ablation was underway, monitoring equipment suggested they were getting close to the spinal cord. At that point, the process was halted to ensure patient safety.
"We had to rethink how to treat the patient, and MRI would be the best way to handle that situation," he says. "However, we couldn't use all our tools in the MRI suite. We had to move the patient to all the different modalities we needed, which creates a greater level of complexity to a process that is already complex. With all modalities located in the suite, we could maximize the effectiveness of our interventional radiology tools and reach a better outcome for the patient."
Still Evolving
When considering how best to gather modalities into the suite, MRI is unique to the ablation realm, says David Woodrum, MD, PhD, an interventional radiologist at Mayo Clinic. He is a proponent of using MRI for ablation, finding that real-time MRI can assist in ablation procedures, allowing tissue and lesion visualization and defining anatomy, without radiation exposure.
"We need to couple the modalities together to bring out the best qualities of each, and then use that combination to bring new treatments for patients where there aren't treatments now," Woodrum says.
Woodrum believes the suite specifically improves options for patients in need of spine and pelvic interventions, as well as prostate and liver cancer therapies.
"I think the benefit of this new suite for patients is two-fold. Number one: creating procedures that were not possible before," he says. "Some of the prostate cancer recurrences we're treating have had surgery, have had radiation, but just don't have any other options. So, image-guided ablation gives them another treatment option. This is also true for some of the vascular malformations that we're treating in MRI. Many of these patients have exhausted standard surgical or medical therapies and are really left without much hope. So, if we can offer another treatment possibility due to more detailed imaging, then this gives our patients hope where there was none.
"Number two: we need to deliver the most precise treatments we can possibly deliver," Woodrum continues. "And by using each imaging platform in its most advantageous way, we can deliver the best results to the patient."
A key factor to the success of the Hybrid Procedural Suite is its multidisciplinary approach to patient care. Woodrum notes that the effort requires continuing communication and collaboration, starting with the creation of the suite and including each procedure performed in the space. Everyone—including radiologists, anesthesiologists, surgeons, urologists, oncologists, physicists, nurses, and technologists—brings unique perspectives regarding patient care. It helps to establish a partnership among practitioners, patients, and families to align decisions with what's best for the patient.
"The multidisciplinary approach, with input from all stakeholders involved, is much like that of a tumor board," Kurup says.
In creating the Hybrid Procedural Suite, Mayo Clinic worked with Philips to tailor equipment needs. Woodrum says suite developers and Philips sought to develop a transfer system for interventional radiologists to move a patient from CT into the MRI suite. The two rooms are adjacent and separated by a door, reducing traditional barriers to using the appropriate imaging modality at the optimal phase of treatment.
"They were particularly helpful in integrating MRI into the suite," Woodrum says.
Kurup, who has been working in the suite for more than a year, says this arrangement helps clinicians develop a standard endpoint for treatment.
"With the evolution of the suite, we're establishing what is a normal workflow, a standardized process, and the practices that will lead us to a good end result for our patients," Kurup says.
Woodrum says Mayo is establishing standards for bringing tools into the suite and publishing protocols. They're also establishing standards once a process becomes routine. That said, there will also be room for modification and flexibility within the suite.
"We're always finding a new subgroup that could benefit from the minimally invasive procedures performed in the suite," he says. "Standardization of the routine is good, but we need to continue to evolve with new applications and make revisions as necessary."
Forward Motion
Having the suite also helps in development of new methods of treatment. Kurup mentions the difficulties in treating bone tumors that don't line up in the axial plane. It's difficult to know, he says, where to place the needle for ablation purposes; having CT and fluoroscopy together is helpful. With those combined modalities, interventional radiologists can place the devices off axis in the spine or pelvis, due to the fact that those anatomical structures are not aligned in the axial plane.
"Having all tools together in the suite has helped us learn a method for treating bone tumors like this," Kurup says.
In addition, Kurup says that within the suite they have combined tumor ablation with other therapies, such as embolization to prevent blood flow to a specific area of the body, in an effort to shrink a tumor or block an aneurysm. They have also found tools in the suite helpful for procedures to inject cement into bones, to provide strength to areas, including the spine, that have been damaged or weakened due to a tumor or osteoporosis.
Those involved in the creation and operation of the Hybrid Procedural Suite agree that its inception was a team effort, designed to improve patient outcomes.
"This Hybrid Procedural Suite has been an important part of our conception of how we take our practice to the next level," Kurup says. "The suite serves as a platform to really elevate the care of patients with complex cancers. We have taken off the harness and removed any limitations we previously had regarding how best to both visualize the target of our procedure and apply the tools and the techniques we typically use outside of procedures."
Woodrum adds that as interventional radiologists continue to use the suite, they are finding more ways to utilize the imaging tools in proximity.
"We continue to create seamless processes with this approach," he says. "Medicine is always marching forward, and we see this suite as a part of that progress."
— Kathy Hardy is a freelance writer based in Phoenixville, Pennsylvania. She is a frequent contributor to Radiology Today.