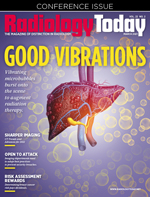 Sharper Imaging: CT Trends and Advances for 2021
By Keith Loria
Radiology Today
Vol. 22 No. 2 P. 14
Since CT's inception in the 1970s, radiologists and medical providers alike have witnessed the technology's great benefits, including reducing the length of hospitalizations, improving cancer diagnosis and treatment, and determining when surgeries are needed. In 2021, the technology is being leveraged as part of the standard of care process for another important use case—diagnosing COVID-19.
"As hospitals saw—and continue to see—an influx of COVID-19 patients, many are looking for ways to rapidly expand their radiology imaging capabilities," says Rick Banner, senior director of marketing, modality solutions for Fujifilm Medical Systems USA. "Studies show that CT systems are helping to boost imaging capabilities at COVID-19 surge hospitals, as well as predict the severity of COVID-19 disease and patient outcomes."
That's why Fujifilm believes CT will continue to be considered a critical modality that can help providers manage the virus. "Additionally, in 2021, I believe we will start seeing advanced AI-based algorithms coupled with CT to increase efficiency and consistency in chest X-ray interpretation of COVID-19 patients," Banner says.
Sonia Sahney, chief marketing officer for molecular imaging and CT at GE Healthcare, notes that, in many ways, the pandemic has proven that data, AI, and connectivity are central to helping those on the front lines deliver intelligently efficient care. For that reason, the company is providing new tools to help hospital staff keep up with demand, without compromising diagnostic precision, and these advancements should have a lasting impact on the industry long after the pandemic ends.
For example, GE offers CT in a Box, an all-in-one portable CT solution available to pop-up scan centers and hospitals, which enables fast CT deployment using safe distancing measures and helping to minimize contact with potential COVID-19 cases. With more than 100 installed throughout the world, this solution is helping to provide accelerated access to CT imaging in situations requiring increased CT scans.
GE also has the Revolution Maxima with Auto Positioning, enabled with AI-based auto positioning technology. It utilizes real-time depth sensing technology in order to generate a 3D model of a patient's body to pinpoint the center of the scan range and automatically align it to the isocenter of the bore.
"Altogether, it is designed to simplify, streamline, and automate the entire CT experience for one-click, hands-free patient positioning," Sahney says.
Improved Scanning
Matthew Dedman, director of product marketing and operations at Siemens Healthineers North America, says the company believes strongly in the clinical value of mobile CT—especially for head injuries. Siemens Healthineers' SOMATOM On.site portable CT, a mobile head CT scanner, was cleared by the FDA in August and enables critically ill patients to receive CT head imaging in the ICU while remaining in bed. It utilizes the same technology and algorithms as the company's traditional fixed CTs.
Dedman notes that performing a CT head examination at a patient's bedside can eliminate costly transports to the radiology department, which involve high staffing requirements and potential patient risk. "It's overall a very time-consuming and inherently risky workflow for that ICU patient so this lets us take the imaging to the patient," he says. "I think we're going to see a growth of this service in 2021."
Beyond that, Dedman also believes AI technology and the large umbrella it encompasses will continue to be a big trend for CT in the year ahead. "It's certainly something we at Siemens Healthineers are heavily invested in," he says.
One example is the company's emphasis on helping to ensure CT technologists are using the proper scan protocols and scanner technologies for the clinical path. myExam Companion, which was introduced at RSNA 2019, helps make CT scan procedures easier and less complex, no matter the user, patient, or procedure.
"It provides guidance to the technologist as they're setting up the scan, where we can input the age and gender of the patient and apply very simple, clinically oriented questions, such as 'Can the patient hold their breath? Is this a screening exam? Does the patient have metal implants?'" Dedman says. "From those answers, in the background, the scanner is navigating a decision tree to arrive at the proper scan protocol with the proper scanner technologies applied."
Cutting Through the Noise
Dhruv Mehta, senior manager of solutions marketing for CT at Canon Medical Systems, says it's no surprise that AI is front and center across all imaging modalities. AI in CT has been the biggest topic for three years running.
"One of the challenges is that it's unclear where AI will provide the killer application, what it will change in imaging that couldn't already be done," he says. "The reason it gets increasingly more complex is everyone is calling everything artificial intelligence, and there's uncertainty as to what is truly AI and what is simply being marketed as AI." Canon's solution is the Advanced Intelligent Clear-IQ Engine, or AiCE, a deep convolutional neural network that enables the scanner to suppress noise and enhance signal to produce high-quality images at lower doses.
"CT has been focused around radiation dose management over the last five to 10 years and, to that end, we've been able to bring it down significantly, but now we want to focus on the benefit portion," Mehta says. "I'm talking, how do you extract more out of the CT acquisition than you could previously achieve?"

In December, the company had a significant breakthrough with the introduction of its Aquilion Prism edition. Mehta notes that this is the first time the industry has seen one-beat spectral cardiac CT, which was made possible by the integration of AI in its CT technologies. This can add primary clinical value, in the virtual monoenergetic imaging of plaque in the coronary arteries or the visualization and quantification of iodine uptake in the myocardium.
Fujifilm recently completed development of the latest version of its Persona CT system software, which includes additional clinical features. The system's 85-cm bore brings a more comfortable exam for patients of all sizes with an extra-wide tabletop of 49 cm along with 660-pound capacity, for the largest of patients, while also simplifying the accuracy of the patient's radiation treatment planning by uniquely matching the arc of the linear accelerator.
"We also just released FCT PixelShine, a deep learning, knowledge-based application that improves the image quality through denoising of low-dose CT images on any scanner," Banner says. "The new release of PixelShine is designed to find the best possible noise balance for the clinician."
Additionally, Fujifilm has FDA 510(k) pending updates to the company's metal artifact reduction technology, which, depending on the body region and type of metal, can be utilized to adjust the algorithm and make the image as precise as possible. "We believe these latest technologies will not only help clinicians with the battle against COVID-19 but will also be crucial for oncology treatment planning," Banner says.
Advancing CT
Today's current generation of CT machines helps reduce radiation dose and also improves image quality and speed. "If you look back two decades ago, a CT exam could take 30 minutes or more. Now a CT exam can collect images and information in less than one to two seconds," Banner says. "Faster exams and better image quality can be credited to the machine obtaining a higher slice system."
Vendors now offer everywhere between 64-, 80-, 128-, 256-, and even 640-slice models. Today's models also offer new detector technology that helps reduce electronic noise and enable sharper images. Many health systems are looking for advanced CT systems that can do more for a variety of use cases, which results in taking up less space in their facility and, ultimately, more manageable costs.
At Fujifilm, the research and development team is constantly engaging with customers and, based on their feedback, innovating to support their wants and needs, Banner says. "We are in continuous development as we expand the platform that was created from the ground up to handle more patient types, with the latest technology, at the lowest cost, at the right time," Banner says. "We work in close partnership with our customers to develop enhancements and look forward to sharing new releases in the coming years."
Siemens Healthineers knows when it's time to solve something new and where to focus development by turning to its install base to identify inherently challenging workflows and getting feedback from its customers, Dedman says. "In some cases, we have direct customer involvement in the process itself," he says. "We want to ensure that the solutions we are bringing to market address real challenges."
Future Considerations
Sahney says an important new trend is photon counting CT (PCCT) technology, which has the potential to define a new standard of performance for premium CT systems for many years to come. "PCCT has the promise to further expand the clinical capabilities of traditional CT, including the visualization of minute details of organ structures, improved tissue characterization, more accurate material density measurement or quantification, and lower radiation dose," she says. "We believe this technology, which is currently still under development, will be a hot topic in 2021 and beyond."
Recently, GE Healthcare announced its acquisition of Prismatic Sensors AB, a Swedish start-up specializing in photon counting detectors, strengthening the company's continued investment in PCCT technology. "With this acquisition, we are confident we found the detector material needed to accommodate the high count-rate demands of CT imaging and make PCCT a reality, Sahney says. "We believe this technology has the potential to significantly increase clinical performance for oncology, cardiology, neurology, and many other clinical CT applications."
COVID-19 and the events of 2020 will have an effect on health care for decades to come. Last year highlighted the need for simple and fast workflows to allow clinicians and staff more time to care for patients, but it also highlighted the importance of listening to and rapidly responding to customer needs.
"As we head into 2021, we will continue to work with those on the front lines to develop and provide the tools needed to care for patients around the world," Sahney says.
Banner believes that CT systems will continue to be upgraded and inherit technologies that provide unparalleled precision and accuracy for fast decision making and a streamlined workflow.
— Keith Loria is a freelance writer based in Oakton, Virginia. He is a frequent contributor to Radiology Today.