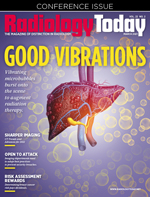 Ultrasound News: Reimagining the Sonography Lab
By Keith Loria
Radiology Today
Vol. 22 No. 2 P. 26
One of the top-ranked programs at Kettering College in Kettering, Ohio, is sonography. Kettering's students have access to a lab that mimics a real-life hospital setting, with seven learning stations set up around the room, each featuring a patient bed, ultrasound machine, and a flat-panel, medical-grade HD display. Unfortunately, the technology in the sonography lab was overly complicated and often faulty, causing students and faculty members to become increasingly frustrated with using certain stations, ultimately depreciating the intent of the real-life learning experience. That became the genesis of a reimagined lab that would simplify and improve the experience for all involved. According to Susan Price, PhD, a professor and the director of the medical sonography program at Kettering College, when outlining the wants and needs for the sonography lab project, leaders of the department agreed that they needed to implement a technology advancement that would be interactive for both instructors and students.
"Previously, we were limited to teaching using slides on a faulty projector that would often heat up and result in bulbs burning out midlecture, which was extremely daunting and frustrating for all of us," Price says. "And, despite having individual learning stations for each of our students, when we would teach them a clinical activity, it required all 24 students to crowd around one section of the lab to watch what we were doing."
But thanks to the new setup, there's now a teaching station located in the middle of the room, which includes a basic PC display and an 86 Promethean 4K interactive display located at the very front of the room. This setup allows teachers to cast the lesson being hosted from a PC out to the individual learning stations or to the interactive display, eliminating any need for the class to crowd around a single station's display.
System Setup
Putting the solution in motion started after one too many help desk service calls to the IT department; the department heads set up a meeting with Mark Crumbacher, owner of Custom Connections.
"We explained the goals we had in mind to Mark and his team, and they were able to answer all our questions. If they didn't know the answer off the top of their head, they'd look it up immediately and report back to us," Price says.
Crumbacher says his team started by conducting a full review of the audio-video system in the sonography lab, discovering that it had a complex composite video matrix system. "The technology being used required software engineers to be on call for programming updates, which often took weeks to schedule, while accumulating an overwhelming and ongoing expense for the department," he says. "The overarching goal was to simplify the system, reduce expensive service calls, and improve the user experience for the IT team, professors, and students."
After reviewing the system, Crumbacher immediately called Brandon White, director of new product development at Vanco International. Crumbacher had used Vanco products for multiple jobs and found they rarely required service or replacement. He explained the complications of the system and vision for what it could be, and White recommended they install Vanco's HDBT8X7 Matrix Selector with an IP on-screen graphical user interface. Paired with eight of Vanco's Evolution EVEXHDB1 extenders, every ultrasound machine could be viewed on any of the learning station displays throughout the classroom or on the front-room interactive display with a simple command and no need for complicated programming.
"In this project, we took everything from analog to digital," Crumbacher says. "We took [video graphics array] and composite video out and put in HDMI baluns, scalers, monitors, and cables by Vanco. Though it is only performing on 1080p now, the entire backbone of the new system is capable of and prepared to handle 4K."
Using an IP-based solution for the user interface allowed the Kettering IT team to access the system directly from their offices, instead of having to travel across campus to the lab every time a professor or student had a question about the system and its functionality. To simplify further, Crumbacher was able to retitle each display and source so that when the professors or students opened the user interface, they would know exactly how to navigate it.
"The projectors we previously used would overheat the room, and the bulbs would often burn out," Price says. "When that would happen, one of us would have to stand on a table to replace the bulb, and it was very inconvenient when it would happen during class time."
The new setup streamlined one of the most critical elements taught in sonography, how to calculate cardiac measurements.
"By using the interactive display, the instructor is able to write out the cardiac measurements on the board for their students, while they count the beats," Price says. "By doing this live for all the students to see from their workspaces, they are able to better understand how to calculate heartbeat measurements, something that will be crucial throughout their careers."
A New Look
With the installation complete, sonography students and faculty at Kettering College are pleased with the results. Beth Maxwell, an assistant professor of cardiovascular sonography for Kettering College, notes that the new lab setup has created a new opportunity in her teaching approach.
"It allows us to easily toggle between a presentation on the screen over to what a student is scanning, without the entire class needing to leave their seats to gather around a single machine," Maxwell says. "This has alleviated a lot of commotion and wasted time, and we are now able to focus that time on more efficient teaching without any interruption. It has really smoothed out our entire teaching process."
Price adds that faculty and students alike benefit from the system. "The resolution is now such that we can see ultrasound images, CT scans, and X-rays in excellent detail," she says. "During the pandemic, students have requested that our faculty record our lectures in our lab using our new AV system, and it has worked out extremely well. We record the lectures, download the videos to YouTube, and then send the link to the students. It is important for them to feel like they're still here in the classroom, amongst their peers, during this time of significant change in higher education."
Since the pandemic started, professors haven't been able to meet in the traditional classroom setting, but, because of this technology, the staff members are able to still go into the lab and present, just as they normally would, with the students tuning in from their homes.
"All we had to do was set up a camera in front of us to record, and everything else worked just as it would if we were in a live classroom setting," Price says. "I was concerned about students' grades dropping when we went virtual, but they haven't been affected at all. And I think that's because, with this new technology, nothing has really changed in terms of how we present the information."
Once the pandemic is over and the education landscape returns to normal, Price says the department plans to increase student involvement using the lab's new technology features.
"So far, it has been primarily used for teaching purposes, but we'd love for our students to be able to use the display to share their own presentations with the rest of the class," she says.
— Keith Loria is a freelance writer based in Oakton, Virginia. He is a frequent contributor to Radiology Today.