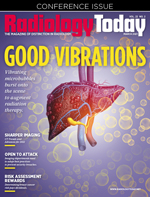 Imaging Informatics: A New Foundation for Enterprise Imaging
By Larry Sitka and Mark Dobbs
Radiology Today
Vol. 22 No. 2 P. 28
The US health care system today resembles our infrastructure system—made up of roadways and bridges that we are trying to modernize but bogged down by aging systems that could put us all at risk. Many health care providers often use PACS, vendor-neutral archives, a wide range of imaging modalities, and EHR applications that lack the modern capabilities required for the complexity and pace of care delivery today.
On top of these problems, the global pandemic has both laid bare these weaknesses and spurred health care organizations to accelerate the rollout of modernization initiatives such as telehealth. Those that had proper planning and decision making in place, as well as partners that can help them pivot, were better suited to survive operational and financial challenges, not to mention immense public health pressures. Their success will position them to thrive, once the COVID-19 chapter comes to a close. It also will signal a massive shift away from dated health care technology, with health care leaders coming together to take action on digital transformation.
The future of health care will be built on interoperability, thanks to efforts by the Office of the National Coordinator (ONC) for Health Information Technology to foster a true health ecosystem, the FDA for its De Novo process for accelerated investigation and approval of AI/machine learning applications, and the Centers for Medicare & Medicaid Services for enabling reimbursement for AI solutions, such as Viz.ai and others. Soon, AI will be within reach for all providers. Already, 64% of leaders are using or planning to adopt AI for diagnostic medical imaging, according to a recent report from KLAS and the Center for Connected Medicine. Medical imaging will drastically change for the better, for both clinicians and patients, with anytime, anywhere remote access to images and reports. Organizations will also get a handle on explosive data growth, infrastructure, and imaging costs that will accelerate as interoperability increases.
At this critical juncture, hospitals and providers must lay the foundation for enterprise imaging, consolidating imaging data and related content from multiple clinical departments within one platform. An enterprise imaging strategy also creates a single point of access to imaging and report data from the EHR, uniting patient care, tools, and workloads so resources and teams can optimize workflows intelligently. Key capabilities to look for are support for powerful algorithm-driven tools, effortless management of data that are growing both in depth and width, and data security.
Real-Time Data
The research and advisory company Gartner has observed that the health care industry is moving toward real-time care. COVID has accelerated this trend. Traditional PACS models will no longer suffice. To enable real-time health care, organizations and, ultimately, clinicians need the power of data perception, rather than data persistence. We need to extract data and put them in context for health care decision makers. But this is a radical departure from traditional PACS architectures, where imaging data are ingested, analyzed, saved to disk, and then archived. To enable ONC's 2025 vision, organizations must be able to dynamically access accurate data in real time.
That is how AI will become a powerful enabler for the future of health care, especially in radiology. AI is the new "user" that health technologies will serve. Organizations have an opportunity to create environments that put business intelligence, bots, and AI front and center, empowering radiologists and techs in their daily responsibilities, as they are forced to do more with less.
An enterprise imaging approach will accommodate the ability for AI algorithms to run constantly at scale, and feed other algorithms that demand greater access and computational resource requirements. The purpose is to support efficient workflows and inform better clinical decision making. This approach can even support the analysis of older data, providing deeper and more accurate analyses of historical information.
While imaging data in a traditional PACS environment are largely at rest, real-time health care data are much more active, requiring more highly capable technology components, such as flash storage, to consistently meet the increased level of performance. However, if organizations simply expand or add on to their existing legacy technologies, the costs to meet the demand for real-time information and AI will increase rapidly. The old practice of spindling slower spinning disks to get to the PACS minimum performance requirement came with the loss of usable storage and was complex to manage, increasing real costs. Since the data must be kept "hot" on multiple drives, storage solutions must serve real-time data to information-hungry users, both human and machine.
Keeping Pace
Health systems are looking to support more exams and more images per exam, with predictions of 3% to 5% growth year over year, or, globally, as many as 2 trillion images per year. This exponentially increases storage requirements because data are not only growing in depth but also in width. With more sophisticated imaging technologies, we can scan 20,000 to 30,000 slices for a single study. Data-heavy images from digital pathology, high-magnification dermatology, surgical and orthopedic videos, 3D tomosynthesis, and functional MRI can reach 1 GB to 10 GB each.
Without question, organizations need a sustainable infrastructure—and they needed it yesterday. Although radiology and IT leaders are aware of their data challenges, data growth, storage, and computational needs remain hard to predict. Very few, if any, organizations estimate correctly, underscoring the need for storage that scales without disruption and only incurs costs for what is needed. Organizations often look to the cloud to address this challenge, which may help in some areas but can prove to be costlier and hinder the ability to provide real-time care. Regardless of whether they use hybrid, on-premises, or public cloud, radiologists need the ability to retrieve large-format data and view, sift through, and analyze data the moment the exam is complete—all with low latency.
With the value of medical information continually increasing and data growth exploding, protection from bad actors, eg, previous employees, or ransomware attacks must also be addressed. Organizations should seek vendors that support the latest data and protection standards and build in layers of security by design, such as backup and rapid restore capabilities. We also recommend that health care systems and facilities ask more of their solutions partners: What new capabilities do they offer that were not previously expected, whether that be support for AI, performance and scalability, or resiliency? This is health care organizations' best insurance policy to ensure that radiologists, and the clinicians with whom they collaborate, always have access to the data they need, as fast as possible.
Act Now
An enterprise imaging approach will streamline and enable better patient care—reducing time to first image from five seconds or more to just one or two seconds—so radiologists can dictate and read more efficiently, instead of waiting for the screen to draw. Administrators can even run an intelligent worklist that reveals productivity gains, with some organizations experiencing productivity increases of 18% or 19% across hundreds of radiologists. Enterprise imaging also has an impact on technologists, who can access accurate data before an exam begins, then have it sent and received quickly by the system for a physician to read it.
More than ever, IT infrastructure can influence clinical outcomes. A modern data experience should be simple, providing a consistent clinician and patient experience by delivering the image to the right person at the right time. It should also be future-proof, eliminating complete IT overhauls and the cost of replacing technology as well as powering imaging in the age of intelligence and analytics.
As demanded by the speed of AI and this disruptive pandemic, clinicians cannot afford delays or data issues. Medical imaging data are alive. Archives no longer serve simply as cold records; they have matured into active repositories and propel patient care. Any delay affects critical clinical and administrative workflows that support patient care, especially as physicians deal with greater responsibilities and challenges. IT infrastructure must run without end users having to think about it. Users simply need a consistent, streamlined platform that does its job without any disruptions, delays, or downtime.
Enterprise imaging should enable increased throughput and decreased turnaround time that busy radiologists need. It should be reliable, consistently delivering needed performance no matter the workload conditions or a user's location. Moreover, it should be seamless, consolidating applications and removing application data silos that have become too common. The obstacle for organizations, then, is institutional inertia that changes nothing and maintains traditional, decades-old PACS-based solutions. The time to act is now, at this critical turning point for health care, for the benefit of both physicians and patients.
Organizations need a solid enterprise imaging foundation that supports innovation, simplicity, and improved performance, instead of costly solutions that deliver the status quo. That foundation must enable health care systems, rural hospitals, and imaging centers to store and access their data quickly and easily and add more "ologies" without sacrificing performance. It should help, not hinder, the use of cloud platforms, through use of inherent technology and solutions that will serve data in real time. The result will be efficiencies in operations, clinical decision making, interoperability, and patient care—with reduced burdens on clinical staff.
— Larry Sitka is the vice president and CSIO of enterprise applications for Vital Images.
— Mark Dobbs is the head of global health care alliances and enterprise imaging for Pure Storage.