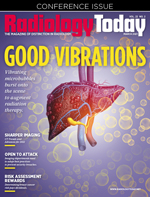 Editor's Note: Hope Springs Eternal
By Dave Yeager
Radiology Today
Vol. 22 No. 2 P. 5
We've made it through the first couple months of winter, and spring is just ahead. With vaccines continuing apace, we can hope that the worst of this pandemic is behind us and begin to think—just a little—about life after COVID. Many things have changed, but some haven't, and we've got a bit of both in this issue. On the newer end, advances in radiation therapy show great promise, advances in CT offer improved efficiency, and people are getting serious about cybersecurity. As for the old, medicine is far behind other industries in cybersecurity, and the medical community is still not identifying early-stage breast cancer as often as it could.
This month's cover feature by Beth W. Orenstein provides an update on recent advances in liver cancer treatment. Researchers have been experimenting with ultrasound contrast agents, and the microbubbles associated with them, to enhance the efficacy of radiation therapy in this notoriously difficult-to-treat organ. A recent study finds that causing the microbubbles to vibrate and burst significantly increases radiation therapy's ability to attack liver tumors, a welcome development.
Also, Keith Loria has a review of the latest trends in CT. Vendors have been reducing radiation dose for years, but new advances, such as AI, have helped them lower it further, while improving image quality. And, of course, CT has been a key tool for identifying COVID-19 in patients' lungs. New features, such as increased portability and greater automation, have made CT more useful for COVID imaging.
Cybersecurity is another trend that bears watching. Several high-profile security breaches have left health care providers flat-footed over the past few years, and medical imaging is not immune to the dangers of hacking. In some respects, it's even more vulnerable than other areas of health care. Beginning on page 18, Orenstein details the warning signs and offers some expert-recommended best practices to batten down the cyberhatches of your imaging department.
Speaking of reducing risk, breast screening holds great potential but also some peril. Potential because newer technologies such as computer-aided detection and AI can help identify women who are at risk of breast cancer much earlier than previously possible. Peril because not enough women are having their risk assessed. Aine Cryts reports on what front-line breast screeners are saying about the importance of risk assessment.
Finally, it is with sadness that Radiology Today says goodbye to longtime contributor Dan Harvey. Over the past two decades, Dan wrote numerous articles for this magazine, and we are all better informed by his work. Dan passed away on January 12. He was 66.
Stay safe.