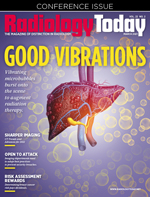 Women's Imaging: Advocating for Patients
By Fazila Seker, PhD
Radiology Today
Vol. 22 No. 2 P. 8
When Taj Kattapuram, MD, moved her radiology practice from Massachusetts to Colorado, she wasn't expecting to get political. But, within a year, she was working with the state legislature to launch a new law addressing an issue that patient groups were passionate about. This is a scenario more radiologists are encountering as they continue to engage with patients and advocate for better, more patient-centered care. And, in the past few years, breast density has been one of the issues dominating the conversation around patient-centered care in breast cancer.

When Kattapuram moved to her new home state, she was surprised to discover that radiologists were not required to record and report patient breast density information in their mammography results letter. She quickly learned that the omission was of great concern to some patients.
"The legislation came up very shortly after I started my practice in Colorado, thanks to patient advocacy groups like densebreasts.org," Kattapuram says. "I'm always going to be on the side of patients and, when my patients expressed concern about this issue, it became my issue, too."
Dense breasts have an abundance of supportive tissue which, on a mammogram, appears white and is difficult to see through. This makes it more likely that a radiologist will miss a cancerous mass in a denser breast than in a breast with more fatty tissue. In addition, women with dense breasts are more likely to get breast cancer, although researchers are not certain why. In the United States, about one-half of women who are 40 years old or older have dense breasts—meaning that the condition is relatively common across the population.
Despite these risks, and up until a few years ago, few states had any requirement to disclose such findings to the patient. Nor did many states have a uniform method for reporting breast density findings in, for example, a patient's mammography results letter.
Clarifying Requirements
At issue was the 1998 federal Mammography Quality Standards Act—a well-intentioned law that required radiologists to send letters to patients about their mammograms but failed to specify what findings needed to be included in the letters. Many radiologists simply report positive or negative findings, without specifying breast density and the additional risk that it represents. Kattapuram and other radiologists in Colorado found that unacceptable.
"The letter could be very simple and information-free, or it could be vague and pretty dense," Kattapuram says. "Either way, a lack of standardization wasn't helpful for patients and didn't provide them with any information that would be helpful for them in their decision making."
Kattapuram believes that giving patients uniform and clear information on breast density allows them to make better-informed decisions. Awareness about breast density could, for example, lead at-risk women to request more frequent mammograms and, as a result, improve early detection of cancer. Early detection provides women with more treatment options, such as a lumpectomy rather than a mastectomy.

With uniform breast density reporting, patients have the potential for better outcomes and a greater ability to choose a more humane patient experience. Giving more women more information about their mammography results has another, longer term effect on the system: It improves patient education, which, ultimately, leads to long-term change.
"Mammography continues to be the gold standard of detection," Kattapuram says. "The next step would be the ultimate goal—access for all women to mammography. By putting this information in the hands of more women, we can move forward significantly in the fight for universal access."

On October 1, 2017, Senate Bill 17-142 of the Colorado General Assembly went into effect across the state. With it, Colorado joined 29 other states with similar laws on the books. Today, 38 states and the District of Columbia have clarified the federal act and also require radiologists to include patients' breast density in their mammography results letter.
Still, there is no national standard for breast density reporting. And that's a gap that Kattapuram would like to see addressed.
"The bottom line is that a uniform system of reporting nationally would lead to better patient education, better detection of breast cancer, and better outcomes for patients," she says.
— Fazila Seker, PhD, is the president and CEO of MOLLI Surgical. She has more than 20 years of experience in business venture development, commercial leadership, and market strategy in the medical device, energy, and specialty materials industries. She has also co-led a breast cancer research initiative that was recognized as one of Canada's top 10 crowdfunding campaigns by the Globe and Mail.