April 2010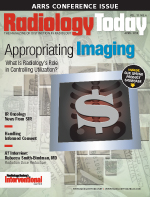 Appropriating Imaging — What Is Radiology's Role
in Controlling Utilization

By Beth W. Orenstein
Radiology Today
Vol. 11 No. 4 P. 12

Consider this: A physician orders a diagnostic imaging exam that you, as the radiologist, know is not appropriate because it won't answer the diagnostic question or provide any insight to the patient's condition. Do you do the exam because you have an order and can bill for it, or do you say no and discuss it with the physician who ordered it?
Some leaders in radiology, including RSNA past-president Gary J. Becker, MD, believe that if radiologists don't speak up and perform only appropriate imaging studies, they may eventually find themselves irrelevant.
As the government and insurance companies look for ways to reduce healthcare costs, radiology is an obvious target, Becker told attendees at the opening of the 2009 RSNA meeting in November. In a recent follow-up interview with Radiology Today, he discussed several reasons imaging wears such a mark. One is that "although high-technology areas of medicine have been on an exponentially increasing expenditure curve that is unsustainable for the past decade, the rate of increase for high-tech imaging is greater than for all other fields."
Another reason radiology is targeted is the sixfold increase in medical radiation to the population over the last 25 years, the bulk of which is attributable to CT and nuclear medicine studies, says Becker, a professor in vascular and interventional radiology at the University of Arizona College of Medicine. Included in this increase in radiation exposure "is a wealth of evidence to show a significant component of overuse," he says. He notes that several imaging studies are on the list of medical procedures targeted by the National Priorities Partnership (NPP) because of overuse. The NPP was convened by the National Quality Forum (NQF) to address current healthcare challenges. The mission of the NQF, formed in 1999, is to improve the quality of American healthcare by setting national priorities and goals for performance improvement, endorsing national consensus standards for measuring and publicly reporting on performance, and promoting the attainment of national goals through education and outreach programs.
"Overuse comes in many forms, ranging from self-referral by nonradiologists to inappropriate utilization to duplicate studies due to poor communication in our fragmented healthcare systems and studies done simply because of perceived medicolegal risk," Becker says.

Wearing a Target
The single best thing radiologists can do about imaging being an ongoing healthcare reform target, according to Becker, is to play an active role in ensuring that the imaging they do is appropriate. "This involves following the American College of Radiology's appropriateness criteria and, when possible, implementing the criteria at point of care through computerized physician order entry [CPOE] systems with decision support. In this way, we assure the public that only the safest, high-quality care is being delivered."
Fellow RSNA panelist Stephen J. Swensen, MD, MMM, FACR, of the Mayo Clinic in Rochester, Minn., also said in a recent interview that radiologists have traditionally performed diagnostic imaging exams ordered by other physicians without questioning their appropriateness. Under their code of ethics, he says, surgeons would never perform surgery on a patient without examining the patient and determining for themselves whether the recommended surgery was appropriate. Not so for radiologists, Swensen says. "If it's ordered by another physician, we will do our best to get that exam done," he says. "We don't question whether an ultrasound or an MRI or a CT or perhaps no exam at all might be better. … We do what we're asked." It's not surprising, Swensen says, that most estimates show about 30% of exams do not meet standard appropriateness criteria.
Swensen says part of the problem is the financial conflict of interest that radiologists face. "At Mayo Clinic," he says, "we are all salaried. The department doesn't make more money if we do more scans. But the whole world has a financial incentive to do more exams because you make more money that way. That can sometimes blur judgments."
Another problem is the threat of malpractice lawsuits. "Some of it is driven by patient expectation or fear of liability for misdiagnosis," he says.
Like Becker, Swensen believes the solution is to base imaging decisions on the latest scientific evidence—ideally, it's all done electronically. "In the electronic world, there are algorithms where the physician enters the patient's condition and indications for the exam and the computer says an x-ray, CT, MR, ultrasound, or nuclear medicine study is the right thing to do, or it's the wrong exam for this patient and the patient should have another exam—or even no exam would be better," he says. "This would be the best long-term solution to dealing with this issue."

CPOE Barriers
However, not every facility has or can afford CPOE. "The technology is relatively new and can be costly," Swensen says. Still, "that doesn't mean we should tolerate not doing the right exam." He notes that radiologists are responsible for calling the ordering physicians and saying, "No, that's not the right exam. I'm not going to do it."
"It does involve building relationships with the ordering physicians, but it can be done," Swensen says. If radiologists don't have access to CPOE, he says they should at least be looking at the clinical prediction rules. "What the ACR has done—offering clinical appropriateness criteria—is wonderful," Swensen says. "There are entrepreneurs who have translated the ACR criteria or others like them into useful tools to help the family doctor or the emergency room physician order the right exam but, unfortunately, they are not widely used."
Becker says CPOE systems that are already in place are proving their worth. The system in use at Massachusetts General Hospital (MGH) in Boston provides the ordering/requesting physician with up-to-date information at the point of care on the appropriateness of the requested procedure. The information is based on the ACR's appropriateness criteria as it applies to the specific patient, he says. "This interactive component provides the physician an opportunity to change or maintain the original order based upon the information—decision support—that has been provided. In the aggregate, the [CPOE] at MGH has managed to decrease volume of and expenditure on high-tech imaging procedures." What's even more powerful, Becker says, "is that the back-end database that provides individual practitioner-level data has documented improvement in ordering behavior due to the CPOE system." Similar results have been obtained through the work of the Institute for Clinical Systems Improvements in Bloomington, Minn., Becker notes.
Clinical prediction rules developed by emergency department physicians, neurosurgeons, and neuroradiologists have proven useful in predicting the need for CT scanning in patients with head injuries, Swensen says. "It has been shown that when followed, they end up decreasing head CTs by 30% to 40%," he says. "These clinical prediction rules are evidence-based algorithms that the different specialties have agreed on. It puts a science to it and is a rational approach to who gets head CT." He says it reduces costs because not only does it eliminate unnecessary CTs but also, "You find things on that head CT that results in more follow-up and more surgery that the patient doesn't need."

Physician Pushback?
Swensen suspects many physicians would view appropriateness criteria and clinical prediction rules as an imposition. To them, he would say, "Get over it." "I'm a chest radiologist and I know that subspecialty pretty well," he says. "But I'm not a specialist when it comes to headaches or back pain. To expect a family physician to keep up on what's the best imaging for back pain or a cough is just too much. Besides, science and technology changes so rapidly that what you did last week might be different now. You need a decision-support network in an electronic format or some rules that you can rely on so that you are sure the imaging exam you are ordering, if any, is the most appropriate to help your patient."
Bibb Allen, MD, FACR, chair of the ACR Economics Commission, agrees that informatics and appropriateness criteria can assist physicians in providing only appropriate and necessary care and thus help reduce healthcare costs. "We can use computer-based order entry and decision-support algorithms to help referring physicians pick the right exam," he says. "Having that layer to help educate referring physicians … can be very useful and educational." Of course, referring physicians still must rely on their judgment, Allen says. "If they have a question or if the system tells them the test is not appropriate and they're still not sure, they need to pick up the phone and talk to the radiologist and see if they have the right answer."
Allen also says physicians should remember that negative test results can be as valuable as positive results. Just because a diagnostic scan comes back negative doesn't mean it was the wrong scan to order, he says. "Right now the feeling is that if a test is negative, it might not have been indicated," Allen says. "But sometimes you have to rule out what something isn't before you can decide what it is. A referring physician might be confronted with five people, two of whom have a pulmonary embolism and three who don't. The only way he knows which do and which don't is to do a CT scan." In the old days, Allen says, if the physician was highly suspicious but didn't know for sure, he would have to admit the patient and put him on blood thinners. "The patient had all those risks because we didn't know."
Swensen says when imaging tests are based on appropriateness criteria, it helps control healthcare costs because overutilization leads to unnecessary procedures that not only cause the patient and his or her family unnecessary anxiety but also costly follow-up care. Not long ago, his good friend had a chest x-ray as part of an executive physical exam. "There was no medical reason for that chest radiograph. He had no pulmonary symptoms. He had no smoking history," he says. Nonetheless, a chest x-ray was performed and it showed multiple bilateral lung nodules. "The findings led to a more than $50,000 workup, including a CT-guided biopsy and eventually thoracic surgery, all of which were to make a diagnosis of benign disease," he says.

Professional Responsibility
"As radiologists, it's our responsibility to do the right exam and no one else's," Swensen says.
Radiology and imaging informatics are dedicated to advancing all aspects of imaging services within the healthcare enterprise, including safety, accuracy, efficiency, patient centeredness, timeliness, and usability, Becker says.
Becker says about one half of the healthcare provided in America is not supported by evidence-based guidelines. Radiology, because it is under fire from healthcare reformers, needs to take the lead, he says. "Radiologists must meet these challenges," he says. "If we do not, we will find that we are irrelevant in the future."
— Beth W. Orenstein is a freelance medical writer based in Northampton, Pa. She is a frequent contributor to Radiology Today.