April 2010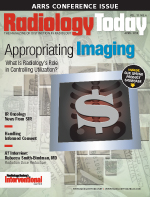 Minimally Invasive Oncology — IR Researchers
Expanding Cancer Care

Radiology Today
Vol. 11 No. 4 P. 26
Editor's Note:This article is based on research presented at scientific press conferences at the Society of Interventional Radiology's (SIR) 35th Annual Scientific Meeting in Tampa, Fla., last month. All abstracts can be viewed at www.sirmeeting.org.

Y-90 Embology Therapy
Extends Life in Inoperable Liver Cancers
An embolotherapy procedure placing yttrium-90 (Y-90) microspheres directly into liver tumors shows promise in prolonging life for many liver cancer patients who are not candidates for surgery, according to research presented last month at SIR's 35th Annual Scientific Meeting in Tampa, Fla.
"This is encouraging news for liver cancer patients, especially those who also have blockage in the portal vein," said Riad Salem, MD, MBA, director of interventional oncology at the Robert H. Lurie Comprehensive Cancer Center at Northwestern Memorial Hospital in Chicago. "While patients aren't cured, their lives are being extended and their quality of life is improving with yttrium-90 microsphere treatment. This unique interventional radiology treatment, which combines the radioactive isotope Y-90 into microspheres that deliver radiation directly to a tumor, is a particularly elegant way to give patients a cancer treatment that doesn't harm the healthy cells. Patients don't feel sick or have many of the side effects that happen with standard cancer treatments."
In the study, 291 patients with hepatocellular carcinoma were treated with intra-arterial Y-90 microspheres as part of a single-center prospective study. Researchers administered 526 (average of 1.8) treatments. Researchers reviewed 1,250 scans to assess response and time to progression, a surrogate marker that may imply but does not prove improved survival. Overall time to progression was 7.9 months, according to Salem. In oncologic standards for this disease, he said this is a promising finding.
Patients with Child-Pugh A disease, with or without portal vein thrombosis, benefited the most from Y-90 treatment, with some patients surviving more than 20 months, according to Salem. Child-Pugh A patients with branch portal vein thrombosis survived nearly 17 months.
Toxicities reported included fatigue (57%), transient pain (23%), nausea/vomiting (20%), and exhibited grade 3 to 4 bilirubin toxicity (5%).
The embolotherapy procedure combining Y-90 into microspheres to deliver radiation directly to a tumor allows a higher local dose of radiation to be used without subjecting surrounding healthy tissue to the radiation. Each microsphere is about as wide as five red blood cells. These tiny beads are injected through a catheter from the groin into the liver artery supplying the tumor and become lodged in it.
 "These are early promising results. This information can be used to design future Y-90 trials and to describe Y-90 as a potential treatment option to liver cancer patients," Salem said.
About 18,500 cases of primary liver cancer are diagnosed each year. Primary liver cancer is twice as common in men as women and occurs most frequently in patients with cirrhosis of the liver.
Many patients with liver cancer have impaired liver function due to underlying cirrhosis and/or the tumors themselves. They are then at increased risk for liver toxicity from any liver cancer treatment. In the United States, approximately 50% to 60% of patients with primary liver cancer die of tumor progression, and 40% to 50% die from advancing cirrhosis and subsequent liver failure.
 Although the surgical removal of liver tumors offers the best chance for a cure, more than 75% of primary liver cancer patients are not surgical candidates because their tumors may be too large, too numerous, or have grown into major blood vessels or other vital structures. Historically, chemotherapy drugs and external radiation therapy have been ineffective for curing inoperable liver cancer. Due to these patients' compromised liver function, physicians must be careful that cancer treatments do not cause additional liver damage and toxicity.
"For these patients, minimally invasive treatments offer them an option that can give them more time," said Salem.
— Source: SIR Abstract 34: "Yttrium-90 Radioembolization for Hepatocellular Carcinoma: Comprehensive Analysis of Long-Term Outcomes in 291 Patients" 
Nanoembolization
New Approach to Treat Pancreatic Cancer
Researchers are investigating a nanoembolization treatment using tiny gold nanoparticles for pancreatic cancer treatment. Reed A. Omary, MD, MS, an interventional radiologist and professor of radiology and biomedical engineering and vice chair of research in the radiology department at Northwestern University in Chicago, reported on early research at SIR's Annual Scientific Meeting.
"As current treatments for pancreatic cancer offer minimal benefit, entirely new approaches are needed," Omary said. "We've developed a radically different approach that might be able to overcome some of the obstacles that have hampered previous therapies for pancreatic cancer."
Pancreatic ductal adenocarcinoma is the most common type of pancreatic cancer and carries the worst prognosis of any cancer even when diagnosed early. This aggressive cancer typically has a six-month survival rate at diagnosis. In 2009, an estimated 42,000-plus individuals, typically over the age of 60, were diagnosed with pancreatic cancer, making it the fourth-leading cause of cancer death in the United States. Because it is often found late and spreads quickly, pancreatic cancer can be hard to treat. Traditional treatment attempts include combinations of chemotherapy, radiation therapy, and/or surgery. However, none of these methods results in consistently effective treatment.
Seeking a different approach to treatment, Northwestern researchers constructed gold nanoparticles with cancer-killing agents attached to them. Measuring only 13 nm in diameter, 8,000 of them strung together would be less than the width of a single human hair. In animal studies, the researchers injected the cancer-killing nanoparticles directly into the tumor.
"Using nanoembolization, we dramatically increased the concentration of the nanoparticles in the tumor by 55 times over traditional methods that use a vein (to deliver the drugs)," Omary said. "That's a massive improvement and a promising discovery for this dreadful disease."
 Omary said one major reason that current pancreatic cancer treatments do not work is that scar tissue develops around the cancer, blocking drugs from entering the tumor.
"We used a catheter to deliver cancer-killing nanoparticles directly to the tumor," Omary said. "The catheter is placed into an artery near the groin and navigated through blood vessels to the site of the tumor, all without surgery. Once in the blood vessel that supplies the tumor, the catheter can deliver nanoparticles directly into the tumor. This method may offer a better way to overcome the scar tissue that blocks drugs from attacking the tumor."
He said such catheter delivery permits more drug to be delivered to the tumor compared with injecting it into a vein. In addition, this therapy may have the potential to reduce some side effects such as vomiting and hair loss often seen with typical chemotherapy.
"Researchers have been using the same toolbox for a long time without any benefit. It's time for us to apply some high-tech tools to treat pancreatic cancer," said Omary.
— Source: Abstract 71: "Image-Guided Nanoembolization as a Novel Local Therapy for Pancreatic Cancer: Feasibility in an Animal Model"

RF Ablation
Repeatable Treatment Option for Liver Metastases
Radio-frequency ablation (RFA) offers colon cancer patients with liver metastases a repeatable treatment option that can prolong their lives by years, researchers at SIR's annual meeting reported.
"Patients who have recurrent colon cancer in their liver after surgery can be treated with radio-frequency ablation and avoid repeated liver surgery," said Constantinos T. Sofocleous, MD, PhD, FSIR, an interventional radiologist at Memorial Sloan-Kettering Cancer Center in New York City. "RFA kills target cancer tissue with heat while sparing the healthy tissue. This is particularly important for patients who develop new colon cancer in the liver after prior surgery. In general, these patients have a smaller amount of liver tissue; another surgery is usually not possible or very difficult and associated with higher risk."
Approximately one half of colon cancer patients will develop liver metastases at some point during the course of their disease; most of them are not candidates for surgery.
"In those who undergo surgery, recurrence is a serious problem," Sofocleous said. "Traditionally, chemotherapy has been the only therapy. Radio-frequency ablation is a treatment that can destroy the tumor locally in the liver and, in combination with systemic and local hepatic arterial chemotherapy, it may extend the life of selected patients."
The study did not make direct comparisons with other treatments, but the patients' survival rates after RFA were comparable with those of surgery, according to Sofocleous. The researchers treated 56 patients who had multiple prior treatments with surgery, systemic, and local chemotherapy CT-guided RFA over a six-year period. They reported survival rates of 91% at one year, 66% at two years, and 41% at three years. More importantly, Sofocleous noted, the survival rates are in addition to the patients' survival rates after prior surgery.
—Source: Abstract 107: "Radiofrequency Ablation of Recurrent Colorectal Cancer Hepatic Metastases After Hepatectomy"

Cryotherapy
Promising Future Tool for Multifocal Metastases
Cryotherapy may become the treatment of the future for cancer that has metastasized in soft tissues and bones because these patients often are not candidates for surgery, said researchers at SIR's annual meeting.
"Improved treatment options are needed for individuals affected by metastases in bone and soft tissues since patients with multifocal metastatic disease are often not candidates for surgery," said Peter J. Littrup, MD, director of imaging research and image-guided therapy for the Barbara Ann Karmanos Cancer Institute in Detroit. "Percutaneous soft tissue cryotherapy is a well-tolerated treatment option, especially for patients with anesthesia risks, painful lesions, or those seeking local control during chemotherapy. Tumor size and/or location do not preclude thorough treatment or pose greater risk with appropriate precautions."
In the 97-patient study, researchers used sufficiently deadly temperatures to effectively kill tumor cells, resulting in an average 77% tumor shrinkage in patients after 24 months. "Because of the variable placement of tumors within these soft tissue and bone locations, this study shows the versatility of this treatment option when using proper techniques to safeguard nearby structures," Littrup said. "Aside from the successful tumor control, what makes this technique even more preferable is the excellent tumor shrinkage since the underlying fibrous or collagenous structures are preserved. The body can then better heal at the ablation site with minimal additional scar tissue formation."
Conservative estimates indicate that up to 500,000 of these newly diagnosed cancer patients alone will suffer from metastatic disease in bone and soft tissue areas. Cryotherapy is a good option for a large common cancer problem, namely the original cancer tumor site or a few unresponsive tumors sites can cause cancer management problems even after a generally good response to chemotherapy and/or radiation therapy, according to Littrup.
"Metastasized tumors can occur nearly anywhere in the body and frequently cannot receive additional radiation therapy or would be difficult or very morbid to be controlled with surgery," he said. "Cryotherapy was able to preserve quality of life by providing good local treatment with minimal side effects, especially with advanced stages of cancer where any additional treatment is unlikely to provide a systemic cure." However, he noted that cryotherapy is not a first-line therapy for tumor treatment.
Historically, cryoablation has been performed on the prostate and liver, but this technique has been recently found effective in other tumors, including the breast, kidney, and lung.
"We simply translated this concept to retroperitoneal, intraperitoneal, superficial, and bone locations in order to generate successful use of cryotherapy in different patient groups," Littrup said. The major benefits of cryotherapy are its superb visualization of the ice treatment zone during the procedure, its low pain profile in an outpatient setting, and its excellent healing with minimal scarring, he said. In this study's cryotherapy treatment, researchers used several needlelike cryoprobes that were inserted through the skin to deliver extremely cold gas directly to a tumor to freeze it. The "ice ball" that is created around the needle grows in size and destroys the frozen tumor cells. Surgeons and radiation oncologists have long tried to provide at least a 1-cm margin of treatment with cancer tumors, and it was important to assure a similar margin of lethal temperatures beyond all tumor margins by cryotherapy in this study, according to Littrup.
"One of our first soft tissue cryotherapy patients with recurrent ovarian cancer encouraged us to really begin this study," he explained. "She appropriately noted that with recurrent cancer, second- and third-line chemotherapy drugs can run up to $20,000 to $60,000 per month and that additional debulking surgery needed at least an additional month of recovery."
The patient had undergone seven cryoablation procedures over the previous five years in combination with only a few additional cycles of chemotherapy when more than two recurrences were noted, according to Littrup, noting that she deemed cryotherapy a "holiday" from chemotherapy and has become an advocate for the procedure.
In the study, 157 CT- or ultrasound-guided percutaneous cryotherapy procedures were performed (retroperitoneal, 30; intraperitoneal, 51; superficial, 47; and bone, 29) in 97 patients. Doctors used thermocouple monitoring, saline injection, and/or direct skin warming to protect healthy tissue from being frozen. Patients subsequently underwent CT or MRI. The cryotherapy zone was well defined as a hypodense ice ball with an average ablation diameter of 5.4 cm with an average tumor diameter of 3.5 cm.
Littrup noted that further study is needed to determine the optimum probe number, spacing, and freeze times needed to produce thorough ice coverage of all soft tissue tumors.
— Source: Abstract 155: "Soft Tissue Cryotherapy: Initial Experience and Intermediate Follow-Up in Retroperitoneal, Intraperitoneal, Superficial and Bone Locations"