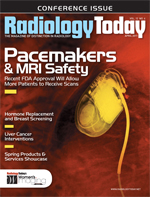 April 2011
Pacemakers & MRI Safety
By Kathy Hardy
Radiology Today
Vol. 12 No. 4 P. 10
The recently approved pacemaker can be used in 1.5T scanners. Hospitals and imaging centers are adjusting to the idea that you can safely scan patients with these implants.
When Rhonda Jones' doctors told her she needed a pacemaker to correct an irregular heartbeat, she was undergoing treatment for a leg sarcoma diagnosed four years earlier and needed regular MR exams to monitor the status of her cancer treatment. Eliminating MRI from her oncologist's tool set could prove disastrous for the future detection of any tumors.
"I need to be able to undergo an MRI due to my cancer history," the Orlando, Fla., resident says. "The oncologists need more detailed information than they can get with other imaging methods. Even if I didn't have cancer, it doesn't mean I wouldn't have other problems that would require me to undergo an MRI."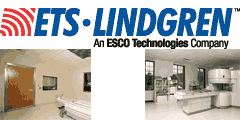 Fortunately, when Jones' dilemma developed in 2008, she was able to enroll in what was then the clinical trial for a pacemaker that can be safely used in an MRI environment. Fast forward to 2011 when Medtronic announced an FDA-approved solution to the scenario faced by Jones and thousands of other patients. The FDA granted MR-conditional approval to the company's Revo MRI SureScan Pacing System, the first system in the United States to receive FDA approval for use in the MRI environment. A device like this enables physicians to make decisions for the "whole patient," looking at any preexisting conditions that may require MRI scans in the future while at the same time addressing current cardiac needs.
"It is critical for a physician to select the right procedure at the time of diagnosis," says J. Rod Gimbel, MD, a practicing cardiac electrophysiologist and clinical trial physician for the SureScan system. "Physicians need to consider if this device is necessary for the treatment of cardiac problems [and whether there are] other medical issues that may need to be addressed in the future for which implantation of this device would cause a risk. Does the patient have a history of cancer or orthopedic issues that would require MRI down the road?"
Medtronic estimates that about 200,000 U.S. pacemaker patients do not receive MRI scans every year because of the potential risks, even though the technology plays a critical role in making a wide range of health diagnoses. Gimbel notes that with an aging population, there comes a greater need for MRIs in general and an increase in cardiac issues. Individuals older than the age of 65 are twice as likely to need an MRI compared with younger patients. Between 50% and 75% of patients with electronic cardiac devices will likely need an MRI over the lifetime of their device. While there are imaging options in place of MRI, Gimbel says there are some situations where MRI is the best option available for diagnosing a situation, particularly in cancer cases.
"It's a question of priorities," he says. "I don't know why you would want to delay an MRI scan or undergo a less adequate scan if you could have an MRI-friendly pacemaker."
This new Medtronic pacing system is based on the same platform as other Medtronic pacemakers and performs at the same levels as those earlier devices, says David Steinhaus, MD, medical director for Medtronic. However, the MRI-friendly version includes hardware modifications to the device and leads that reduce or eliminate several hazards associated with pacemakers used in the MRI environment. The device and leads also contain radiopaque markers that are viewable via x-ray, indicating that the pacing system may be used in certain MRI environments.
"The changes to the system are transparent to the physician and the patient," Gimbel says. "The system looks the same; it's what's inside that's different."
According to Steinhaus, this system fits into current protocols in standard radiology and cardiology practices. Categorized as MR conditional, this device poses no known hazards in specified MRI environments with specified conditions of use.
Rhonda's Story
Little was standard for Jones when she was diagnosed with cancer and an irregular heartbeat within a four-year time period. However, her physicians were aware of Medtronic's work and thought she would be a prime candidate for their study of a potentially MRI-safe pacemaker. With that, she joined the 12-year development process for SureScan as patient No. 7.
Following several years of studying the risks of pacemaker use in the MRI environment and preclinical testing of the pacing system, Medtronic initiated its clinical trial in February 2007. Patients in the study were monitored for arrhythmias, symptoms, and pacemaker system function. All MRI sequences in the study were performed on 1.5T scanners. No related complications occurred during or after each MRI. The problems for which researchers were monitoring included sustained ventricular arrhythmias, pacemaker inhibition or output failures, electrical resets, and other pacemaker malfunctions. In the end, the trial documented the ability of this pacemaker system to be exposed, in a controlled fashion, to a 1.5T MRI scanner without adverse impact on patient outcomes or pacemaker system function.
"It took 12 years to figure out what happens to normal pacemakers in the hostile MRI environment and how to make the devices safe for use in that environment," Gimbel says. "In one example, we had to find a tool that would measure heat at the lead tips. It took a number of years and dollars just to develop that. In retrospect, it all seemed easy, but it was like walking on the moon. It looked easy, but we had to first develop the tools to make it happen."
Computer modeling became a critical tool in the process, Gimbel says. The modeling enabled the team to simulate worse-case scenarios as well as monitor outcomes, all important factors when working to achieve FDA approval.
"The FDA is tough when it comes to the approval process," he says. "They set the bar very high. We will need to repeat studies for the next generation of this device."
As far as patient approval is concerned, Jones gives her MRI-friendly pacemaker high marks for making her life as worry-free as possible, given that she is a cancer patient with an irregular heartbeat.
"With this pacemaker, I can focus on treating my cancer and not think about my heart condition," she says. "I know that my pacemaker won't prevent other doctors from getting the information they need."
Jones had an MRI exam one month after implantation of her pacemaker system. While she admits that the first imaging "was a little scary," her anxiety was more about the anticipation of what might happen. Since that time, she describes the process as "no big deal."
"I don't bat an eye now when I need to have an MRI," she says.
Cancer Follow-Up
As part of her cancer treatment process, Jones continues to undergo MRI scanning every eight to nine months and will continue to undergo annual MRIs for the rest of her life. She had a routine MRI of her elbow since receiving her pacemaker following a fall and didn't worry about what type of imaging she could have to diagnose her injury.
"I just had the regular treatment anyone would have after a fall," she says. "Nothing special had to be done during this emergency due to the pacemaker."
Patients with the SureScan pacemaker system must wait a minimum of six weeks after implantation before undergoing their first MRI scan. In addition, they must not have any previously implanted devices nor broken leads or leads with intermittent electrical contact.
From the radiology perspective, the scan must be completed on a clinical MRI system consisting of a horizontal, cylindrical bore magnet with a static magnetic field of 1.5T. The scanner must be operated in normal operating mode. In addition, the patient must be monitored during the scan through visual and verbal contact, electrocardiography, and pulseoximetry.
According to Steinhaus, once a patient with this pacemaker is referred for an MRI, he or she must receive clearance from a radiologist. The patient then goes to the cardiologist for programming into the SureScan mode. After the scan, the patient returns to the cardiologist to have the device reprogrammed to its pre-MRI settings.
To maintain continuity in her care, Jones goes to the same facility for her MRI scans, typically the M. D. Anderson Cancer Center Orlando.
"It's hard for me to go to just any imaging center," she says. "There have to be technicians there who know how to set my pacemaker before I go in for the MRI and reset it before I go home."
Jones says there is apprehension on the part of some radiologists when it comes to subjecting her to an MRI, despite the fact that the FDA approved the device.
"They know my pacemaker is MRI safe, but they still seem hesitant to let me have an MRI scan," she says. "They seem to need to see it to believe it."
So far, as long as Jones has gone to M. D. Anderson, her regular medical facility for imaging since being diagnosed with cancer, there has been no question that it is safe for her to undergo an MRI.
"Now that the device is FDA approved, maybe more imaging centers will know how to work with it," she says. "They need to get the word out about this."
Replacing Older Pacemakers
Patients who already have pacemaker systems can have them replaced with an MRI-friendly system, Gimbel says. In addition, removal of a pacemaker system as part of the treatment for other diseases is a recognized guideline of the American College of Cardiology.
"You can weigh the risks and benefits of replacing the entire system," he says. "Extraction has its risks, but if done in the right hands, the risks are manageable. You have to weigh the option of replacing the system vs. having to undergo a different type of imaging in place of MRI."
However, the entire system and all its components must be replaced to be used safely in an MR environment. Any other combination of new and existing parts may result in a hazard to the patient during an MRI scan, as any alternate pieces of existing pacemaker systems could contain ferromagnetic components.
"You cannot mix and match pacemaker system components and maintain the system's MRI compatibility," Gimbel says. "If you're doing a replacement, you would need to replace the entire system."
The introduction of MRI-compatible pacemaker systems comes at a time when advancements in this imaging modality continue to make the difference in the diagnosis of critical diseases. In addition, with more news regarding CT scan dosages, physicians and patients are looking at all available options when it comes to diagnostic imaging modalities.
"The future of MRI is so bright," Gimbel says. "To have a device implanted that is incompatible with MRI keeps you from benefiting from this ever-improving technology. Ten years from now, there won't be a pacemaker system that isn't MRI compatible. MRI is the new standard of imaging."
Gimbel says the technology behind SureScan is transferable and could be applied to other stimulators and implantable devices. While defibrillators are more complex, mastering the MRI environment is the biggest hurdle in the process.
"You have to walk before you can run," he says.
— Kathy Hardy is a freelance writer based in Phoenixville, Pa. She is a frequent contributor to Radiology Today.