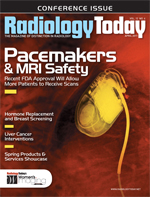 April 2011
Hormone Replacement and Breast Screening
By Kathy Hardy
Radiology Today
Vol. 12 No. 4 P. 30
The Million Women Study looks at how HRT affects breast cancer risk, while women's imaging centers consider how it may impact screening.
General consensus among women's health experts is that hormone replacement therapy (HRT) can play a role in increasing the risk of breast cancer. The latest data on the subject add a timing factor to the equation, linking when women start HRT to their breast cancer risk.
Recently reported information gathered as part of the ongoing Million Women Study (MWS) in the United Kingdom suggests that women who begin HRT close to the time of menopause are at greater risk of breast cancer than those who wait five years or more to begin HRT.
In the study, women who used estrogen-only HRT in the first five years after they began menopause had a 43% higher risk of breast cancer than women who never used HRT. The extra risk dropped to 5% (which was not statistically significant) for women who began estrogen-only HRT therapy more than five years after the start of menopause. The additional risk was higher among women who received combination HRT: 104% for women within five years of menopause and 53% who started more than five years after menopause.
 For the breast imaging community, this is an issue of which radiologists should be aware for its potential impact on whether a patient may be at high risk of breast cancer. According to Robin B. Shermis, MD, MPH, medical director of the Toledo Hospital Breast Care Center in Ohio, these findings could impact the decision-making process when it comes to how often a woman should have a mammogram and whether other imaging modalities should be part of breast cancer screening in women receiving HRT.
Timing Question
"While this is only one study, we look at these findings the same way we look at women who meet the guidelines for being at a high risk for breast cancer," Shermis says. "If this is something that creates an elevated risk for breast cancer, then we may have to screen these women the same way as our other high-risk patients, with MRI for example, especially if the patient has dense breast tissue."
One study author, Jane Green, BM, BCh, DPhil, a clinical epidemiologist with the Cancer Epidemiology Unit of the University of Oxford, explains that the ongoing MWS began in 1996 with the purpose of collecting information on HRT use and breast cancer. To clarify whether the timing of starting HRT influences breast cancer risk, researchers recruited 1.2 million U.K. women between 1996 and 2001, obtaining information on sociodemographic and health factors as well as their history of hormone use. Of those women, whose average age was 56.6 at their time of enrollment, 55% had used hormone therapy at some point and 35% were current users. During more than 4 million woman-years of follow-up, 15,759 breast cancers were diagnosed, 61% in women who had ever used HRT and 45% in women currently using the hormones. The risk of breast cancer remained elevated for two years after HRT cessation.
At the same time, the Women's Health Initiative (WHI) began HRT trials in the United States, according to Green, but the primary focus of that study was cardiovascular disease. Data from a part of the WHI study suggested there was little risk of breast cancer associated with estrogen-only HRT, but most of the women participating in that study began treatment more than five years after menopause.
This MWS report updates the researchers' first paper on HRT and breast cancer published in 2003 and looks at when HRT use started in relation to menopause. Evidence from the WHI, as well as a French study, suggest that timing may be an important factor.
"While we did find greater risk of breast cancer with HRT started around the time of menopause than later, this does not change the overall findings on which current prescribing recommendations are based. It adds more details," Green says. "The other nice thing to come out of this paper is that if we take into account timing of HRT use and obesity, our results and those from other studies, including WHI, are extremely consistent."
According to Green, another constant is the fact that HRT is recommended only as a method of easing menopausal symptoms such as hot flashes. While debate remains as to HRT's effects on the risk of heart disease, the increased risk of stroke, blood clots, and some cancers is widely known. In addition to relief from menopausal symptoms, women undergoing HRT may benefit from a lower risk of osteoporosis, bone fractures, and colorectal cancer.
"It's different for each woman," Green says. "The risks and benefits have to be weighed for the individual. Some women choose to continue on HRT for longer than the basic recommendation because they feel better or to take HRT for their bones despite knowing the risks because it's the best choice for them."
Clinicians and radiologists would agree that mammography remains the frontline screening option for breast cancer due to sensitivity, affordability, and the level of patient comfort and the fact that it remains the only screening tool proven to reduce breast cancer deaths. Shermis points out that all women should have mammograms on a regular basis, regardless of their hormone use. (The American Cancer Society [ACS] recommends annual mammograms for women aged 40 and older.) Any adjunct imaging, such as MRI or molecular breast imaging, should be performed in addition to, not instead of, mammography.
The ACS also recommends that women with a family history of breast cancer, certain genetic tendencies, or dense breast tissue be screened with MRI in addition to mammograms. Along with digital mammography, the Toledo Hospital Breast Care Center offers dedicated breast MRI and breast ultrasound to its patients.
Clinical Implications
For Stamatia Destounis, MD, a radiologist and managing partner of the Elizabeth Wende Breast Care, LLC in Rochester, N.Y., it is assumed that each patient who comes through the center's doors has cancer that needs to be found and diagnosed. The introduction of HRT into the equation just adds another level of scrutiny.
"We look at everyone as if they have cancer," she says. "We act as if there's something there and we need to find it. We have equal concern for all patients."
Dealing with the pros and cons of HRT rests with gynecologists, Destounis says. "We radiologists are not the people to counsel women on this," she says. "I'm counting on women who are using HRT to be counseled by their gynecologists and that they are reviewing the benefit/risk ratio with their patients."
Where radiologists can play a role is in determining which imaging modality is best for breast cancer screening, especially for women with dense breast tissue, who are fibrocystic, or who have a family history of breast cancer. With HRT use added to the equation, Destounis says the view remains muddy.
"Breast density doesn't diminish with HRT," she says. "We continue to be limited as to what we can see."
Some confusion regarding breast cancer screening arose in 2009 when the U.S. Preventive Services Task Force (USPSTF) issued new mammogram guidelines. The task force recommended that screening mammograms be conducted every two years, beginning at age 50, for women with an average risk of breast cancer. For women aged 40 to 49, the decision of whether to have annual mammograms should be based on a patient's consideration of risks vs. benefits, according to the task force. Members of the USPSTF believed that in women at normal risk of breast cancer, the benefits of screening mammograms did not outweigh potential harm, such as false-positive results that could lead to unnecessary breast biopsies.
To date, most healthcare providers support the ACS guidelines to begin annual screening mammograms at age 40 due to the benefits of early detection and the reduction of breast cancer death risk.
When patients come to the Toledo Hospital Breast Care Center, a list of prescreening questions includes whether the patient has or is currently using HRT. While this line of questioning is pertinent to the patient screening process, Shermis says it is not a requirement of the risk models for breast cancer. While the MWS brings more data to light, he explains there is a verification process that needs to take place before changes can be made to screening guidelines, and that process takes time. In addition, risk models would need to be modified.
"We need to find out the relative risk and the appropriate imaging modalities for screening for these patients," he says.
However, that doesn't mean Shermis wouldn't consider women who underwent HRT within the time span discussed in the MWS as being at an increased risk of breast cancer and therefore screen them as high-risk patients.
"We would be putting those women at risk," he says. "We would go beyond a mammogram for breast cancer screening even without guidelines for some of these women."
Ongoing Discussion
With this and other studies on the topic of HRT, Green says medical professionals are gaining knowledge of the risks for different types of women at different ages. For example, increased cancer risks are much lower for obese women who start HRT after menopause and that risk is even less if women opt for estrogen-only HRT.
"I think an interesting future discussion will be whether it might be a good option for women in their 70s to take estrogen-only HRT for bone protection," Green says.
Also for future consideration is whether a woman's risk of breast cancer increases, decreases, or remains the same if they start HRT prior to menopause, stop taking the hormones for a period of time, then begin HRT again a significant time after menopause.
"This is a question that is relevant to lots of women, but it's something we just don't know yet," Green says.
— Kathy Hardy is a freelance writer based in Phoenixville, Pa. She is a frequent contributor to Radiology Today.