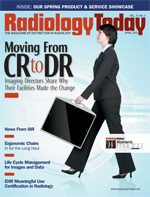 April 2012
What's New in Financial Systems
By Maura Keller
Radiology Today
Vol. 13 No. 4 P. 10
As EHRs expand, look for new revenue cycle management tools, too.
According to a report by healthcare research firm KLAS, the number of healthcare providers replacing their revenue cycle management (RCM) system is on the rise. In "Seismic Shift in Revenue Cycle: Market Heading Toward Sold-Source Landscape?" nearly one-half of the providers interviewed said they plan to replace their RCM system over the next five years, with 87% of those planning to do so in the next three years.
What are the key factors affecting these purchasing decisions?
Paul Pitcher, director of financial systems at KLAS, explains that as clinical system needs are addressed, organizations turn to other areas, such as the revenue cycle, where technology advancements may bring improved performance. "There are a number of factors that play into the purchasing decision," he says. "Among them is the ability to have a single-source vendor or a solution that is integrated for both clinical and financial environments."
There is also great appeal in being able to eliminate third-party bolt-on products, Pitcher notes. Initiatives such as ICD-10, bundled payments, and increased workflow automations are other factors redefining the purchasing decision process.
Pitcher says there are numerous organizations with legacy systems in place that may be looking for newer models. "Older Siemens, McKesson, and MEDITECH systems are widely implemented, and organizations feel the pull to explore the marketplace in search of more current RCM technologies," he notes. "Epic is a vendor that is making major progress in the clinical arena, and as they come in and displace older clinical systems, it is common for the organization to also replace their financial systems. We are starting to see some of the same with Siemens customers as well. Clinical systems replacement is driving much of the RCM replacement."
According to Kelley Blair, senior vice president of professional services at Craneware, another driver of RCM replacement is the belief that organizations will need to do more with less if, as expected, Medicare reimbursements decrease in the near future.
"There is opportunity to improve financial performance through better charge capture, claim accuracy, and compliance and improving operational efficiency by supporting well-thought-out collaborative workflows with automated tools," Blair says.
Eric Mueller, president at WPC Services, agrees: "The cost of healthcare is being scrutinized at every level of government and within every segment of this industry. With the impending increase in consumer volume in terms of demand for healthcare services, the cost of delivering the services becomes a greater source of competition and therefore puts downward pressure on what providers can charge."
With alternative methods of care delivery being researched, consolidation of provider networks, and the threat of additional competitive entrants, healthcare providers are clearly motivated to strive for operational efficiency, Mueller says. "Providers need to manage toward these goals, and in order to manage it, they have to measure it—legacy RCM solutions may not provide the necessary tools to measure their operations," he says.
Brad Boyd, a vice president at Culbert Healthcare Solutions, says healthcare organizations are looking for more fully integrated systems to support patient access and clinical and revenue cycle requirements. 
"A fully integrated solution provides a variety of efficiencies, including enhanced reporting, streamlined workflows, reduced interface maintenance expenses, and often reduced total cost of ownership," he says. "When organizations evaluate their vendor strategy to meet meaningful use requirements, progressive organizations evaluate their entire vendor strategy, which includes registration, scheduling, and billing. While many organizations have focused their resources on their EHR implementation, given the financial incentives, they will increasingly migrate to the new practice management [PM] system."
Boyd explains that the license model provided by several RCM vendors requires clients to reinvest in their products every few years, which often causes organizations to reevaluate their vendor options. "There also has been significant consolidation in the EHR/PM vendor market," he says. "Vendors who have acquired or been acquired are migrating their clients onto a consolidated platform to prevent maintaining and developing across multiple application platforms."
In addition, Blair notes, automated tools are being used by external auditors to identify charging patterns. "Organizations that perform internal bill analyses to correct errors before they become 'patterns of charging behavior' are better poised to reduce potential losses and administrative burdens associated with responding to auditors on such issues," he says. "And even as external audits are ramping up, healthcare organizations must be prepared for managing the business processes necessitated by new types of payments as well as being paid for performance. Some are calling this the move from volume to value. Together, all of these help drive the move to appraise existing revenue cycle management systems and look at replacements, refinements, and enhancements."
Evaluating Options
Every hospital and health system is unique, with its own business processes, IT systems, and software either purchased or developed internally. "Despite the varied ways of building an RCM system, there are some common factors to consider when purchasing, enhancing, or revamping," Blair says.
An important first step is to gather information through leading independent sources such as KLAS or the Healthcare Financial Management Association. Peers at other healthcare organizations can also lend insight about their vendor solutions and relationships.
"Based on Craneware's work with more than a quarter of all registered US hospitals, people look for vendors who are solid partners—strategically, financially, and especially in terms of caring about their customers' business," Blair says.
Answers to the following questions are important factors to consider when selecting an RCM partner:
• How well does the vendor listen and help identify needs?
• Once purchased, how satisfied are customers with the implementation experience?
• How is the information within the system kept current?
• How are results being sustained?
• What about initial and ongoing training?
• Are there user groups and audio webcasts for sharing ideas and best practices?
• How effective is the vendor's customer support?
According to Boyd, it's important to validate a vendor's assumptions concerning implementation timelines and staffing levels.
"Most vendors' standard implementation approaches are based on best practices," he says. "Leverage these best practices as much as possible, but make sure to identify gaps where their workflows or build do not support the nuances of your business."
Also understand reporting requirements before they go live, and ensure that reports and analytic requirements are supported by the system.
"Ensure that whatever vendor you choose has a good implementation team—one that helps you to identify and implement optimal workflows and best practices—because if you do not manage the processes around implementation, you typically won't get the results you are looking for," Blair says. "Having good internal processes in place is essential, so consider workflow automation, the kind that supports efficient collaborative business processes. Also, your vendor should be able to help your unique organization define processes that will help efficiently achieve your objectives."
Accurate and up-to-date data are vital to the success of any new RCM system. "For example, make sure your item master is synched to your chargemaster and that both are cleared of old, erroneous data that no longer are useful for compliant charging and coding," Blair says. "The same is true for synching your chargemaster and pharmacy system."
Integration Issues
One concern mentioned in the KLAS report pertains to the adequate integration of RCM with clinical systems.
"Integration with their clinical systems, as well as with their hospital or medical group partners, is extremely important," Boyd says. "Organizations first need to have a strong understanding of their business and clinical strategies and then align their IT and vendor strategy to support their business and clinical requirements."
As Mueller explains, since most RCM and IT systems communicate using standard ASC X12 5010 transactions, integration between the two should be straightforward. Other standards should also be available to integrate with ancillary solutions.
"However, this is largely dictated by the architecture of the various systems," Mueller says. "Healthcare's future is in getting more out of the data—making better, more informed decisions with actionable accurate information. If your RCM solution is flexible, it allows seamless integration with other technologies. If the RCM solution is closed—meaning they do not play well with others—adopting new technology could be difficult and shut down innovation while preventing you from getting the most meaningful measurements."
— Maura Keller is a Minneapolis-based freelance writer and editor.