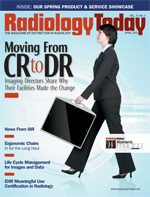 April 2012
Moving From CR to DR — Imaging Directors Share Why Their Facilities Made the Change
By Beth W. Orenstein
Radiology Today
Vol. 13 No. 4 P. 18
The radiology department at newly opened Our Lady of Lourdes Regional Medical Center in Lafayette, Louisiana, uses only direct digital radiography (DR).
When the 200-bed facility was in the planning stages, people scoffed at radiology director Dwain Ortego, BS, RT(R)(CT), when he said he wanted his new department to be all digital. "People were telling me a totally digital radiology department was out of the question," Ortego recalls. "But we had such a fantastic opportunity to build this system from the ground up, and I was confident we could do it."
Ortego kept his eye on the future and worked with the hospital's vendor, GE Healthcare, to successfully pull off the digital department. "When we started planning about four years ago, GE didn't have exactly what we wanted on the market," Ortego says. "But by the time we were ready to go, they did." (Our Lady of Lourdes opened in June 2011.)
Going digital has worked out extremely well for everyone—patients, radiologic technologists, and radiologists, Ortego says. The digital system has increased productivity, has improved image quality, and is safer for patients because the required radiation dose is lower, he says.
With DR, the image data are transferred directly from a detector to a review monitor without the need for a reader. The technology debuted in the mid-1980s, about the same time as cassette-based CR technology, but until recently, DR's much higher cost prevented more widespread adoption.
Costs Coming Down
"The first digital detectors exceeded double six-figure amounts," says Dave Widmann, GE's X-ray general manager for RAD/R&F. Today, "Digital radiography detectors are available for under six figures for sure."
As the cost of DR has come down and its capabilities continue to increase, more facilities of all sizes are utilizing it, especially in emergency departments (EDs) where quick turnaround of imaging exams can be crucial.
Over the last two decades, most facilities in the United States have transitioned to CR from film because CR eliminates wet film chemistry and silver recovery, reduces retakes, and reduces the problem of lost or damaged films. The CR reader scans the exposed phosphor plate and can send digital images to a printer or directly to the facility's PACS. But like film, CR still requires the technologist to leave the patient's bedside and walk to a processing area. DR eliminates that step and thus saves time.
Ortego finds quicker turnaround time to be one of DR's biggest advantages. With CR, he says, depending on the exam, technologists could spend five to seven minutes processing the image with reusable phosphor plates. With DR, he explains, the images are ready for viewing in less than one minute. Thanks to the efficiency, the department has increased its productivity by 12% to 15%, according to Ortego. "Because your turnaround time on patients is a lot quicker, you can do more patients in one day."
Like Ortego, Marc Katz, BS, RT, corporate director of radiology for Continuum Health Partners in New York City, wanted to upgrade to an all-digital environment when the organization renovated and expanded the EDs at Beth Israel Medical Center and Roosevelt Hospital about three years ago. At each site, two rooms are outfitted with GE DR systems and a portable DR system that's designed for ED and bedside use.
Within the last year, at its Phillips Ambulatory Care Center at Beth Israel in Lower Manhattan, Continuum converted two CR rooms used for orthopedic and musculoskeletal imaging to Fuji DR.
Katz says the timing was right for the upgrades. "The upgrades were related to patient throughput as well as replacement of end-of-life equipment. In terms of the emergency department at Beth Israel and Roosevelt, it was a result of a complete renovation and expansion. You had to relocate equipment, and it didn't make sense to relocate equipment that was at the end of life on the X-ray side," he explains.
Need for Speed
The health system chose to upgrade these departments because the speed at which exams are performed and results are made available can be critical, Katz says.
It would have been nice to have DR systems throughout the hospitals, Katz says, but the cost for DR, while less, is still a factor. "So you have to select certain areas," he says. "Costs have come down with DR but not enough to justify converting an entire department for the sake of it. That's why I think you're going to see a mixture of CR and DR at most hospitals for quite a while."
Continuum's DR rooms have increased productivity by about 15% to 20%, Katz says. Productivity increases can help offset the additional cost of the DR systems. However, he says, reimbursements remain the same whether the studies are done using film, CR, or DR, so it takes a while to see a return on the investment in DR.
CR and DR image quality are comparable, Katz says. "Image quality happens to be very good not only with CR but also with DR. I'm sure if you asked the radiologists reviewing images whether they were done on CR or DR, they'd have a difficult time determining which is which. In both instances, the image quality is excellent."
The radiologic technologists welcome the conversion to DR when it happens and like working in a DR environment because they no longer need to handle the plates, according to Katz.
DR and CR
Houston Healthcare in Warner Robins, Georgia, which includes the 237-bed Houston Medical Center, an outpatient imaging center, and three urgent care centers, recently installed a fully automated, dual-detector Carestream DRX-Evolution in its busiest imaging room, which handles ED and general radiology exams. The hospital also converted two existing portable imaging systems with DRX-1 detectors to improve care for ED and ICU patients and installed a DRX-1 system in a general radiology room. Two additional DRX-1 systems were installed in the busy outpatient imaging center. (Its urgent care centers use CR systems from Carestream Health.)
Like Ortego and Katz, Tim Sisco, BS, RT(R), director of cardiovascular and imaging services at Houston Healthcare, believes the conversions have resulted in a significant improvement in patient care, especially those in the ED and ICU. DR allows clinicians to view images in less than five seconds, Sisco says, "so the physicians can immediately assess a patient's condition and begin appropriate treatment."
Sisco says converting portable systems to DR is a key improvement because seeing the images nearly instantly is more efficient. "You can take the portable DR to the patient's bedside, and it's much faster than using a CR cassette. You don't have to walk away to process it, and you don't have to [come back to] repeat the study."
The hospital has five portable machines, two of which were converted to DR. The two DR portables are used for about 90% of the imaging exams, Sisco says. "With the DR portables, two are doing what four or five were doing before. The technologists would rather use the portable DR machine even if it means having to go and get it and take it to the patient's bedside," he says. "It's still faster than shooting with CR and walking the plates to the processor." The new DR systems have increased efficiency without the need to add new X-ray systems, he says.
For trauma cases, Sisco says, DR is a huge improvement in patient care because it allows the physicians to make decisions at the patient's bedside. "Previously, the physicians might have stepped away while the cassette was being processed, and when it was ready they had to go back to a workstation to be able to view the images. It could take 10 to 15 minutes to process a cassette. Now they can view images in less than five seconds on the portable's monitor and make decisions."
Dose reduction is another advantage of DR, Sisco says. DR has allowed the health system to dramatically improve image quality while cutting patient dose in half compared with its CR-based room and portable imaging systems, he says.
In a study published in May 2011 in Clinical Radiology, Dutch researchers found that bedside DR chest radiography could produce high-quality images with 50% less radiation than CR. The researchers obtained images for 114 patients with CR, DR, or DR with a 50% dose reduction and had readers score them for overall image quality and disease. The readers found images taken with DR or DR with the dose reduction outperformed those done with CR.
Interchangeable Detectors
Sisco also finds maintenance to be an advantage with his Carestream DR systems because the detectors are interchangeable. "If you need to for any reason, you can take one of the detectors out of the digital radiography system in the X-ray room and reassign it to a portable to keep the operation going," he says.
 While the cost of DR systems has decreased, it's still higher than the cost of CR and remains about the only disadvantage, the radiography directors agree. "Cost is always an issue," Sisco says. "We're going to a technology that reimbursements aren't any higher—and, in fact, usually less [not because of the technology but because of general reimbursement trends]. The initial capital outlay is significant, but the productivity gains and timing of patient care, especially in critical situations, goes a long way toward offsetting that."
 "Drawbacks to converting to DR? I can't think of any," Katz says, noting that he hopes to expand its use at Continuum's facilities as its CR equipment reaches the end of its life.
 Widmann also expects to see the demand for DR continue to grow rapidly as its capabilities expand and prices of the technology continue to fall. "It's making economic and clinical sense these days," he says.
— Beth W. Orenstein of Northampton, Pennsylvania, is a freelance medical writer and a frequent contributor to Radiology Today.