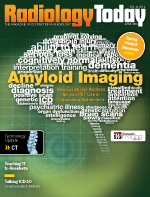 April 2013
Technology Update: CT — Customer Expectations After the Slice War
By Jim Knaub
Radiology Today
Vol. 14 No. 4 P. 16
A belt-fed, pneumatic hammer makes replacing a shingle roof a more efficient (and less rigorous) job. But for driving two nails to hang class pictures of your son and daughter, any decent hammer will do just fine. The concept of the right tool for the right job applies to your organization's CT scanners too. Call it "right-sizing" your facility's scanner portfolio.
"The top tier—which is what most consider the 256-slice, 320-slice, and dual-source systems that are $1.5 million or more in price—the academic institutions continue to be very interested in them, as are some community hospitals, but that segment only consists of about 15% of the market," says Mark S. Silverman, director of CT marketing for Hitachi Medical Systems America. "It's not growing rapidly because people are more cost-conscious today. You can do nearly everything most facilities need with a $750,000 CT—which would be a 64-slice or a 128-slice CT—and you don't really have to spend that $1.5 million for that top-tier scanner. Reimbursement rates have been coming down; economic justification is important."
Silverman says 64- and 128-slice systems comprise approximately 50% of the new scanner market. In the past five years or so, he says Hitachi customers' decision-making focus has shifted from escalating numbers of slices to dose reduction, workflow improvement, and the capability to image larger and heavier patients.
"Manufacturers are not trying to up each other with who has more slices," Silverman says. "Starting three or four years ago, dose reduction became the No. 1 focus issue in CT, and it continues to be. So from a marketing standpoint, one of the biggest drivers to upgrade or replace CT scanners is the desire to get the latest dose reduction features."
Upgradeable Systems
Manufacturers certainly offer scanners with different numbers of detector rows and are increasingly including their latest technology features, particularly dose-reduction technology, in more of their models—not just the high-end scanners. In addition, many companies offer upgradeable systems.
"Someone who bought a 20-slice scanner can upgrade in the field to a 128-slice scanner in a day," says Wendy Kreider, a customer development manager for CT systems for Siemens Healthcare. "It gives them a lot of flexibility in that they don't have to spend that money now if they're not going to use that capacity for five years. Our customers really like that."
Kreider believes that's a better situation than what happened in the past decade when many hospitals purchased new 64-slice scanners on the belief that cardiac CT angiography would take off and produce a surge of exams. That did not happen, and Kreider says many hospitals "wound up using them like a 16-slice scanner."
Tim Nicholson, senior marketing manager for Toshiba American Medical Systems' CT business unit, agrees that upgradeability is an important factor in customers' purchasing decisions. "It is fairly new that customers can get into a product line and then upgrade it without a forklift," he says. The ability to upgrade software and/or hardware with new systems allows hospitals and imaging centers to use their equipment longer, keep technology current, expand clinical capabilities, and possibly avoid a second capital purchase.
Mark Olszewski, PhD, senior product manager for CT at Philips Healthcare, also sees the market trend of more upgradeable systems, which is driven by customers holding on to their current system for longer time periods. Upgradeable systems allow imaging organizations to keep their technology current without getting rid of entire systems. For example, the Philips' iDose4 Premium Package is available on 64- through 256-slice scanners. The Philips SmartPath program offers upgrade options on some models from 128 to 256 slices and 64 to 128 slices. Olszewski anticipates a similar broad-based application of Philips' new IMR (iterative model reconstruction) dose-reduction package when it becomes commercially available this year.
But equipment and equipment use have evolved too. Newer 64-slice scanners have replaced 16-slice scanners as many facilities' CT workhorse scanner. Hitachi competes specifically in that space. The company offers ECLOS16, a 16-slice system, and SCENARIA, a 64-slice system, in the US market. Silverman adds that the company applied for 510(k) approval late in 2012 for a 128-slice Scenaria model that was shown as 510(k) pending at RSNA 2012.
Multiple Choices
The other major manufacturers offer a broader array of systems. Toshiba offers six models from its 320-slice Aquilion One down to a 16-slice scanner, plus its VeloCT upgrade packages for existing 32- or 64-slice scanners. Even though its 320-slice Aquilion One scanners offer the most detectors rows on the market, the company focuses not on slices but the 16-cm volume the scanner can cover in a single rotation.
Siemens offers a similar range of products in its SOMATOM line, from the dual-source scanner with two 128-detector row scanners and two X-ray sources on its Definition Flash down to a 20-slice Definition AS, with numerous products in between.
Philips offers seven models in its Brilliance, Ingenuity, and MX16evo lines, from its 256-slice Brilliance iCT down to a 16-slice scanner. Its iDose4 Premium Package dose-reduction tools are available on the Brilliance 64 on up to the Ingenuity scanner. Olszewski says Philips focuses on creating hardware and software systems with high image quality at lower doses, utilizing automation to make the exam process less operator dependent and more consistent.
GE Healthcare offers four lines of CT scanners, with several models in each line. Its top-of-the-line Discovery CT750 HD is available in configurations up to 128 slices and can perform cardiac CT and perfusion studies. Rather than emphasize slice number, the company stresses the ability to obtain better-resolution images with its new Gemstone CT Detector.
In a crowded marketplace, the choice comes down to the array of scanners needed to meet an organization's imaging needs. According to Siemens Healthcare CT product manager Jakub Mochon, most organizations simply do not need a fleet of high-end scanners.
Right-Sizing
"Once a customer has a flash scanner in its portfolio, our advice is often to look at some other scanners for other installations in the hospital or satellite facilities," Mochon says. "When you look at our portfolio compared to even three years ago, instead of having maybe three scanners, we have a lot more scanners because we want those scanners to be closely adjusted to the needs of our customers."
Mochon relayed a customer story where Siemens recommended a 128-slice Flash scanner and a 20-slice Definition AS, which surprised the customer. "He said, 'Everyone else came here and told me that I needed to buy two 64s, and you guys told me that I could buy a 20 slice and a 128 slice. I like that.'"
Silverman sees 64-slice scanners being the new workhorse CT at most facilities. "They are a good value," he says. "Prices of 64-slice machines have come down a great deal over the past four or five years, so they are an economical value. Sixty-four-slice scanners also include the latest dose-reduction features and have very thin slices for high image quality, and they tend to emphasize rapid workflow. So 64-slice systems have become the routine application workhorse, where just a few years ago people used 16-slice systems in that role."
Having the right tool for the job—which increasingly includes cost in the definition—is the objective. In addition to right-sizing their facility's scanner portfolios, customers are focusing on dose reduction. Silverman is blunt about the importance of dose reduction and management capability. "All the new higher-slice scanners include dose-reduction features, such as iterative reconstruction, or else the product would be unsellable in the US market today," he says.
California already has its CT dose-reporting law on the books. The law requires CT scanners that are capable of producing radiation dose reports. By this July, facilities also are required to have their CT scanners accredited by approved Centers for Medicare & Medicaid Services organizations or several other accrediting organizations.
California providers must report scans that are repeated, unless advised by clinicians, and scans to the wrong body part that result in an effective dose greater than 0.05 Sv, a dose exceeding 0.5 Sv to any organ or tissue, a shallow dose of 0.5 Sv to the skin, or permanent damage. Other states reportedly are considering similar laws.
Siemens' Kreider also sees the customer focusing on dose reduction. "It's one of the top parameters customers will evaluate when considering a new purchase," she says.
In addition to dose reduction and recording, customers are interested in efficient workflow. "You improve the economic equation if you can get a lot of patients through that scanner every day," Silverman says.
Doing that means helping the technologists move patients through the system by automating parts of the exam, including determining the right size dose, exam setup from drop-down menus, automatic isocentering, and adjusting the scan area based on the part of the body the technologist will image. In addition to performing exams efficiently, software reconstruction of exams can happen more quickly, which speeds the exam from the scanner to the reading room to the clinician.
"What customers really need is optimized care that looks at dose, exam protocol, and workflow," Kreider says. "Education about these topics is also something they're asking about."
Workflow
Mochon cautions that innovation must improve workflow. "Customers want to see innovation that makes a difference to their clinical routine," he says. "It's great to have iterative reconstruction, but if it slows down my workflow, I don't like that. I want iterative reconstruction that doesn't slow me down. And I care about dose, but I also want it automated so that it makes it easier for my technologists to obtain low dose images, not slow them down in their work."
Automation also can improve customer service, Mochon says, because it frees the technologist to focus more on the patient and less on the system.
Nicholson also sees dose reduction intertwined with workflow. The iterative reconstruction software that can greatly reduce radiation dose in exams also must be fast enough to keep patients moving through the scanner. "It has to be fast enough that you can use it on all patients, and it must be available across the entire product line," he says.
It's pretty clear that the slice wars have given way to dose, workflow, and cost justification concerns in radiology. Reimbursement reductions that kicked in seven years ago with the Deficit Reduction Act generally have continued since then. In many places, it seems to have changed the tone of CT purchase discussions from "What's the best we can afford?" to "What's the least we can spend and still meet our imaging needs?" That philosophy is reflected in the major CT manufacturers' positioning of broader product lines that include much of their latest technology in scanners not considered top of the line—at least in terms of slices.
Longer Replacement Cycles
"With similar image quality and dose reduction across our product line, we've brought some high-end specs down into the value proposition scanners," Nicholson says.
Olszewski also stresses the importance of customers being able to benefit from current technology, even if they're not purchasing the newest scanner. He notes that replacement cycles are getting longer, but customers want their vendors to help them keep their existing equipment current longer. "We want to make sure that those tools are available to all our customers, not just our new customers," he says. "It is very important to us that all our customers have that capability."
As his final thought on the CT market today, Mochon suggests facilities look at their next CT purchase broadly rather than focusing on any single feature.
"If there was one piece of advice that I would give customers these days, it's to look holistically at how a scanner is going to help you," Mochon says. "There's no one aspect of a scanner that makes a difference; it's the whole product that should make the difference. Don't buy a scanner for one application; buy a scanner that's going to broadly address your needs. More and more customers are not seeking scanners that do something great. They want scanners that they can use to do everything confidently. They want a synergy between hardware and software."
— Jim Knaub is editor of Radiology Today.