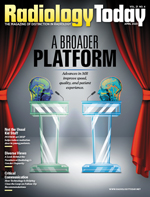 Diverse Views — A Look Behind the Numbers at Radiology's Gender Disparity
By Kathy Hardy
Radiology Today
Vol. 21 No. 4 P. 18
Women in radiology, currently an underrepresented demographic, are leading a charge to draw more females to the specialty, creating a strong message for why the imaging field is a great place to work.
Statistics compiled in 2017 by the Association of American Medical Colleges (AAMC) show that, for the first time, women represented more than 50% of the 21,338 medical school enrollees. However, radiology remains one of the few medical specialties still dominated by men. A 2016 AAMC report found that 24.7% of active radiologists in the country are female. Female leaders in radiology are implementing solutions for bringing more diversity to radiology, where women and other underrepresented individuals don't often see other people like themselves in the field—in clinical roles, academics, or on panels at industry conferences.
"When women see other women speaking, they see that not everyone in radiology looks the same," says Geraldine McGinty, MD, MBA, FACR, an associate professor of radiology and population science at Weill Cornell Medicine in New York as well as assistant attending radiologist at NewYork-Presbyterian Hospital. "Seeing more women in speaking and leadership roles in radiology will help move the needle on diversity."
According to several women, theories behind radiology's lack of female representation have a basis in fact—and myth—unusual for a field of medicine so rooted in technology, but women in radiology can work to combat any misinformation about the specialty.
"Anecdotally, you hear that women aren't comfortable with the physics, or that they might be hesitant to join the specialty due to possible radiation exposure," McGinty says. "Whether or not these beliefs are true, they're out there, and they can negatively affect the specialty."
McGinty chose radiology out of her love of anatomy, discovered while working on a surgical ward as a nurse's aide during medical school. While examining a patient, doctors were working to come up with a diagnosis, and it was determined that the patient needed imaging. The lightbulb that lit up over her head as she wheeled the patient to radiology gave her the insight needed for her next step in medicine.
"I realized that radiology is where you find the answers, and that's where I wanted to be," McGinty says.
Early Exposure
Some say the bias against radiology reaches back to the earliest days of a woman's education. Tessa Cook, MD, PhD, CIIP, an assistant professor of radiology at the Hospital of the University of Pennsylvania (HUP) in Philadelphia, sees potential distractions as females transition from elementary to secondary education levels, moving them away from science- and math-based programs.
"Data show that science subjects are strong among girls in elementary school, with third- and fourth-graders interested in the STEM fields," according to Cook, who is also a member of Radiology Today's Editorial Advisory Board. "But once girls reach the seventh and eighth grades, their interest drops off. There must be something in our messaging to our children at that age. We may not be emphasizing the same subject areas for girls as we are for boys."
Cook did not let a lack of female influence deter her from pursuing an education path in biomedical engineering and computer science before medical school. In fact, her experiences made her almost used to being "the only woman in the room," a fact that brings her some unease in her role as an advocate for women in radiology.
"I feel a little bit like a hypocrite when it comes to speaking up about the male-dominated culture in radiology," she says. "As an undergraduate, I was used to being outnumbered. It didn't bother me. There were only four women in my class, so once I became a practicing radiologist, there wasn't a culture change for me."
However, being used to the numbers and working to change them is where Cook leads by example, serving as HUP's chief of 3D and advanced imaging and as fellowship director for imaging informatics in the Perelman School of Medicine's department of radiology at the University of Pennsylvania. She also finds time to be a practicing radiologist.
Increasing Visibility
The numbers show a viable pool of women entering medical professions. According to the US Bureau of Labor Statistics numbers reported in 2017, 40% of physicians and surgeons in the US health care workforce are women. In addition, AAMC numbers from 2014 for women in the US physician workforce show that women make up 47% of medical students and 46% of residents. However, those numbers drop when it comes to female representation in academic leadership roles such as medical school faculty (38%), medical school full professors (21%), medical school deans (16%), and medical school department chairs (15%).
When it comes to selecting a specialty, data collected last year by the American Medical Association (AMA) and AAMC revealed that trends among women remained relatively consistent with previous years. Women comprise a larger percentage of residents in the fields of obstetrics and gynecology, pediatrics, and dermatology. Male-dominated specialties continue to be orthopedic surgery, IR, and diagnostic radiology.
"It's difficult to see yourself in a specialty where you don't see other people like you," Cook says. "Young women and men are looking for role models."
Many say the best method for increasing the number of female medical students interested in radiology is through visibility and publicity of female radiologists. Women in the field are influential as role models and mentors, but, without a significant number of women in clinical or academic settings, finding that magnet for attracting young medical students to the radiology field can be a challenge.
"A lot has to do with getting the message out there about roles for women in radiology," Cook says. "We're bad at advocacy. We need to look at avenues like social media, particularly as we try to attract young women to the profession."
One obstacle to overcome in the academic arena is the timing of medical students' first exposure to radiology. Cook notes that, in many cases, radiology doesn't occur as a dedicated rotation until the fourth year of residency.
"If they don't get to experience radiology sooner in their training, it will be too late for them to change their minds midstream," she says.
Outreach at the residency level is one approach Cook sees gaining momentum. She has spoken to females in radiology who have joined newly created special interest groups at the University of Pennsylvania and Cornell, for example.
"Not only do they see me as someone like them in the field; groups like this help to get the word out that radiology is a specialty for women," she says.
Organized Support
Many radiology societies are making significant efforts to promote inclusivity. One initiative of the ACR's Commission for Women and Diversity is the Pipeline Initiative for the Enrichment of Radiology. The goal of this group, started in 2016, is to introduce medical students to the radiology specialty early as well as expose female and underrepresented minority medical students to the specialty. The program offers internships for first-year medical students with radiology and radiation oncology departments and practices.
Another purpose of the commission is to recommend actions and policies to organizations and leaders that fall within three distinct areas: advocacy and awareness, professional development support, and institutional performance improvement. Suggestions include developing national standards for valuing professional stewardship activities that women and underrepresented minorities are likely to perform, increasing the visibility of accomplishments by women and underrepresented minorities, and developing leaders who value diversity.
Organizations can also join forces to increase awareness of women in radiology and ultimately draw more women to the specialty. In 2014, the commission partnered with AAMC on several workshops and conference presentations that addressed inclusion and understanding unconscious bias in health professions. There is also the American Association for Women Radiologists, which focuses on networking, increasing the visibility of women in radiology, sponsoring activities that impact women in radiology, and creating a mentoring program to help advance the careers of women in the profession.
Another way professional societies are showing support for women in radiology is in their leadership. In 2018, McGinty became the first female chair of the ACR's Board of Chancellors. She was also an original member of the Commission for Women and Diversity. In this capacity, she has been able to speak at meetings and conferences about the benefit for patients of a more inclusive radiology profession.
McGinty has also seen success partnering with industry, crediting medical data and image management cloud software company Ambra Health with helping to kick off #RADxx in 2016. She describes RADxx, which symbolizes two X chromosomes in its logo, as an organization that is less formal than a professional society but provides opportunities for building community among women in radiology. The group fosters networking and mentorship opportunities for leaders in radiology, informatics, and IT management of radiology systems. The group has established a speaker's bureau to promote women in the field.
"Efforts like RADxx create a community within the specialty, in this case in relation to informatics, where there are even fewer women than in radiology in general," McGinty says. "I have to thank the women and men of Ambra Health for helping to address the issue of lack of diversity in radiology."
Work-Life Balance
Maintaining a work-life balance is challenging in any profession, and women often consider it when deciding on a career in radiology. Women interviewed as part of a 2019 "Diversity Report" published in the Journal of the American College of Radiology discussed feeling guilty about family obligations while at work, then guilty about not working on grants or papers while spending time at home with families.
"Providing flexibility for women with children or who are dealing with family issues is a factor in determining why women may be hesitant to choose radiology," McGinty says. "That's why we're considering a national goal for paid family leave. We need to consider how different practices can work this into their policies, to help minimize burnout and create a greater work-life balance."
Several organizations have come out in support of 12 weeks of family leave in residency. The federal Family and Medical Leave Act (FMLA) requires 12 weeks of unpaid family leave once an employee has worked 12 months. However, leave policies vary widely across residency programs. The AMA policy on FMLA encourages residency programs, specialty boards, and medical group practices to incorporate a six-week minimum leave allowance into their parental leave policies. The AMA also encourages residency programs to develop written policies on parental leave.
As Cook points out, radiologists often work long hours, yet she has managed to find lifestyle benefits within the specialty.
"There is so much talk about wellness among physicians, and I believe radiology allows for more work-life balance," she says. "There is some opportunity for schedule flexibility. Some diagnostic work can be done remotely. Overall, you have the opportunity to craft an occupation to be mindful and present at work and be mindful and present at home."
It's worth noting, however, that the opportunity for flexibility doesn't come easier in medical specialties where female clinicians are in the majority.
"There's a difficult work-life balance in obstetrics and gynecology," says Meridith Englander, MD, FSIR, an interventional radiologist in Albany, New York. "They work long and unpredictable hours, yet no one says women don't want to go into obstetrics because of the demanding on-call schedule. But they'll make negative work-life balance assumptions about IR."
IR
Englander, who made her way to IR after an internship in orthopedic surgery, refers to a "bro culture" within IR, where men significantly outnumber women. In a 2019 study published in the American Journal of Roentgenology, she and other researchers examined the clinical practice patterns of interventional radiologists by gender. Results showed that women remain underrepresented in IR, representing 8.2% of all interventional radiologists identified nationally.
Despite the gender disparity, the researchers also found that women's interventional case composition, procedural complexity, and patient complexity are similar to those of their male colleagues. In addition, female interventional radiologists' higher proportion of evaluation and management clinical visits supports the specialty's increased focus on longitudinal care so that IR will thrive alongside other clinical specialties.
"Women are equal to men in IR in regard to the complexity of cases we perform and academic productivity," says Amy Deipolyi, MD, PhD, an interventional radiologist at Memorial Sloan Kettering Cancer Center, Weill Cornell Medical College in New York, and coauthor on the study. "Nonetheless, we have traditionally been left out of major leadership roles and efforts at technologic innovation in the field."
As her career evolved from a background in neuroscience to the more collaborative clinical work she finds with IR, Deipolyi has found fewer women as resources. That's where she and Englander credit organizations such as the Society of Interventional Radiology (SIR) and its Women in IR section with ensuring that their female colleagues are offered support and opportunities regarding practice and societal leadership positions, committee appointments, and speaking engagements. Work is also underway to reach out to interventional radiologists in training.
"SIR has developed a mentoring program that matches potential individuals with similar clinical interests," Englander says. "Meetings between mentors and mentees can be informal and can occur in person or remotely via e-mail. It's just one method of getting involved in the effort to bring women to the specialty and support those already there."
Timetable for Results
According to Cook, increasing the numbers of women in radiology isn't something that can be fixed in the next five years.
"A culture change in radiology is somewhat generational," she says. "Things might be good for the generation of women studying radiology now, but there will still be challenges for a few generations that passed through before them."
When considering what could be, Englander takes a wider look at the workplace in general and applies best practices to medicine.
"Diversity is a workforce issue," Englander says. "The number of women in medical school is greater than the number of men, but that has made little change in the culture in radiology. A diverse workforce has been proven better in the business world. We need to apply that approach to medicine."
— Kathy Hardy is a freelance writer based in Phoenixville, Pennsylvania. She is a frequent contributor to Radiology Today.