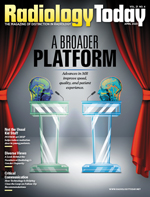 Critical Communication — How Technology Is Helping Close the Loop on Follow-Up Recommendations
By Dan Harvey
Radiology Today
Vol. 21 No. 4 P. 22
Often, when radiologists talk about informatics in the radiology space, they employ phrases such as "falling through the cracks" or "Achilles' heel." These descriptives are alarming, as they suggest problems for ordering clinicians and, more importantly, for patients. Radiologists are quite aware, however, of the urgency for improvement in informatic elements. They build or implement new technology that provides better tools for dealing with the most problematic elements—eg, communicating urgent findings, appropriate and timely follow-up recommendations, inefficient systems, and workflow issues.
Inefficiencies in workflow have been attributed to increases in image volumes, radiologists compelled to take on the role of transcriptionists, time wasted on too many phone calls, and too many electronic systems to navigate. As imaging technology advances and radiology workloads increase, radiologists may fall victim to burnout. Although these are formidable challenges, integration of new AI capabilities is becoming increasingly viable and valuable. Largely, this results from radiologists' keen interest in technology. Their engrossment is the necessity that "mothers" the invention of new technologies and methodologies.
Interest Drives Innovation
Tessa S. Cook, MD, PhD, an assistant professor of radiology at the Perelman School of Medicine at the University of Pennsylvania in Philadelphia, codirector of the Center for Practice Transformation at Penn, and a member of Radiology Today's editorial advisory board, is currently engaged in research that intersects health services with imaging informatics. Cook and her team received a research grant from the Penn Center for Healthcare Innovation with the purpose of researching and developing an automated radiology recommendations-tracking engine. Efforts involve the pursuit of new methods to improve workflow and enhance patient care.
"I always had been interested in clinical informatics in radiology—about radiation monitoring, optimization, those concerns," Cook recalls. "In my early faculty years, my department started thinking about doing a better job at making sure that patients with possible cancers didn't fall through the cracks after undergoing imaging."
Cook points out that challenges can vary according to patient type. "We are a quaternary academic medical center," she says. "Some of our patients come in through trauma centers and undergo a lot of imaging. After recovery, they leave. Sometimes they require follow-up because their regular care is outside of our facility, and appropriate follow-up may not have been communicated effectively. At the time, the patient may not have had the mental wherewithal, after recovering from acute trauma, to think about what needs to be done six to 12 months down the road."
So, challenges can be multifactorial. "It can be inefficient getting the findings to the patient's physician, who is responsible for follow-up," Cook says. "Several things might need to be done as far as further treatment for recovery."
As far as workflow related to follow-up, Cook notes she and her colleagues realized that one of the main considerations is better communicating the need. "Should a follow-up occur? We need to be very explicit about what should be ordered because, depending upon the physician who is following the patient, we are finding that the follow-up may not really involve their area of expertise," she explains. "That means the radiologist needs to provide as much guidance as possible. The bottleneck involves communication in the monitoring—determining whether the patient received the follow-up, even communication back to the physician."
The Penn Center grant was specifically for developing the Automated Radiology Recommended Tracking Engine, or ARRTE. "It represents our attempt at coming up with a solution that allows radiologists to tag their reports," Cook says. "We initially focused on the abdomen because my collaborating colleague [Hanna Zafar, MD, MHS] is a radiologist focused on abdominal images."
Cook, Zafar, and other collaborators detail their efforts in the paper "Implementation of an Automated Radiology-Recommendation Tracking Engine for Abdominal Imaging Findings of Possible Cancer," which was published in the May 2017 issue of the Journal of the American College of Radiology. According to the research team, reliable monitoring systems are needed to prevent delayed cancer diagnosis resulting from incomplete but clinically indicated imaging follow-up. They propose validating an automated recommendation-tracking engine that identifies and monitors imaging follow-up among patients with indeterminate lesions or those suspicious for malignancy in four of the solid abdominal organs.
"We set up a workflow diagram where radiologists would tag their reports, and we would pick up that information to find patients who received follow-up and needed some sort of downstream testing and then monitor our system to see if they received the follow-up," Cook says. "Then we would send a message to the ordering physician that it didn't happen. It's a tricky thing to do in an academic medical center, one that is a quaternary medical center, because a lot of times patients would come to the emergency department and the doctor who ordered the study is not necessarily the doctor who would follow it up."
Administrative Assistance
Rebecca Farrington, chief revenue officer for Healthcare Administrative Partners (HAP), says her organization sees the issue of critical findings as a matter of making sure that the radiologist is sharing the findings with the appropriate parties in timely manner. "What we're seeing is the evolving role that radiologists play in the scenario," Farrington says. "It's one thing to dictate on the standardized, final report that there has been a critical finding. It's another thing to make sure you're having a conversation with the referring physician and that you document that it happened. You close the loop in that."
So far, the challenges are being met with new tools and techniques. Legislation is also playing a role. For example, Pennsylvania enacted ACT 112, also known as the Patient Test Result Information Act, which was signed by Governor Tom Wolf on October 24, 2018. This act requires Pennsylvania imaging entities to directly communicate with patients that "significant abnormalities" were found in the patient's test results as well as continue the normal reporting procedure to inform the ordering physician.
"The act was signed because of a perceived risk that the increased workloads of health care providers may increase the prospects of test results being overlooked or misread," Farrington says. Hospitals and imaging entities must also document that the findings have been communicated to the patient, she adds.
One way to do that is by sending the patient a letter about the findings, informing them that they need to contact their referring physician. "Act 112 is a tangible interpretation of how important it is that patients receive their information," Farrington says. "Because there are so many moving parts and so much communication in health care, the act essentially says we need to figure out how the patient won't miss anything critical."
Making sure that incidental findings don't get missed is another side of the issue. An incidental finding that may have been gleaned from emergency department imaging, for example, can sometimes be overlooked. Lawsuits have been filed on those grounds. "So, again, it's important to make sure patients know what they need to know in timely fashion," Farrington says.
Farrington describes how new legislation and tools can affect workflow. "There's been an impact on workflow, as there is a burden placed on radiologists to ensure they are accurately and completely identifying, in the body of the dictated report, that there was a critical finding," she explains. "So, we have a tool (Deep Dive Analytics) that we provide, wherein a radiologist will literally dictate the words 'ACT 112' and the tool searches for that in the dictated report. That initiates our system to create a letter to notify the patient."
HAP also offers a tool to data-mine dictated reports for various types of information and reduce errors, she explains. "When the 'critical findings' part of ACT 112 came along, it provided us the opportunity give our clients—the radiologists—the ability to use a specific phrase to trigger a process around notification," Farrington says. "It provides the patient with another layer of protection."
Looping In
For Peter Wang, MD, director of body CT and MRI and director of medical students in the department of radiology at Einstein Healthcare Network in Philadelphia, a major issue of concern was inefficiency. He emphasizes that radiologists need to communicate unexpected or urgent findings found during a reading directly to ordering physicians. Findings not acted on can negatively impact patient outcomes.
Also, there's no guarantee that ordering providers will actually see the urgent findings, or even receive them. There is no "closing of the loop," where radiologists get confirmation that the important findings were received, Wang says. At the same time, if there are no significant findings, this, too, needs to be communicated.
"Previously, at Einstein, we'd pick up the phone and call the doctor ourselves. That interrupts our own workflow, and it includes time being placed on hold or transferred to other areas, which wastes time," Wang says. "Better efficiency drove our interests. Otherwise, we'd have to hire more support staff to make the follow-up calls for us.
"The best way is to communicate directly with the ordering physician," Wang continues. "Also, the radiologists need to receive confirmation that the physician received the urgent information. Sometimes confirmation can be delayed."
Other radiologists have worked closely with health care information IT to develop tools using AI and natural language processing, according to a report from Porter Research, a Duluth, Georgia–based organization that examines market intelligence needs, with emphasis on the health care IT market. Porter conducted research from January through March 2019. The company interviewed radiologists from nine US health systems. Interviewees described how their own organizations use technology to improve the consistency of recommendations and patient health outcomes.
As far as utilizing AI, some medical centers, such as the University of Pennsylvania, are high-tech "do-it-yourselfers."
"Many of the things we are talking about, the equipment and technology that we use, are things that we have built ourselves," Cook says. "It's not commercial technology we get from off the shelf; it's things that we are making for ourselves."
Others, such as the Einstein Healthcare Network, use vendor-produced technology. Wang says Einstein first used Nuance's dictation software for report dictation and, from there, it adopted the company's PowerConnect Actionable Findings.
"That model enables us to send messages to the order provider," Wang says. "The message could be about a finding that requires follow-up, such as a renal mass that requires additional workup. Any of those types of findings should get sent directly to the ordering physician."
Receipt of confirmation can also be significantly important. That's why delayed confirmation can be problematic. "With the Nuance PowerConnect Actionable Findings technology, the order provider, in their 'preferences,' can select how they want to receive the messages," Wang explains. "For example, they can receive a phone text message or a fax delivery to the office of their choice, or they can receive a phone call that tells them they have a message in their system. This represents a huge amount of savings for radiologists."
An integrated solution combining the proprietary routing capabilities of Nuance's PerfectServe with the notification protocols of PowerConnect Actionable Findings ensures that messages are routed quickly to the correct providers and then acknowledged. The communications loop is closed and tracked for compliance purposes.
Best Practices for the Best Tools?
In the wake of new IT and AI innovations, one might think that a set of best practices has been delineated. So far, that's not the case.
"Some people are starting to focus on this but, right now, I have not yet seen any best practices," Cook says. "But, more and more, I think we are starting to seriously think about it."
Farrington believes technology tools can help drive best practices. "But no one feels that tools should take away the interaction of the radiologist who reads the report and the referring physician," she says. "No one thinks that should ever go away."
"I don't know of a specific set of best practices, right now," Wang adds. "But the one essential best practice that exists is that it is the responsibility of the radiologist to document and communicate findings and then to make sure the findings are received."
— Dan Harvey is a freelance writer based in Wilmington, Delaware.