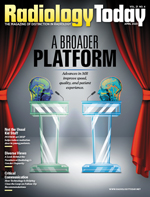 Imaging Informatics: A Helping Hand
By Dave Yeager
Radiology Today
Vol. 21 No. 4 P. 28
Radiology practices are facing increased pressure on multiple fronts, which is driving many to consider consolidation. Joining a larger group through merger or acquisition does offer some protection in an ever more competitive marketplace, but it also has drawbacks, most notably reductions in salary and loss of autonomy. Although consolidation is one way for radiology practices to remain viable, Dhruv Chopra, CEO of Collaborative Imaging, says it's not the only path forward.
With groups facing lower reimbursement from carriers, high-deductible plans, and increased compliance and reporting requirements, radiology groups typically need to consolidate, read more studies, and/or win new hospital contracts to offset reimbursement reductions. But, in order to get a new contract, they usually need to hire more radiologists to read more studies, resulting in marginal gains. Chopra's idea is to provide an IT and revenue cycle enhancement backbone, while providing the opportunity for practices to invest in a physician-owned practice that pays out 100% of its profits in quarterly dividends to its members.
"When Collaborative Imaging was created, we did it in such a way that our physicians would consistently own more and more of the company, with our nonphysician partners owning less and less. Today, approximately 90% is owned by our physicians. When we started, only 80% was owned by physicians. I imagine that this time next year, 98% will be owned by physicians," Chopra says. "We've basically given our radiologists a second revenue stream, as opposed to just the revenue that they're getting from the reads that they do. Each of the practices has equity in the company, so as we bring in more practices and improve those practices, their dividends continue to grow."
Essential Infrastructure
With 20 years of experience in radiology operations and billing, Chopra noticed that a significant amount of revenue is not being captured by radiology groups. Rather than watch consolidators reap those benefits, he decided to develop a practice model that would help deliver that revenue directly to the practices. To do that, he studied various models to determine the most important elements.
"There were basically three things that I determined that we needed. We needed technology, workflow solutions, and revenue cycle enhancement, and they needed to go hand in hand," Chopra says. "And the problem that you have today is that a radiology practice, typically, does not have revenue sitting around that allows them to invest in technology or workflow solutions, and they don't really have the oversight over billing companies to identify revenue enhancement opportunities. In addition, due to the fragmentation of radiology workflow, the entire cycle from order to billing is highly fragmented, with many disparate parties and systems involved."
While Collaborative Imaging isn't a billing company, Chopra wanted to make oversight of the billing process easier for practices. The company works with practices to ensure that billing companies receive correct information and identify deficiencies and opportunities. Chopra says the company has been able to improve revenue for the majority of its clients by 20% or more. In some cases, they've seen 25% improvement.
To do that, the company built an end-to-end platform that begins when a study is scheduled and ends when it's billed out. They start with the practice's data, making sure everything is accurate. Data are then passed to the billing company for coding, and the billing company files the claim.
"And it should result in payment," Chopra says. "As far as the coding goes, we know what the code is before we submit the charge to the billing company, but we can audit the billing company so that we know that if we're sending them a 71045 CPT code, they're actually billing out a 71045, rather than something else. And if they do bill for something else, why did they do that?"
To assist this process, Collaborative Imaging built its own rules-based, AI–driven universal worklist for study interpretation and operational and business processes. This allows all members to log in with a single interface, no matter how many hospitals a radiologist reads for. Exams are routed based on more than 400 criteria, and reports can be customized to suit referring physicians' preferences.
Group Effort
The company employs approximately 55 developers as well as 12 data scientists and engineers who are focused on developing AI- and machine learning–based workflow and revenue enhancement tools. Natural language processing tools are built into radiologists' reporting workflow, alerting the radiologists when a report does not meet billing requirements and allowing them to fix the report in real time. Other tools include those that identify a patient's "propensity to pay," send text alerts to patients, help patients with online scheduling, and automatically communicate critical findings to referring physicians.
"We've basically created a process that has an 'invisible hand' over the entire workflow side of the equation," Chopra says. "And the goal of that was really to make sure that we're capturing all of the revenue opportunities that there may be on the billing side of the equation but also to enhance the workflow for the radiologist."
Member groups are free to choose which billing company they want to use. They can also choose how much or how little they utilize Collaborative Imaging's IT resources. Chopra says eliminating duplicative efforts helps free up revenue.
He emphasizes, however, that the Collaborative Imaging model is not a good way for practices to make quick money. The company is looking for practices that are progressive and looking to grow. He says practices that are looking to sell and cash out are not good fits. To help determine the best matches, there is a trial period before any long-term agreements are signed. Once a match is made, the new group is part of the family.
"We don't want to partner with groups who are interested in selling out or looking to us as an alternative to piggyback on because they're afraid they're going to lose their hospital contracts," Chopra says. "We have 400 radiologists today who really all work together for the common good of each other. They're completely independent. They're completely autonomous. We do not own a percentage or an iota of the groups. We've given them this investment opportunity, but everybody's investment is contingent upon how everybody else does. So they're all working together to help each other be as successful as they can be."
— Dave Yeager is the editor of Radiology Today.