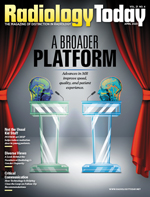 On the Case
By Michelle J. Romero, MD, and Robert Perez, MD
Radiology Today
Vol. 21 No. 4 P. 30
History
A 43-year-old black man with no past medical history presented with a palpable right breast mass. Approximately four months prior, he noticed right breast soreness and this breast felt firmer compared with his left breast. He described continual increase in the size of the right breast over time. He denied right breast trauma and reported no nipple discharge or skin changes. He had no family history of breast or ovarian cancer. Diagnostic imaging was performed, including a bilateral 2D digital mammogram and a targeted right breast ultrasound. Ultrasound-guided right breast biopsy was subsequently performed, followed by a bilateral IV contrast-enhanced breast MRI.
Findings
Right breast diagnostic full-field mediolateral oblique and craniocaudal mammography demonstrated a high-density lateral breast mass extending from the nipple to involve anterior and middle depths with associated suspicious calcifications (Figures 1 and 2).
| | |
| --- | --- |
| | |
| Figure 1 | Figure 2 |
Targeted lateral breast ultrasound demonstrated significant ductal ectasia of variable caliber with associated ductal calcifications and vascularity on Doppler (Figures 3 and 4).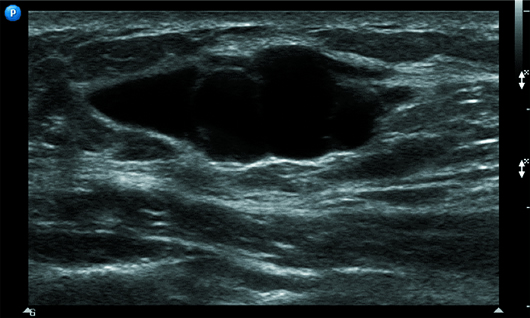 Figure 3
Figure 4
These ultrasound findings correlated with the mass on mammography. Breast MRI demonstrated a lateral T2 hyperintensity that was highly suspicious for malignancy, enhancing irregular breast mass on postcontrast T1 subtracted imaging involving all depths with washout, and plateau kinetics (Figures 5, 6, and 7).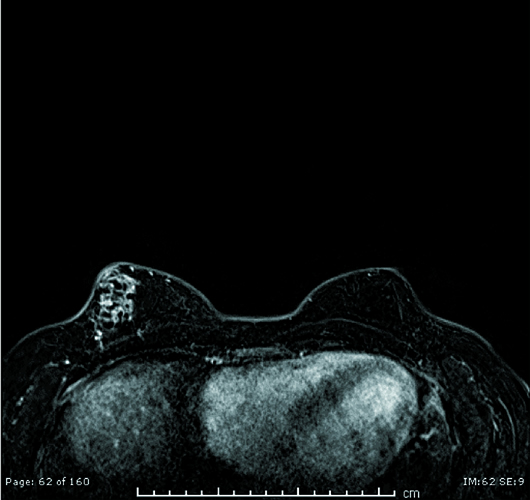 Figure 5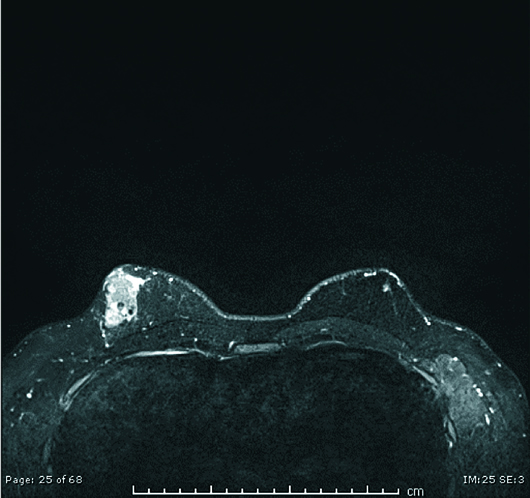 Figure 6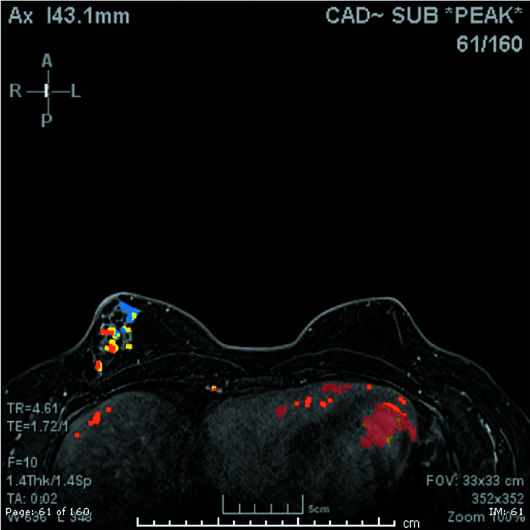 Figure 7
Diagnosis
Ductal carcinoma in situ (DCIS), grade 2, solid and cribriform patterns. No invasive carcinoma. Estrogen receptor and progesterone receptor positive, and negative surgical margins.
Discussion
DCIS in the male breast is exceedingly rare. It represents approximately 0.1% of all breast cancers and less than 0.1% of all cancers in men. Most male breast cancers are invasive ductal carcinomas. Invasive lobular carcinoma is rare (1%), owing to the lack of lobular development in the male breast.
Risk factors include obesity, prior chest radiation, family history, and gene mutations (CHEK2, BRCA2, BRCA1). Specific to men are conditions causing increased estrogen-to-androgen ratio, such as Klinefelter syndrome, which confers the highest risk for male breast cancer with a 20- to 50-fold increase. Other risk factors for male breast cancer causing increased estrogen include obesity and liver disease. Studies show breast cancer is more frequent in Jewish men and in some African countries, such as Egypt and Zambia.
Although studies show that gynecomastia is often present in male breast cancer patients (40%), a direct causal association has not been established, and, therefore, gynecomastia is not a direct risk factor for male breast cancer. It has been suggested that their occurrence together may be due to elevated estrogen levels, which are seen in both gynecomastia and breast cancer.
Presenting symptoms are similar to female breast cancer. The most common presenting sign is a palpable mass, pain, bloody nipple discharge, or nipple retraction. Since breast tissue is more commonly subareolar in men, the lesions are usually central or slightly eccentric to the nipple, often with nipple involvement.
The most commonly reported male DCIS patterns are papillary and cribriform. High-grade DCIS is extremely rare in male patients and, as in women, confers an increased risk of in situ and invasive recurrence.
Calcifications on mammography are less frequently associated with male breast cancer, including DCIS, as compared with female breast cancer. When present in the male patient, these calcifications often have a benign or nonspecific appearance.
Treatment for male breast cancer, including DCIS, has historically been a simple or modified radical mastectomy. Lumpectomy or breast conservation surgery is rarely performed in male patients.
— Michelle J. Romero, MD, is a radiologist at Radiology Associates of Hartford and Saint Francis Comprehensive Women's Health Center in Connecticut.
— Robert Perez, MD, is a radiologist at Radiology Associates of Hartford and Saint Francis Comprehensive Women's Health Center in Connecticut.
Resources
1. Brents M, Hancock J. Ductal carcinoma in situ of the male breast. Breast Care (Basel). 2016;11(4):288-290.
2. Chern J, Liao L, Baraldi R, Tinney E, Hendershott K, Germaine P. Case report: ductal carcinoma in situ in the male breast. Case Rep Radiol. 2012;2012:532527.
3. Mathew J, Perkins GH, Stephens T, Middleton LP, Yang WT. Primary breast cancer in men: clinical, imaging, and pathologic findings in 57 patients. AJR Am J Roentgenol. 2008;191(6):1631-1639.
4. Young R, Gergelis K, Kalnicki S, Fox JL. High-grade ductal carcinoma in situ (DCIS) of the male breast treated with breast conserving therapy. Ann Clin Case Rep. 2017;2:1383.
5. Zaesim A, Nguyen V, Scarborough CS. Pure low-grade DCIS in a male patient: a case report. J Surg Case Rep. 2018;2018(5):rjy109.