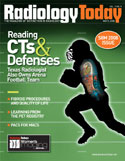 May 5 , 2008
Reading CTs and Defenses
By Kathy Hardy
Radiology Today
Vol. 9 No. 9 P. 18
Frederick M. Barnett, MD, is nationally known for his expertise in 64-slice CT for cardiac angiography and is a frequent speaker on the topic of how 3D imaging of cardiac arteries is "going to change everything" in the field of cardiac care.
Frederick M. Barnett, MD, has a different perspective on football injuries from that of the average radiologist. Sure, he reads the images taken of injured athletes who come to Metroplex Hospital in Killeen, Tex., where he is the director of radiology and chief of staff. However, he also experiences the view from the other side of the examining table as the owner of the CenTex Barracudas, an arena football team located in the center of one of the most football-focused states in the country.
In a place where football could be compared to a religion, Barnett believes in the spirit of the game and the camaraderie it creates within the region. "Sports are very competitive in Texas, and football is really big," says Barnett. "They have state football competitions, with all the teams battling against each other. CenTex is everybody's team. This is a unique opportunity to unify all competitors in neighboring communities throughout central Texas."
Indoor Football
The Barracudas are members of the Intense Football League (IFL), a nine-team league with franchises in Texas, Louisiana, and Alaska. The IFL is one of several second-tier arena leagues, including the Arena 2 and United Indoor football leagues. The Arena Football League, televised in spring and summer on ESPN, is the top level of arena football.
Barnett says the league, which is beginning its fourth season, is considered the equivalent of Major League Baseball's AA level. Fans from Belton, Killeen, and Temple, Tex., come together each week to nearly fill the 6,500-seat arena and cheer for their team.
"This is professional football," Barnett says. "The NFL doesn't have a minor league system. There are so many talented football players out there, but only 1% of them make it to an NFL team. Our team is made up of incredibly talented [NCAA] Division I football players trying to live out their dreams. That's a major motivation for me to help these guys."
The IFL kicked off its first season in 2004, with league operations temporarily suspended in 2005 but reinitiated in 2006. The Barracudas remained competitive during this time and made the playoffs in 2006. Last season proved challenging, however, as the team's 20-man roster suffered injuries to its quarterback and several other key players, struggling to a 2-12 season.
"Our record did not reflect our talent," Barnett says. "We lost 40% of our starters. It's hard for any team to recover from such a loss."
The 2008 season is a testament to that statement, as the Barracudas won against the previously undefeated Frisco Thunder by a score of 54-50, with a 3-yard touchdown run by veteran quarterback Bart Gloyd with 6 seconds remaining in the game. The team's owner predicts more good news for the remainder of the season.
IFL teams complete a 15-game season, starting in March and ending in June. The season concludes with playoffs and a championship game. Players receive a salary of $275 per game and paid housing, food, and health coverage. Travel is kept to a minimum, with the exception of games played against the two Alaskan teams, which ended up in the IFL following a failed attempt at forming a new league, Barnett says.
"We can't handle the cost of flying the entire team to Alaska, which is about $23,000, so those teams pay for our travel," he says. "We will then stay in Alaska for two weeks and play both teams during that time. The two teams from Alaska then make a one-time trip to play three or four consecutive games in Texas and Louisiana."
A Desire to Help
Barnett's desire to reach out and help others began in Lancaster, Pa., where he graduated from high school in 1975. He went on to earn a bachelor of arts degree in biology from Franklin & Marshall College and a medical degree from the Penn State College of Medicine. Following an internal medicine internship at Harrisburg (Pa.) Hospital, Barnett fulfilled the obligation of his military scholarship at U.S. Army medical centers across the country. The Army eventually sent Barnett to Brooke Army Medical Center in San Antonio, where this radiologist with a love of community began to establish Texas roots.
As a kid, Barnett loved playing football and other sports, but he didn't participate past the high school level. As a spectator, he enjoys the atmosphere generated at minor league events more than at major league games. The native Pennsylvanian enjoyed attending minor league baseball games of the Reading Phillies, the class AA affiliate of the Philadelphia Phillies.
"Minor league games provide people with the opportunity to see unbelievable talent in an intimate, family-friendly environment," he says. The IFL's mission is to provide the families in league cities with "the highest quality of family-oriented entertainment possible at an affordable price."
Barnett's medical experience was his entry into the Barracuda family. The team learned of Barnett through his work at Metroplex and asked if he could help physicians working along the sidelines during home games. The more involved Barnett became with the players, the more he wanted to do.
"Since this was a new team, I wondered if there were opportunities to become more involved," he says. "There were two other team owners at the time, but they were not local and, therefore, were interested in taking on a third owner. That occurred in Spring 2006 and, by the end of the summer, I bought them out."
For Barnett, it's not about the business, although that's something he needed to learn when he became the team's sole owner. He started with the sales aspect of the job, which included garnering corporate sponsors for the team. Following that were lessons in how to handle the media, selecting the right team physicians and trainers, and ensuring ticket sales. And, of course, every team needs coaches.
"Being a team owner is more work than I imagined it would be," he says. "You employ more people than just players. And with this being a new business, I need to be more hands on. It's quite challenging but a lot of fun."
Serving the Community
Barnett sees more than fun in the game of football, encouraging players and coaches to regularly reach out to the community through public speaking opportunities. He wants the team to entertain and educate through events, from signing autographs to holding sports camps for kids.
"If I go to a school to talk about saying 'no' to sex and drugs, the kids won't listen to me," he says. "But if I send the quarterback, they'll listen. We use whatever vehicle it takes to get out the message."
Team members also visit soldiers at Fort Hood, also located in Killeen. Fort Hood is the home of the Army's heavy-armored 1st Cavalry Division and the 4th Infantry Division, both of which play significant roles in the wars in Iraq and Afghanistan. Barnett is especially proud of the efforts his team has made in comforting wounded soldiers at the base.
While one of Barnett's professions involves activity that can cause pain and the other works to ease it, he finds similarities between football and radiology. He equates dealing successfully with each profession as being a "good politician."
"Image analysis involves pattern recognition," he says. "You need to see shades of gray. If you only see your point of view, you won't have the entire picture. To focus on the common good, you need to respect other viewpoints. It's the same whether I'm putting together a football team or a medical staff. We all need to see the same focus, whether the people involved are patients or players."
CT Angiography
In addition to his obligations as the chief of staff, a radiologist, and a football team owner, Barnett wears another hat: He is the director of coronary CT angiography at Doctors Hospital at Renaissance, a physician-owned, acute care facility located in nearby Edinburg, Tex. He is nationally known for his expertise in 64-slice CT for cardiac angiography and is a frequent speaker on the topic of how 3D imaging of cardiac arteries is "going to change everything" in the field of cardiac care. With the 64-slice CT, he says you can "freeze the motion of the heart" to obtain a clearer view of arterial anatomy.
Barnett champions this technology with other physicians throughout the country, conducting seminars and demonstrations at various medical conferences. He sits with physicians and assists with their review and diagnosis of 64-slice CT images to help further adoption of the technology.
So, when a CenTex Barracuda is injured, does Barnett see the player or the patient? "Whether as a physician or an owner, I reassure injured players that I want to see them fulfill their dreams, but I don't want them to play injured," he says. "I treat them on a human level. We do what we can to make them better and get them back on the field."
— Kathy Hardy is freelance writer based in Phoenixville, Pa.