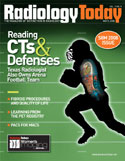 May 5 , 2008
Getting Back to Business — Study Compares Quality of Life in Women After Uterine Artery Embolization or Hysterectomy
By Kathy Hardy
Radiology Today
Vol. 9 No. 9 P. 22
Can the surgical removal of a woman's uterus bring her relief from uterine fibroids and, if so, is her improved quality of life long lasting? What about alternatives to surgery, such as minimally invasive uterine artery embolization (UAE), also known as uterine fibroid embolization (UFE)? Is one procedure a better solution than the other? These are the questions facing women, gynecologists, and interventional radiologists as they work toward resolving the issue of how best to treat women with uterine fibroids.
A recently published multicenter trial based in the Netherlands weighs in on the debate regarding UAE as a viable alternative to hysterectomy. Jim A. Reekers, MD, PhD, a professor of radiology and interventional radiology at Academic Medical Center (AMC) in the University of Amsterdam's radiology department, coauthored and presented results from the randomized clinical Embolization vs. Hysterectomy (EMMY) Trial on the treatment of symptomatic uterine fibroids.
Two-Year Results
The purpose of the study was to evaluate the health-related quality of life outcomes for UAE and hysterectomy up to 24 months after the procedures were performed. The researchers focused on quality of life as the easiest comparison to make between hysterectomy and UAE, given the differences between the procedures. Results showed that after two years, women who were treated with UAE reported health-related quality of life similar to that of women who underwent hysterectomy.
Reekers calls UAE a "brilliant procedure" for women suffering from uterine fibroids. Considering the EMMY trial results, he hopes more women become enlightened to the benefits of this minimally invasive treatment as a "true alternative" to hysterectomy.
"There are a lot of studies out there but not much acceptance [of UAE] among gynecologists," Reekers says. "They say, 'It's a nice trial, but I don't have any evidence.' There's skepticism among gynecologists that the quality of life with UAE is equal to what you get with hysterectomy after two years."
According to the trial results, the risks and benefits of UAE remain largely unknown, with data based on findings from several uncontrolled case series and a small random trial. There is a need for evidence-based medicine pertaining to UAE, Reekers says.
"We need level 1 evidence to convince gynecologists that UAE is good," Reekers says. "In general, we have much evidence-based medicine. Specifically, we need evidence of the benefits of UAE to have more acceptance of the procedure. That's why we conducted this trial."
Level 1 Evidence
"Reimbursement depends on the level of evidence that exists," he says. "That's the same no matter whether you're in Europe or in the United States. It's the same around the world."
Evidence already exists on the number of hysterectomies performed in the United States related to the treatment of uterine fibroids. According to the National Women's Health Information Center, fibroids account for approximately one third of the 600,000 hysterectomies performed annually in the United States and are the primary reason for the surgical removal of the uterus.
Uterine fibroids are benign growths of fiber and muscle tissue inside the uterus. They can cause heavy menstrual bleeding, pelvic pain, and pressure on the bladder or bowel. Fibroids affect approximately one in four women in their reproductive years, which accounts for the concern about removing the uterus.
That's where UAE comes in. This minimally invasive procedure, introduced in 1995, uses imaging guidance to insert catheters through the groin and into each of two uterine arteries. Small synthetic particles are injected to block blood flow to the fibroids. The fibroid tissue dies, the masses shrink, and the symptoms are reduced or eliminated.
The EMMY trial enrolled patients between March 2002 and February 2004. Of 349 eligible patients, 177 of them were randomly assigned to undergo UAE or hysterectomy; 88 women were assigned to undergo UAE, and 89 women were assigned to undergo hysterectomies. The mean age of participating patients was 44.6 in the UAE group and 45.4 in the hysterectomy group. A majority of the patients had already undergone one or more treatments prior to their involvement in the study.
Embolization: Faster Recovery
Trial participants were surveyed during a 24-month follow-up period and asked to comment on their health-related quality of life, providing assessments as to the various physical, mental, and functional components that contribute to the quality of life. Results showed significant improvement in quality of life in all patients six months after treatment, with the exception of defecation distress inventory, which improved significantly in the UAE patients but not the hysterectomy patients. The UAE patients also scored significantly higher than hysterectomy patients in measurements of factors related to physical function during the first six months after treatment.
Overall, 24 months after the procedures were performed, no quality of life differences were observed between the two groups. While more than 90% of patients in both groups were at least moderately satisfied with the treatment they received, the hysterectomy patients reported a higher level of overall satisfaction. Study authors attribute that to the fact that with a hysterectomy, the uterus is removed and women have no concern that their fibroids will return.
While results were positive for a majority of participants, 20% of women in the trial who had undergone UAE ultimately required a hysterectomy due to insufficient improvement in their fibroid symptoms. "If a woman really wants a 100% guarantee that her bleeding problems are over, a hysterectomy is her best chance of making that happen," Reekers says.
In making the choice, he says women need to consider their health goals. "If the patient has had bleeding problems for many years, she may still need a hysterectomy," he says. "Or she may just say, 'I want the problem solved now' and ask for the removal of her uterus in order to guarantee that the bleeding and other symptoms stop."
When speaking to quality of life issues, Reekers notes some immediate benefits of a minimally invasive treatment. For example, UAE requires only a local anesthetic and has a shorter recovery period than a hysterectomy. He also compares the difference between the small incision required for a UAE vs. the surgical incision required with a hysterectomy. "With UAE, patients leave the hospital the next day rather than in a week or longer," he says. "With a hysterectomy, it takes a woman about three months to return to normal life activities. Patients are back to normal much faster with UAE."
Also, many women want to keep their uterus, and UAE allows them to do that. "That's a big part of being a woman and a huge advantage of UAE," he says.
UAE Cost Savings
Reekers also reports a cost savings with UAE over hysterectomy, which in his native Holland is approximately $3,000.
"With the majority of people, if you explain the procedure to them and tell them the advantages, they choose to have UAE," he says. "Of course, that's as long as it's been explained to them that this is an option."
Allowing women the option to choose how to handle their uterine fibroids is an issue Reekers and other interventional radiologists are trying to address. He notes the findings of a survey conducted among women in Europe that found the rate of UAEs rather than hysterectomies is 5%. "This means 95% of European women are undergoing hysterectomies for the treatment of uterine fibroids," he says. "Most gynecologists just don't tell their patients that this is available. You should always know what your options are."
Trends in the United States are similar. A recent study presented at the Society of Interventional Radiology's (SIR) 33rd Annual Scientific Meeting shows that only 18% of 105 patients in the Atlanta metro area who saw a private practice gynecologist were told about UAE. The majority of women who sought treatment from their private practice gynecologists for uterine fibroids were only offered hysterectomy or myomectomy surgery. Myomectomy is the surgical removal of fibroids from the uterus.
Self-Referring
"Those women who know about UAE find out about it through Internet research," Reekers says. "They will bring it up to their gynecologists, who will then refer them to a radiologist. Most gynecologists don't put this into their portfolios. And interventional radiologists don't have patients … only those referred to them."
In a press release issued by SIR, John Lipman, MD, director of interventional radiology at Emory-Adventist Hospital in Atlanta says, "The scientific evidence of the safety and efficacy of UFE is irrefutable. In medicine, we present the scientific proof at meetings like this in large groups, but we implement these results as individual physicians. Physicians need to incorporate UFE into the treatment algorithm for patients suffering with uterine fibroids.
In addition to his roles with AMC and the university, Reekers is also president of the Cardiovascular and Interventional Radiological Society of Europe. The organization provides continuing education and training to physicians and scientists with an active interest in interventional radiology or cardiovascular imaging techniques and works to further define the roles of cardiovascular and interventional radiology as a subspecialty of radiology.
In Europe, Reekers says, some gynecologists and radiologists work together, combining their practices to keep the business together. This avoids the concern one may have about referring work away, he says.
With the publication of the EMMY trial, Reekers doesn't see the need for further UAE vs. hysterectomy studies. "The evidence is there," he says. "No one has questioned it. What has to be done next is patient education. Patients need to be aware of their options."
— Kathy Hardy is a freelance writer based in Phoenixville, Pa.