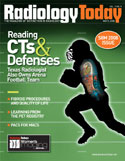 May 5 , 2008
Flying Solo With PACS for Macs
By Jim Knaub
Radiology Today
Vol. 9 No. 9 P. 6
"I'm a Mac guy," confesses radiologist Patrick J. McNamara, DO. "I like working in an environment where everything is easily integrated and it all feels Mac-like."
In addition to his personal preference for Apple computers, McNamara founded and operates Image North, a freestanding general and interventional radiology practice in Gaylord, Mich. It's located approximately 60 miles south of Mackinaw City, the northernmost town on Michigan's lower peninsula. It has approximately 4,000 residents and is the county seat of 24,000-person Otsego County.
McNamara is one of the fewer than 10% of radiologists working in solo practice. He estimates that he spends 60% to 70% of his practice time on interventional radiology. The diagnostic radiology portion of his practice is divided fairly equally between general x-ray and fluoroscopy, ultrasound, MRI, and mammography. He is currently pursuing the certificate required to add CT to his practice.
McNamara originally converted to PACS by using an eFilm Workstation, archiving images to a server hard drive and backing them up manually. The workstation worked well enough, but he was frustrated with the frequency of crashes on the PC-based platform and the fact that his computer system was not well integrated with his radiology workflow.
For example, McNamara used the medical version of Dragon's Naturally Speaking speech recognition software to dictate his findings into Microsoft Word and build his radiology reports, but he was not working with any RIS. Image North's patient scheduling was done via a paper appointment book. When McNamara began looking to upgrade his digital imaging and archiving, he sought a way to do it on the Mac Operating System X (OS X) platform. "I didn't like PCs and wondered if there was a way to view images on a Mac," McNamara says.
He found OsiriX, the open-source DICOM viewer developed by Antoine Rosset, MD, and Osman Ratib, MD, PhD, for Mac OS X. Curious, McNamara downloaded the OsiriX viewer to his personal Mac and "in an hour was pretty literate with the software."
Regulatory Issue
As free, open-source software, OsiriX "is not certified as a commercial medical device for primary diagnosis," according to the product's Web site. "Hence, there are no FDA/CE-1 certifications. In [the United States] and Europe, you can only use OsiriX as a reviewing, research, or teaching software, not for primary diagnostic, used in clinical workflow and/or for patient care."
Two companies—aycan and Kanteron Systems—offer and support FDA-approved versions of the OsiriX viewer software, according to the OsiriX Web site. In his practice, McNamara still uses both his eFilm Workstation and the open-source OsiriX viewer, which has 3D and 4D capabilities.
But a DICOM viewer alone does not an imaging archive system make. For that, McNamara turned to Meta Fusion, which recently began offering its integrated RIS/PACS for the Mac platform. As an early user of Meta Fusion's RIS/PACS, McNamara's facility became a luminary site for the company. Throughout the process, McNamara said he would ask questions and raise issues and the Meta Fusion developers worked out solutions for them, allowing him to have meaningful input on the product Meta Fusion is introducing. Meta Fusion is viewer neutral and will integrate virtually any DICOM viewer the customer chooses, McNamara notes.
When his installation was complete, McNamara had both OsiriX and his original eFilm Workstation connected to the Meta Fusion RIS/PACS and integrated with his Dragon speech recognition software to send the dictated reports directly into the RIS—all on the Mac OS X platform. Interestingly, there is no Mac version of Dragon's Naturally Speaking 9.0. McNamara says Meta Fusion programmers used an emulator to run the PC version on the Mac, and it worked "spectacularly." His front desk computer is a Mac, too, so scheduling and other patient information can go directly into the RIS.
Meta Fusion also added all of Image North's referring doctors to the RIS database, so McNamara can distribute images and reports in the format the doctors desire. Meta Fusion obtained the contact information and preferred report format for the approximately 180 referring physicians.
"They got all the data for each referrer and put it in our database, including their preferred receiving format," McNamara says. "It defaults to Web view [access], but we can send a fax or e-mail. We don't mail because nobody has asked for them to be mailed."
McNamara also sees two other major benefits of his new Mac-based RIS/PACS. First, the more stable Mac platform requires significantly less technical support than his previous PC systems, which he says is a big plus in an area where quality computer support is difficult to find. Second, he finds the speed and ease of his Web-based reporting impresses referrers. "Patients don't have to come to get a CD," he says. "Neurosurgeons can log in and look at [the report and images] on the Web."
In the end, McNamara wound up with a PACS suited to his practice's scale and the way he wants to work—on a Mac. He says the workflow efficiency of his new system is helping him keep up with his growing practice.
"It's one thing to have a product with capability, but capability that slows down workflow isn't going to sell," McNamara says. "This is easy, and it all feels like one system."
McNamara notes that productivity wasn't a priority when he was doing 10 cases per day, but Image North's volume has grown to 30 to 40 patients per day.
"I almost feel guilty because I can get the work done a little too fast," McNamara says.
— Jim Knaub is editor of Radiology Today.