May 2010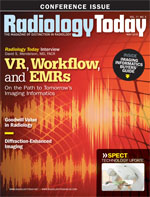 Technology Update: SPECT

Radiology Today
Vol. 11 No. 5 P. 22

Lowering scan times and reducing radiation dose without impacting image quality helps patients and technologists who perform the exams. SPECT and SPECT/CT manufacturers are launching hardware and software solutions to meet these nuclear medicine imaging objectives.

CardiArc, Ltd
Better Shielding, Higher-Quality Images
Safety for technologists and patients is highlighted in product enhancements at CardiArc. Founder and Chief Technology Officer Jack Juni, MD, FACNP, a nuclear medicine physician with an emphasis in cardiology, developed the CardiArc HD-SPECT imaging system with the end user in mind. New features for this system include built-in radiation and lead shielding.

"Our device is often located in a physically small office space, which means technologists must remain close to the patient as scans are taking place," Juni says. "The radiation and lead shielding built into the machine enables technologists to complete patient scans with minimum exposure."

CardiArc has incorporated an improved reconstruction software package that uses a new algorithm to assist in the composition of data into one clear image. This new detector modeling adjusts the math to allow for camera changes, ultimately resulting in better density.

"If the image becomes blurry at a certain point, the system can adjust the algorithm for each individual camera," Juni says. "Compare this to a piano. You can tune each piano in the same way or listen to the notes being played and tune individual pianos for their accuracy."

Other CardiArc features include increased speeds and reduced setup times, resulting in scan times of only two to four minutes. This means CardiArc operators can use the same amount of tracer with two patients as they would with just one patient with other machines, Juni says. This comes into play as facilities look to reduce radiation doses, both for patient safety and to deal with the technetium shortage.

"Fast scans are important for throughput and patient comfort [and] also for reducing patients' exposure to radiation," he says.

Patient comfort is also a consideration with CardiArc's open, upright design, which eliminates the need for patients to hold their arms over their heads during the exam. The open design can also make the exam less stressful for claustrophobic patients.
CardiArc also has two beta sites examining how a reduction in pixel size could enhance image quality. Images are typically captured at 6 to 7 mm. However, these two sites are capturing images at 1 mm. Juni says with a finer resolution, some people argue that the detail may not be significantly improved; results are showing otherwise, he says.

"The question is how fine do you go before you get to the point of diminished returns," he says. "We're finding that it does make a difference for the better."
Looking to the future, Terry Garner, vice president of sales and marketing for CardiArc, says the company is working on attenuation correction and mobility features. On this front, the company built a "proof of concept" feature that adjusts depending on the type of body tissue being scanned, accounting for such things as breast tissue when examining the heart. "This isn't just a CT scanner attached to an existing machine," Garner says.

Regarding mobility, plans call for developing a mobile device that can be used in many locations, with no cooling necessary. Garner says this feature is a result of requests from clients looking for a mobile camera to accommodate unique patient needs.

Digirad
Unique Attenuation Correction
Digirad's latest entry into the cardiac SPECT market is the cardius X-ACT imaging system that includes, among other things, a SPECT camera with unique attenuation correction capability. Historically, with SPECT/CT, the CT portion is used primarily for attenuation correction, particularly in cardiology, says Digirad CEO Todd Clyde.

"The X-ACT AC [attenuation correction] system offers high accuracy images and fast acquisition time," Clyde says. "With a high-speed, triple-head design, this device can complete emission and CT transmission data acquisitions in five minutes, eliminating the need to move the patient between the emission and transmission data collections. This method improves registration accuracy and efficiency."

Clyde further explains there is little misregistration with the X-ACT system because the patient is not moving. This also results in little to no respiration misregistration.
The system's open and upright design creates a more comfortable position for the patient compared with the standard deep tunnel design. In addition, an open machine such as this reduces the chances that claustrophobia will prevent patients from receiving necessary scans. Functionality is improved as well, as there is better separation between organs when the patient is scanned in an upright position. The X-ACT also now has a smaller footprint.

"With a smaller detection head, you have a planar camera that's slightly larger," Clyde says. "Looking at the needs of the market, we found that we could come in with a smaller footprint with a dual-camera version."

Another new feature for Digirad is nSPEEDsm, a 3D reconstruction algorithm that can be used to cut the dose in half rather than the speed. Combined with X-ACT, this software provides improved imaging beyond the standard 2D reconstruction techniques by producing sharper, high-contrast images, allowing technologists to reduce acquisition times or patient doses.

Currently in development at Digirad is the ergo, a portable camera with a 12- by 15-inch field of vision with 3.25-mm resolution. Clyde speculates that this type of system could be used for more general purposes, such as chest scans, in addition to cardiac purposes. This portable camera is awaiting 510(K) approval.

"In the hospital setting, we saw a real need for this type of system," he says.

GE Healthcare Americas
Seeking One-Stop Shopping for Cardiac Imaging
With 10 years of successfully serving nuclear medicine with its first-generation Hawkeye SPECT/CT system, GE Healthcare carefully considered customer feedback before creating its latest version—the Discovery NM/CT 670. This hybrid imaging platform operates with simultaneous movements and resolution recovery that acquires scans in one half of the standard time and also works toward effective dose management.

"We had requests to have combined CT and SPECT functionality that could also handle any overflow CT needs," says Kevin Boyle, GE's global marketing director for SPECT. "With that, we wanted to make sure that we were taking advantage of advances in both CT and SPECT and not just adding one to the other."

The Discovery NM/CT 670 platform incorporates flexible workflow technology that makes the hybrid exam more efficient, Boyle adds, with the capability to even perform bedside scans.

Looking at scan time reductions in relation to bone imaging protocols, conventional nuclear hybrid imaging could take as long as 55 minutes. However, with the Discovery NM/CT 670, that time can be reduced to as little as 25 minutes. This time reduction can mean less pain for patients, and patients who are more comfortable are less likely to cause excessive movement during their scans.

GE Healthcare also recently introduced a new SPECT/CT system called Discovery NM/CT 570c, a nuclear cardiology imaging system that integrates Alcyone technology with a volume CT system capable of capturing images of the heart and coronary arteries in five heartbeats.

This system combines four different technologies: CZT detectors, focused pinhole collimation, stationary data acquisition, and 3D reconstruction. The CZT detectors convert gamma rays into digital signals, creating a digital-to-digital conversion for improved energy as well as spatial and temporal resolution. Strategically positioned multipinhole collimators focus on the heart, improving detection efficiency. Utilizing the Alcyone collimation design, all views are acquired simultaneously during a stationary SPECT scan. The 3D reconstruction model accounts for acquisition, detector geometry and physics, and scatter and specific detector efficiencies and is optimized for the best results in each clinical protocol.

"This system is changing the way cardiac imaging is done," Boyle says. "This is really a one-stop shop."

Philips Healthcare
Astonish-ing Improvements in Reconstruction Algorithm
Philips announced improvements in diagnostic accuracy with the introduction of its Astonish reconstruction algorithm. Features of this new development include a patented dual-filtering technique that minimizes noise and helps improve uniformity in imaging.

A recent multicenter study on clinical performance of myocardial perfusion SPECT imaging using Astonish found that this new reconstruction tool addresses common SPECT concerns such as cost, acquisition efficiency, radiation dosage reduction, and improved accuracy. The study included both half-count and stress-only imaging, two important factors to consider when looking at SPECT today, according to Horace Hines, PhD, chief scientist for nuclear medicine at Philips.

"Half-count imaging is important now due to reduced reimbursements in this area," Hines says. "Labs need to be more efficient. Half-count imaging also allows physicians the option of reducing acquisition times or radiation dosages."
Astonish allows for the use of an attenuation map, he says, to provide photo-specific scatter and attenuation correction in addition to resolution recovery.
"When you add AC to Astonish it does several things, including improving diagnostic accuracy," he says. "AC removes some artifacts that mimic defects. The study showed an increase in specificity and decreased the number of false positives; sensitivity was unchanged."

A significant feature of this study, which included 187 patients, is the inclusion of multiple centers, Hines says. Also noteworthy is the fact that reconstructions were completed with full-time and half-time data, with and without attenuation correction.
In another study, Hines says, Astonish was shown to potentially reduce time and dosages by eliminating the need for patients to undergo both stress and resting imaging to determine whether there are any heart defects. With low-risk patients, the accuracy Astonish brings to the study reduces the need to compare stress and resting studies.

"This is significant when considering the economy of improved efficiency," he says. "You have a dosage savings in that you don't need to inject the patient for a resting study."

On the hardware side, Satrajit Misra, director of marketing for Philips, introduces the BrightView XCT, which has ties to Astonish. With the BrightView XCT, coplanar imaging allows users to acquire the SPECT study and CT map without any table motion between the two devices. Emission data can be corrected from the transmissions, he says.

Misra notes rapid adoption of this new hardware, reaching the 100-units-shipped mark since its introduction to the market in September 2009.

Siemens Medical Solutions, USA
Improving Efficiency
Making cardiac imaging "smarter" was the driver for Siemens' new IQ·SPECT technology, with the motivation coming from clients looking for better efficiencies in cardiac studies.

"Our customers needed a way to speed up their cardiac volume," says Chad DeGraaff, RT(R)(CT), Siemens national manager for SPECT and SPECT/CT. "They're looking for ways to make SPECT scanning faster and with less dose."
DeGraaff says with reimbursement cuts, the industry has seen a business shift from cardiologists' offices to hospitals for SPECT scans. The increased volume in hospitals has put a strain on radiology department staff looking for ways to reduce imaging times. Add to that the medical community's general desire to reduce radiation doses that reduce patient risk and help facilities manage technetium shortages that leave them adhering to daily allotment numbers.

Currently undergoing validation testing, IQ·SPECT, used on Siemens Symbia 5 and Symbia T Series imaging systems, addresses both speed and dose reduction. Three new components can help hospitals reach these goals: a collimator with a field of view that magnifies the heart while edges sample the entire body; cardio-centric acquisition that allows the detectors to rotate around a virtual center of rotation, the heart in this case; and a proprietary 3D reconstruction algorithm that models the position of each of the 48,000 collimator holes.

Initial measurements indicate the potential reduction in acquisition time from 16 minutes to two to four minutes with IQ·SPECT, DeGraaff says. When combined with automated patient setup, the time settles out at five minutes. CT-based attenuation correction and calcium scoring adds just another 60 seconds. When looking at dose reduction, the IQ·SPECT technology allows for a one-half reduction in dose, meaning less radiation for the patient and more supply for the medical facility.

Currently awaiting 510(K) clearance is Siemens' Symbia.net clinical workflow server designed to provide clinical staff with access to SPECT and SPECT/CT studies anytime, anywhere. The Symbia.net thin-client application has a user-friendly interface and advanced automation features that improve clinical workflow by providing staff with easy access to all patient cases. The system provides full processing and reading capabilities and is configurable with Siemens standard and advanced products, as well as the standard cardiac packages.

Future considerations for Siemens include the potential for IQ·SPECT to be used for more organ-targeted imaging. "The more counts you can get, the better the images," DeGraaff says. "You can take the molecular concept to the next step and target specific organs."