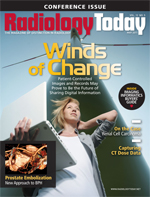 May 2011
Prostate Embolization
By Jim Knaub
Radiology Today
Vol. 12 No. 5 P. 28
Early work in Europe looks at the intriguing possibility of shrinking enlarged prostate glands the same way interventionalists treat fibroids. It could reduce complications associated with current treatments.
It really isn't a question of whether a man will develop an enlarged prostate gland; it is a matter of when.
Medically known as benign prostatic hyperplasia (BPH), 19 million men in the United States have a noncancerous enlarged prostate that presses on the urethra, causing urine flow to be slower and less forceful. An estimated 14 million have the condition but have not been diagnosed. As many as 50% of men experience symptoms of an enlarged prostate by age 60 and more than 90% of men over the age of 85.
"All men will develop BPH if they live long enough," says João Martins Pisco, MD, chief radiologist at Hospital Pulido Valente and director of interventional radiology at St. Louis Hospital, both in Lisbon, Portugal. Pisco is pioneering an embolization treatment for BPH, reporting results on 85 cases at the recent annual meeting of the Society of Interventional Radiology (SIR) in Chicago.
BPH is characterized by urinary frequency, a sudden urgency to urinate, passing urine more often (particularly at night), weakened urine streams, and incomplete emptying of the bladder. The biggest potential benefit of the new procedure—which is just beginning to be evaluated by interventionalists in the United States after early work by Pisco and a few others in Europe—would be the reduction of the complications commonly associated with current surgical treatments for BPH. Those side effects include blood loss, severe pain, sexual dysfunction, impotence, retrograde ejaculation, urinary incontinence, infections, and urethral stricture.
"Such symptoms can have significant negative impact in quality of life, leading many men to seek treatment," Pisco says. "We need innovative technologies, such as prostatic artery embolization [PAE], to continue to improve outcomes and minimize patient discomfort and morbidity when managing enlarged prostates."
Current Treatments
Medical therapy is the first line of treatment for an enlarged prostate, but it often does not adequately restore normal urine flow,  requiring further treatment. Transurethral resection of the prostate (TURP) is the gold standard BPH treatment. In a TURP procedure, an endoscope is inserted through the penis, and the prostate is removed piece by piece. It has a good track record for improving symptoms, but the complications make many men reluctant to undergo the procedure. In the United States, an estimated 2 million men have been diagnosed but refused treatment.
Open prostatectomy through an abdominal incision is another treatment option. During surgery, a man generally undergoes general anesthesia and needs to spend several days in the hospital. The major complications mentioned previously are frequent, according to Pisco.
Other treatment options include watchful waiting, transurethral needle ablation, and laser surgery. In addition to the complications, current BPH treatments have different drawbacks, which can include providing less effective improvement in symptoms, short durability of treatment benefit, and a greater risk of continued catheterization and subsequent treatments.
Pisco believes the value of the investigational PAE procedure will show it can produce symptom relief similar to current procedures with less pain and fewer complications. PAE also offers an alternative treatment to some men who are not candidates for TURP or open prostatectomy.
"Prostatic artery embolization blocks blood supply to treat noncancerous benign prostatic hyperplasia," Pisco says. "This study is significant because it shows comparable clinical results to transurethral resection of the prostate … without the risks of surgery, such as sexual dysfunction, urinary incontinence, blood loss, and retrograde ejaculation. While the gold standard treatment for enlarged prostates has been TURP, minimally invasive prostatic artery embolization is safe, performed under local anesthesia, and has comparable clinical results—without TURP's complications."
Pisco reported at SIR on an uncontrolled series of 85 cases in 84 men and acknowledges further controlled research is needed to validate the promising results, but his first case provides an example of the potential for the PAE procedure.
Pisco's first PAE patient was a 78-year-old man who had TURP surgery 14 years earlier and also underwent a partial open prostectomy eight years before the embolization. He came to Pisco because he was having urination problems again and needed a catheter to drain his bladder. The man had refused further open surgery. He approached Pisco and asked to be treated using the same embolization procedure that doctors use to shrink fibroids.
After confirming the man did not have prostate cancer (Pisco won't perform the procedure on men with prostate cancer), consulting with the patient's urologist, and obtaining the patient's acknowledgement that impotence was possible, Pisco performed the embolization procedure in 2009. He accessed the prostatic arteries via the femoral artery and injected the embolic particles, which block blood flow to the tumor, causing the prostate to shrink.
Pisco noted that one week after the embolization was completed, the patient's bladder catheter was removed and he began to pass urine normally. Three weeks later, he resumed sexual activity and, six months later, impregnated his 38-year-old girlfriend. Two years later, the patient is doing well, and the couple has conceived a second child.
Study Parameters
At SIR, Pisco presented information about 84 men with symptomatic BPH ranging in age from 52 to 85. Other treatment options the men underwent at least six months before the PAE procedure had failed to relieve their symptoms, according to Pisco. The men were followed for more than nine months, on average. PAE was found to be technically successful in 98.5% of patients, with 92.5% of patients discharged from the hospital on the day of the procedure.
In terms of benefits, 91.7% of the patients reported extreme improvement of symptoms, 7.1% reported slight improvement, and one patient (1.2%) reported no improvement. Among the patients who reported slight improvement, Pisco and his colleague were unable to embolize both prostatic arteries because of advanced atherosclerosis. Pisco said he used angiography, either by pelvic MR or CT, to evaluate the possibility of embolizing prostatic blood vessels. Atherosclerosis is common in older men and may represent an obstacle in a significant number of cases.
None of the study patients developed sexual dysfunction after the embolization procedure, and 30.9% reported improved sexual function, according to Pisco.
"The men who were treated with prostatic artery embolization showed significant clinical improvement," Pisco says. He added that PAE patients experienced symptom improvement comparable with TURP, but that some urodynamic results, such as flow rate of the urinary stream, improved more with TURP.
"Additional research is needed to explain why some patients improve better than others," he says.
Pisco and colleagues gathered follow-up information on 15 patients 16 months after their procedures. The mean prostate volume after surgery dropped from 89.6 to 70 cc. Eighty percent reported continued improvement in symptoms, while three patients (20%) reported recurrences where they again retained urine. In one case, PAE was performed on the opposite prostatic artery as the first procedure. In another, it was repeated in the same artery. In both cases, a good result was achieved with the second procedure. A third patient required open prostatectomy.
Speaking at a press conference at the SIR meeting in Chicago, American interventional radiologists showed clear interest in the procedure but cautioned that doctors are in the early stages of studying it. James Spies, MD, chairman of radiology at Georgetown University Medical Center, is one of several doctors planning to visit Pisco in Portugal to learn more about the procedure firsthand.
"We are really just learning about it," Spies told MedPageToday.com. "I would hesitate to say it looks like a panacea, but it is very promising."
Other Factors
Even though TURP is the gold standard, the procedure can be performed only on prostates smaller than 60 to 80 cc. There is no size limitation for PAE treatment, according to Pisco, potentially making it an option for patients who are not TURP candidates and choose not to have open prostatectomy.
"The best [embolization] results are obtained on patients with prostates larger than 60 cc and with very severe symptoms," Pisco said. "Pelvic arterial embolization may be the only feasible and effective treatment for benign prostatic hyperplasia in those men who cannot have TURP due to the size of their prostate [80-plus cc] or because it is inadvisable for them to undergo general anesthesia."
Pisco noted that further research must be done to confirm the results of his initial trial, including developing a better understanding of which patients are better embolization candidates. He believes PAE will become a common procedure in the future because of the following:
• PAE is a minimally invasive procedure performed under local anesthesia.
• It can be performed as an outpatient procedure, typically eliminating overnight hospital stays.
• It will prove to have a low complication rate, with no sexual dysfunction.
• Its outcomes are similar to TURP.
— Jim Knaub is editor of Radiology Today.