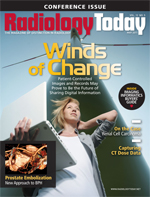 May 2011
Digitizing Records
By Jim Knaub
Radiology Today
Vol. 12 No. 5 P. 4
The five-disc CD changer on my 12-year-old bookshelf stereo died over the winter, temporarily imprisoning several discs. Its replacement has only a single-disc CD player, but it also has a docking station for an iPod as well as a USB port to play music files from a jump drive. (Fortunately, I'd loaded Buddy Guy's Sweet Tea album onto my iPod, so I can still listen to the blues guitarist until I get around to a rescue mission to free it from the broken CD changer.)
By and large, I am done schlepping CDs around; the CDs on my bookshelf are now largely archival. In the interest of full disclosure, probably only one-quarter to one-third of the 200 or so CDs have made it onto my iTunes library. I am in the middle of a data migration. Hauling all those CDs from the bookshelf to my desk and sitting down to rip those discs to my iTunes network seems a little daunting, so I do it on an as-needed basis. (And there is some 1980s music I will never need.) While there is some migration work that needs to be done, my CD shelf is steadily becoming a redundant archive.
Following that theme, David Yeager writes about the National Institute of Biomedical Imaging and Bioengineering project to replace CDs as the primary method of sharing PACS images and other digital medical records among networks. The project uses edge servers to set up a secure repository in the cloud, where records can be uploaded and downloaded from a patient's personal health record (PHR). Patients control access to their PHRs. While I'm skeptical that patient-controlled PHRs will ever form the core of any reliable EMR system—I think too many people will never have the knowledge or the desire to maintain their own records for it to become a reliable system—the concept of a secure clearinghouse between networks certainly has real merit and could lead to the next step that greatly reduces the role of CDs for transferring records.
Speaking of transferring records, I have purchased Jethro Tull's Aqualung album on vinyl, cassette tape, and CD. Now the album's title track, plus the epic "Locomotive Breath" and "Wind-Up," are ripped to MP4 files for my iTunes library. Some records are worth the hassles of multiple data migrations.
Enjoy the issue.
jknaub@gvpub.com