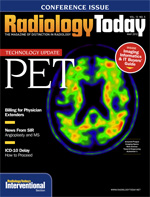 May 2012
Angioplasty for Multiple Sclerosis — Investigators Discussed Research About the Controversial Treatment at SIR's Annual Meeting
By Jim Knaub
Radiology Today
Vol. 13 No. 5 P. 24
"I've had a patient in my office who could barely walk and was using a cane, but three months later, she comes back for a follow-up visit with no cane and wearing high heels," said Meridith J. Englander, MD. "It was a big deal to her."
The patient about whom Englander was speaking was a woman with multiple sclerosis (MS) who had undergone angioplasty on veins in her neck to improve blood flow from her brain. Englander told this anecdote to the assembled media at a press conference at the Society of Interventional Radiology's (SIR) 37th Annual Scientific Meeting in March.
"We're not providing a cure for MS. We cannot claim that," said Englander, an interventional radiologist at Albany Medical Center in upstate New York who is involved in research about using the angioplasty treatment in MS patients. "I think we are relieving symptoms."
Englander's story illustrates the treatment has potential, but MS patients may see it as more than just one of a growing number of anecdotal cases regarding what is called chronic cerebrospinal venous insufficiency (CCSVI). According to the National Multiple Sclerosis Society, CCSVI is thought to be an abnormality in blood drainage from the brain and spinal cord that may contribute to nervous system damage in MS.
Italian vascular surgeon Paolo Zamboni, MD, first theorized and published initial findings on CCSVI and angioplasty for MS patients—sometimes called the liberation treatment—in 2009. While some follow-up research has shown evidence of CCSVI, other studies have not. Some physicians are skeptical about using angioplasty to treat this chronic autoimmune disorder, which affects movement, sensation, and bodily functions. MS is caused by the destruction of the myelin insulation of nerve fibers in the central nervous system.
Still, symptom improvement in enough patients has led to angioplasty's use in a growing number of MS patients despite the absence of large-scale, well-controlled clinical research. Patient Facebook posts and YouTube videos tout CCSVI "miracles" following the procedure. There are more modest Internet descriptions, too.
Exploring CCSVI
In the meantime, guided by hospital institutional review boards, more research is in development and under way to assess both CCSVI's role in MS and angioplasty's effectiveness as a way to treat symptoms. A new treatment could bring hope and help to an estimated 400,000 people with MS in the United States and 2.5 million people worldwide, according to figures from the National Multiple Sclerosis Society.
"Our results are important because there are an estimated 400,000 individuals affected by multiple sclerosis in the United States, some of whom experience symptoms that limit their quality of life in several ways," said Hector Ferral, MD, an interventional radiologist with NorthShore University HealthSystem in Evanston, Illinois, and one of several researchers who presented data on the angioplasty treatment for CCSVI at SIR. "For many, it can be quite debilitating. These early results show that performing angioplasty on azygos and jugular vein lesions may have a positive impact on the symptoms of those individuals with MS and also could be an effective palliative treatment geared toward improving their quality of life."
MS has no known cure, but relieving symptoms that may allow a patient to keep working or perform routine tasks is obviously of value and interest. However, as news of angioplasty for CCSVI spreads, physicians are experiencing pressure from patients to carry out a treatment that hasn't been well studied and isn't supported by long-term data. The research presented at SIR builds on Zamboni's initial reports and others' work.
Ferral was the lead investigator in a study that reviewed 105 angioplasty treatments in 94 MS patients aged 26 to 67. The patients' jugular and azygos veins were evaluated with selective venography and intravascular ultrasound. Angioplasty was performed if the imaging confirmed vein reflux, or a greater than 50% narrowing in the vessel's diameter. If necessary, stents were then used to treat nonresponsive lesions or blockages. All patients received blood-thinning medications for six weeks after the treatment.
The researchers reported symptomatic improvement in 55% of patients; 38% reported no improvement. The remaining 7% did not comply with their follow-up visits and were considered lost. Close to 60% of patients with the relapsing-remitting form of MS reported improvement in symptoms.
The classifications of MS types include primary-progressive, which means a gradually progressive disease without remission; relapsing-remitting, which demonstrates acute attacks with intervals of slow improvements in symptoms; and secondary-progressive, where a disease that was once relapsing remitting is now slowly progressing.
"These important results revealed that, for people with multiple sclerosis who experience debilitating symptoms, minimally invasive interventional radiology treatments can be an effective palliative treatment that also may improve their quality of life," Ferral said. He also stressed the need for both ongoing well-designed research and for patients to continue seeing their neurologists. Additionally, in 2011, a SIR Foundation research consensus panel noted that large-scale, controlled, multicenter trials need to be done to explore CCSVI.
Englander worked with Kenneth Mandato, MD, also of Albany Medical Center, on another study focusing on endovascular treatment for CCSVI. Their work also found the procedure to be safe and that it may produce short-term term improvement in the quality of MS patients' physical and mental health.
"Traditional theories surrounding treatment for multiple sclerosis in large part focus on autoimmune causes for brain pathology and neurologic symptoms. Based on this, treatment has been predominantly medications by mouth or injection," Mandato said. "We have been using angioplasty to open jugular and azygos veins in the neck and chest respectively to improve blood flow in people with MS. On follow-up, we have seen many of these individuals report significant symptom relief."
The study reviewed surveys about symptom relief from 192 patients with different subtypes of the disease regarding symptom relief, according to data provided at the press conference. Classifications within a diagnosis of MS include primary progressive, which means a gradually progressive disease without remission; relapsing remitting, which demonstrates acute attacks with intervals of slow improvements in symptoms; secondary progressive, where a disease that was once relapsing remitting is now slowly progressing.
MS subtypes within the Albany study group included 96 patients with relapsing-remitting, 66 with secondary-progressive, and 30 with primary-progressive MS. Most patients received angioplasty alone, but three received angioplasty and had a stent placed.
"During a four-month period, we treated 213 individuals," Englander explained. "[Of that total,] 192 of these patients [72 men and 141 women with an average age of 49] responded to a standard questionnaire that evaluated key quality-of-life components, including changes in physical abilities, health perception, energy/fatigue, sexual function, emotional well-being, cognition, and pain. We ultimately broke this data down into physical and mental health scores for each person and found improvement in both components of quality of life. In addition, we found a trend that patients undergoing this treatment more than 10 years after diagnosis did not respond as well as those with a more recent diagnosis."
Mandato said the results from this group of patients were "exciting and promising."
 "We can attest to significant physical improvements reported in greater than 75% of those with relapsing-remitting and primary-progressive forms of multiple sclerosis," Mandato said. "Additionally, mental health scores improved in greater than 70% of individuals studied. People with secondary-progressive multiple sclerosis showed statistically significant improvements in both physical and mental health scores at a rate of 59% and 50%, respectively."
As with any promising treatment, patients often pursue it before definitive clinical trials are complete. Mandato addressed that aspect of angioplasty for CCSVI in MS patients.
"To address the needs and concerns of those with MS who feel they cannot wait until definitive studies are completed, many doctors are currently offering treatments with the hope of helping individuals with hard-to-manage symptoms of MS," Mandato said. "Physicians who perform these treatments hope that this work will provide insights into the design of a prospective, randomized trial that is needed to rigorously evaluate the role of this treatment in MS. As we are still early in fully understanding the condition and its relation to treatment of CCSVI, it is our hope that future double-blinded prospective studies will be performed to further assess the durability of these results."
Researchers also acknowledged concerns about the symptom improvement being attributed to the placebo effect, which has not been considered in existing research but certainly is a possibility in a treatment where approximately 40% of recipients did not benefit from treatment. Ferral said all his patients are optimistic before they undergo the angioplasty treatment, but that one month after the procedure, about 40% tell him, "I feel you've done nothing for me." He told the press conference audience that the prospective clinical trials need to incorporate a double-blind component to assess the possibility of the placebo effect.
But Ferral is convinced that efforts should be undertaken to better understand CCSVI and its potential implications in MS patients.
"If you go down the list of all MS symptoms, I've seen improvement in all symptoms," he said, "though not in every patient."
— Jim Knaub is the editor of Radiology Today.