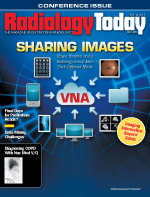 May 2013
SIR 2013 Reporter's Notebook
Radiology Today
Vol. 14 No. 5 P. 22
Editor's Note: This article was prepared from press releases distributed at two press conferences at the Society of Interventional Radiology's (SIR) 38th Annual Meeting in New Orleans last month.
Drug-Eluting Stents Prevent Leg Amputation
Drug-eluting stents can keep clogged leg arteries open, preventing amputation, according to research presented at SIR's annual meeting.
"Peripheral arterial disease [PAD] is becoming increasingly prevalent due to our aging population and the obesity and diabetes epidemics," explained Robert A. Lookstein, MD, FSIR, lead researcher and chief of interventional radiology at Mount Sinai Medical Center in New York City. "Many PAD patients are not candidates for surgery and are seeking minimally invasive options. This therapy is an emerging technology that is safe and effective for treating critical limb ischemia. This treatment helps alleviate pain and avoid amputation."
In the retrospective study, 107 patients with critical limb ischemia had 171 drug-eluting stents placed in blocked leg arteries. Six months after treatment, 90% of the stents remained opened. Subsequent check-ups at one and two years showed just a slight decline, with 84% and 70%, respectively, of treated arteries remaining open. All patients in the study who were treated in the early stages of critical limb ischemia avoided amputation.
Minimally invasive balloon angioplasty is commonly used in patients who are not good surgical candidates, but long-term success rates are poor when small arteries are treated, Lookstein said. To avoid this restenosis, physicians can place a stent to keep the artery propped open. In this study, the stents were impregnated with an immunosuppressant drug similar to those taken by organ transplant recipients to prevent the rejection of a new organ.
"The study shows that this technology is superior to balloon angioplasty and rivals the results of surgical bypass," Lookstein said. "It's safe, it's durable, and the outcomes are spectacular. The vast majority of patients were able to avoid amputation and dramatically improve their quality of life."
— Abstract 13, "Single-Center Experience With Drug-Eluting Stents in the Treatment of Critical Limb Ischemia: Mid-Term Follow-Up," is available at www.sirmeeting.org.
Stenting Dramatically Improves Dialysis Access Life
Kidney dialysis patients derive a long-term benefit from the placement of a medical-grade plastic stent that helps dialysis access grafts function longer, according to 12-month results from the RENOVA trial presented at SIR's annual meeting.
"Results of the study exceeded our expectations, and that is a boon for dialysis patients," said Ziv J. Haskal, MD, FSIR, lead study author and a professor of vascular and interventional radiology at the University of Maryland School of Medicine in Baltimore. "Dialysis is very demanding, and anything that prevents access sites from failing and reduces the need for invasive treatments of surgery will dramatically improve patients' quality of life while reducing health care costs."
Every year nearly 400,000 people undergo dialysis, Haskal said. Physicians access and filter the blood through delicate grafts or veins that often collapse because they can't handle the high-pressure circuit of purified blood being fed back into the body, forcing physicians to continually reopen them or create new treatment access sites.
Results from the RENOVA study, a prospective, multicenter, randomized trial, show these dialysis sites can be successfully kept open using stent grafts for far longer than previously reported. In the study, 270 dialysis patients treated for collapsed access sites at 28 US centers were randomized and 138 subjects underwent stent grafts while the remaining 132 had balloon angioplasty. After 12-month follow-up, researchers found that 2.5 times more patients in the stent graft group could continue using their dialysis access grafts compared with those who were being treated by balloon angioplasty alone without invasive interim procedures. The potentially big news for dialysis patients is that until these data were uncovered, grafts had been considered short-term solutions, with 75% requiring invasive interventions with the first year of use, Haskal said.
"This area where the graft is sewn in, that allows blood to flow back up the arm toward the heart, has particular turbulence," Haskal said. "That turbulence, like a river bend, tends to incite tissue growth at the sides. Just like a river depositing sediment along a bend, these veins thicken and narrow. More than 100,000 angioplasties are performed each year due to this narrowing. What this stent method does is not only reopen the vein but turn the graft into an inline flow so that the blood enters the vein at a more natural angle."
The stents are implanted at the time of balloon angioplasty. A small balloon is inflated, expanding the vein and setting the stent in place. These stent grafts reduce wear and tear, helping dialysis access sites stay healthy and open for months, and even years, longer than researchers had hoped.
"It was a wholly foreign concept when we started," Haskal said. "People told me it was crazy. Anecdotally, we now have patients who have these stent grafts that are still open after three years. That is practically unheard of. This controlled study proves that we can achieve durable long-term solutions for these patients, reducing their invasive procedures and thus improving their quality of life."
— Abstract 237, "Twelve-Month Results of the RENOVA Trial: A Prospective Multicenter Randomized, Concurrently Controlled Comparison of the Flair Endovascular Stent Graft vs. Balloon Angioplasty in Dialysis Access Grafts," is available at www.sirmeeting.org.
Stenting Blocked Bowel Arteries Is Effective
Stenting reopens completely blocked bowel arteries, preventing damage and even death from a condition that causes individuals severe pain and leads to excessive weight loss, according to research presented at SIR's annual meeting.
"Stenting blocked mesenteric arteries saves lives," said Daniel A. Leung, MD, program director of vascular interventional radiology for Christiana Care Health System based in Wilmington, Delaware. "Open surgery has traditionally been the primary treatment for patients with a 100% blocked mesenteric artery, but that is associated with high mortality rates and a long recovery, and many patients don't qualify for surgery due to poor health. Our research found that stenting the main mesenteric artery supplying the bowel can almost immediately resolve patients' symptoms, even when that artery is 100% blocked, allowing them to recover rapidly—and those results last."
Chronic mesenteric ischemia can cause dangerous weight loss, malnourishment, and death because the intestines can't receive the oxygen-rich blood required to digest food. Surgery can correct the problem but is risky.
In the study, 40 of 46 patients (87%) who had completely blocked superior mesenteric arteries had a successful procedure restoring blood flow to the bowel, and all experienced immediate symptom relief. Of the remaining six subjects, one patient could not be reached, and five patients were referred for other treatment, including surgery.
Leung noted that stenting of a completely blocked mesenteric artery has, in the past, been considered a difficult and risky procedure. The study showed that not only is stenting of this artery possible, but it can safely and successfully restore blood flow to the bowel and promptly resolve patients' symptoms with few complications. Patients too frail for major abdominal surgery can recover quickly with stenting.
— Abstract 16, "Stenting of Superior Mesenteric Artery Chronic Total Occlusions in Patients With Chronic Mesenteric Ischemia: Technical and Clinical Outcomes," is available at www.sirmeeting.org.
Cryoablation May Offer Lung Metastases Treatment
Balls of ice can safely kill cancerous tumors that have spread to the lungs, according to results from the first prospective multicenter trial of cryoablation, which was presented at SIR's annual meeting.
"Cryoablation has potential as a treatment for cancer that has spread to the lungs from other parts of the body and could prolong the lives of patients who are running out of options," said David A. Woodrum, MD, PhD, a study author and interventional radiologist at the Mayo Clinic in Rochester, Minnesota. "We may not be able to cure the cancer, but with cryoablation, we can at least slow it down significantly and allow patients to enjoy greater quality of life longer."
In the initial results of the study, called the ECLIPSE trial (Evaluating Cryoablation of Metastatic Lung/Pleura Tumors in Patients—Safety and Efficacy), 22 subjects with a total of 36 tumors were treated with a needlelike cryoprobe under imaging guidance in 27 sessions. Cryoablation was 100% effective in killing the tumors at three-month follow-up. Follow-up at six months on five of the 22 patients (23%) found that the treated tumors were still dead.
Once in position, the tip of the instrument is cooled with gas to as low as -100˚C. The resulting halo of ice crystals can destroy cancer by interrupting its cellular function, protecting nearby healthy, delicate lung tissue. Lung cryoablation has been promising in part because of the low periprocedural morbidity.
"Most of these patients can go home the day after their cryoablation treatment and resume their normal activities," Woodrum said, noting that researchers plan to continue to follow patients for up to five years.
— Abstract 33, "Evaluating Cryoablation of Metastatic Lung/Pleura Tumors in Patients—Safety and Efficacy (ECLIPSE)," is available at www.sirmeeting.org.
Treatment Can Freeze Neuralgia Pain
Cryoneurolysis, a cryotherapy treatment, can safely short circuit chronic pain caused by nerve damage, according to data presented at SIR's annual meeting.
"Cryoneurolysis could have big implications for the millions of people who suffer from neuralgia, which can be unbearable and is very difficult to treat," said William Moore, MD, medical director of radiology at Stony Brook University School of Medicine in New York. "Cryoneurolysis offers these patients an innovative treatment option that provides significant lasting pain relief and allows them to take a lower dose of pain medication or even skip drugs altogether."
Cryoneurolysis uses a small probe that is cooled to -10˚ to -16˚C, creating a freezer burn along the nerve's outer layer. This interrupts the pain signal to the brain and blunts or eliminates the pain while allowing the damaged nerves to grow over time, Moore explained.
In the study, 20 patients received cryoneurolysis treatment for various neuralgia syndromes and were evaluated using a visual pain scale questionnaire during follow-ups one week, one month, and three months after the initial procedure. Prior to treatment, patients' pain plummeted from an average of 8 out of 10 on the pain scale to 2.4 one week after treatment. Pain relief was sustained for about two months after the procedure. Pain increased to an average of 4 out of 10 on the scale after six months because of nerve regeneration, Moore said. He recommends repeat cryoneurolysis treatments as needed per patient; however, some patients will receive up to one year of pain relief from a single treatment.
In the treatment, an interventional radiologist inserts a probe about the size of an IV needle that is used to draw blood. Under imaging guidance, the probe is advanced through the skin to the affected nerves. Cooled with pressurized gas, the probe creates ice crystals along the edge of the nerves. "The effect is equivalent to removing the insulation from a wire, decreasing the rate of conductivity of the nerve. Fewer pain signals means less pain, and the nerve remains intact," he explained. Additional comparative studies are needed, he also noted.
— Abstract 30, "Prospective Evaluation of Cryoneurolysis for Refractory Neuralgia," is available at www.sirmeeting.org.
Laser and Liposuction Offer 'Tummy Tuck' Alternative
A new, minimally invasive treatment that uses lasers to melt fat could replace the open surgery "tummy tuck" with a less invasive procedure, according to research presented at SIR's annual meeting.
The fat-melting action of laser lipolysis has the added benefit of producing new collagen, the main protein that gives the skin its tone and texture. Additionally, the laser causes the collagen to contract, which tightens the skin. This tightening alleviates the fear of skin sagging, a common complaint after standard liposuction. Laser lipolysis also enables the removal of more fat than standard liposuction.
"Many women who have standard liposuction are discouraged because often the skin sags after the fat is removed," said Abbas Chamsuddin, MD, lead study author and an interventional radiologist at the Center for Laser and Interventional Surgery in Atlanta. "Ultrasound-assisted guidance of a fiber-optic laser during laser lipolysis can be used on many parts of the body and results in excellent sculpting with tight skin."
Between February 2009 and July 2012, a group of 2,183 individuals aged 17 to 73 (75% female, 25% male) underwent laser-assisted lipolysis and liposuction on multiple areas of the body, including the neck, arms, waist, breast, belly, thighs, and calves. Prior to treatment, each person had measurements recorded, including weight, diameter of the area treated, and skin tightness. At each follow-up appointment, the diameter of the treatment areas was measured and recorded. Skin tightness also was recorded against control criteria.
The laser's thermal energy melts the fat, and standard liposuction removes it from the body, Chamsuddin noted. Patient follow-up was daily for one week and then at one, three, and six months. All treated areas showed improvement in reducing fat bulk as well as tightening skin. The laser uses targeted energy to "zero in" on the fat without affecting the other tissue, enabling a faster recovery.
"Combining traditional liposuction with laser lipolysis has now been shown to produce well-sculpted bodies with tight skin," Chamsuddin said. "We are able to give people things such as a tighter abdomen without the need for surgery.
"
— Abstract 143, "Laser Liposuction in Interventional Radiology," is available at www.sirmeeting.org.