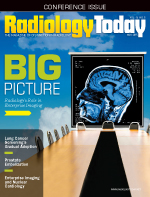 May 2015
Prostatic Artery Embolization: IR Researchers Busy With US Clinical Trials
By Jim Knaub
Radiology Today
Vol. 16 No. 5 P. 20
Prostatic artery embolization (PAE) made a splashy American debut at the Society of Interventional Radiology (SIR) meeting four years ago. Many IR researchers remain optimistic about its future as a less-invasive alternative to transurethral resection of the prostate (TURP) for treating lower urinary tract symptoms secondary to benign prostatic hyperplasia (BPH). That early optimism does not yet equal a definitive body of clinical evidence, but four years later, PAE is progressing down its clinical research path.
For decades, TURP has been the gold standard surgical treatment for BPH after medical treatments fail. The procedure has a proven history of being safe and effective. The Urological Care Foundation estimates that 150,000 TURP surgeries are performed in the United States each year. Yet, despite TURP's successful history, the procedure's use has declined as patients and physicians seek a less-invasive, equally effective alternative that would reduce hospital stays, urinary catheterization time, discomfort, and complications such as bleeding, incontinence, and impotence.
It's true that TURP has a public relations problem. As a Harvard Medical School website points out, "TURP [is] often inelegantly referred to as the 'Roto-Rooter' technique." Given that image, it is no surprise that men have a strong interest in PAE when medical therapy is not effective or drug side effects are intolerable.
"There are stark differences between how this [PAE] procedure is performed and traditional urological procedures [are performed]," says Sandeep Bagla, MD. "Just the method of how traditional procedures are performed raises eyebrows with patients." Bagla, an interventional radiologist at Inova Alexandria Hospital in Virginia, is the lead researcher of the first prospective PAE trial in the United States.1 He says he definitely sees a surge in patient interest in PAE.
"We get calls every day from people who are looking to see if this procedure is coming to our site or other sites," Bagla says. "They're asking, 'Why aren't people talking about this and why aren't there more studies?'" The answer, which doesn't always satisfy patients, is that it simply takes time for that research to be planned, completed, and evaluated—particularly when a proven procedure is already available to treat BPH that requires surgery.
Those trials are under way or ramping up. To date, Bagla estimates that 200 men have had PAE in the United States.
"The medical community is guarded about any new procedure until the level of evidence reaches a certain critical mass," Bagla says, "but there is definitely a strong interest in PAE among patients."
Encouraging early international studies led researchers to launch and expand trials in the United States to determine whether PAE might prove to be the effective, less-invasive alternative men seek. PAE might also find its role as the alternative to open prostatectomy for men who are not good candidates for TURP, or the choice for patients who are not good candidates for surgery.
PAE's History
PAE came on the scene in the United States when João Martins Pisco, MD, chief radiologist at Hospital Pulido Valente and director of IR at St. Louis Hospital, both in Lisbon, Portugal, reported results of an uncontrolled series of 85 PAE cases at the SIR annual meeting in 2011.
"Prostatic artery embolization blocks blood supply to treat noncancerous benign prostatic hyperplasia," Pisco told Radiology Today at the 2011 meeting. "This study is significant because it shows comparable clinical results to transurethral resection of the prostate … without the risks of surgery, such as sexual dysfunction, urinary incontinence, blood loss, and retrograde ejaculation. While the gold standard treatment for enlarged prostates has been TURP, minimally invasive prostatic artery embolization is safe, performed under local anesthesia, and has comparable clinical results—without TURP's complications."
Pisco is also lead investigator in a randomized trial comparing PAE with a sham procedure, which is scheduled to release results in 2016, according to clinicaltrials.gov.
One year later at the 2012 SIR meeting, Francisco Cesar Carnevale, MD, PhD, a professor and chief of IR at the University of São Paulo Medical School in Brazil, presented results from a study with 12 patients with 16- to 45-month follow-up, reporting a 30% reduction in prostate volume and a 91% clinical success rate.2 Carnevale is also the principal investigator in a prospective, randomized controlled trial that's expected to release its first results at the end of this year, according to clinicaltrials.gov.
Expanding Research
Pisco and Carnevale's encouraging early results led to additional studies, including Bagla's group and other studies within and outside the United States. Bagla and colleagues first reported on 20 PAE cases in January 2014.1 They reported that embolization was technically successful in 90% of patients (18 of 20) and that bilateral PAE was technically successful in 95% of cases (18 of 19). Clinical success was reported in 95% of patients (19 of 20) at one month. No major or minor complications were reported in the series.
A Chinese study published online in November 2013 reported results from a randomized prospective trial comparing PAE and TURP including 114 patients between 2007 and 2012.3 The researchers compared relevant adverse events and complications plus six functional results: improvement of International Prostate Symptom Score (IPSS), quality of life (QOL), peak urinary flow, postvoiding residual urine volume, prostate-specific antigen (PSA) level, and prostate volume. Patients were evaluated one, three, six, 12, and 24 months after treatment.
The researchers reported a technical success rate of 100% in TURP cases and 94.7% in PAE cases. Clinical failure rates were 3.9% for TURP and 9.4% for PAE. Both treatments showed improvement in all six functional measures at all time points, but TURP patients showed greater degrees of improvement in the IPSS, QOL, peak urinary flow, and residual urine volume after voiding at one and three months, along with greater reductions in PSA level and prostate volume at all follow-up points compared with the PAE group. The PAE patients had more adverse events and complications, "mostly related to acute urinary retentions (25.9%), postembolization syndrome (11.1%), and treatment failures (5.3% technical; 9.4% clinical)," according to the authors.
"Both procedures resulted in significant clinical improvements in the treatment of BPH," the authors wrote in their study's conclusion. "However, the advantages of the PAE procedure must be weighed against the potential for technical and clinical failures in a minority of patients."3
Patient Selection
In addition to building a larger number of patients to assess the procedure, Bagla says researchers are also looking to identify which patients might be the best candidates for PAE. Prostate volume, comorbities, and overall health can affect which patients are candidates for traditional procedures, so Bagla and Inova Alexandria are investigating how prostate volume affects PAE. At SIR 2015, Bagla reported results from the cases of 78 patients who received PAE in clinicians' practices. The researchers divided the patients into three groups based on prostate volume: less than 50 cc, 50 to 80 cc, and greater than 80 cc and evaluated them one, three, and six months after treatment, according to the data released at the conference.
They reported that 96% of cases (75 of 78) were technically successful, meaning both blood vessels leading to the enlarged prostate were successfully embolized. The researchers reported symptom and QOL improvement improved significantly in all three patient groups, with no significant difference among the three groups. Patients also reported no change in sexual function.
"We've found that PAE works on glands of all sizes and that's really important," Bagla says. "We don't have to just include the middle size [50 to 80 cc] group of patients, which is what many of the trials are doing."
Bagla says the studies are investigating different patient groups in an attempt to refine techniques and patient populations.
"Subsets of patients are being evaluated to find out who is a good candidate for a procedure," Bagla says. "If we are studying and treating the wrong subset, we risk poor outcomes or not accurately measuring what the procedure can do. This study may provide additional data that suggest we can consider PAE in patients who traditionally have a poor outcome with other procedures. Perhaps those men should be the first patients that get PAE."
Other trials under way in the United States include a study of PAE as an alternative to open prostatectomy sponsored by the University of North Carolina, Chapel Hill. Final data collection for the 15-patient study is expected this summer, according to clinicaltrials.gov.
Georgetown University Medical Center is also operating a Phase 1 and 2 clinical trial to evaluate side effects, particularly bladder and rectal complications that may occur with PAE, and is still enrolling patients, according to clinicaltrials.gov.
Other US sites currently enrolling patients, according to clinicaltrials.gov, include Northwestern University, University of Miami, and Tampa General Hospital. Merit Medical, which develops IR and endovascular products, is also sponsoring a prospective multisite clinical trial comparing PAE and TURP. As of April 2015, the study was still enrolling candidates to reach its target of 186 patients, according to clinicaltrials.gov.
Cost Evaluation
In addition to the treatment studies, Bagla says he and colleagues are looking at the economics of the procedure. As health care costs face increased scrutiny, innovators face mounting pressure to prove that new treatments are both as effective as existing ones and cost-effective.
"We are looking at a cost analysis to evaluate the hospital-related costs of both procedures so that the insurance companies can compare them," Bagla says. "It's not only a matter whether the procedure is effective, but also what are the differences in terms of cost?"
While ongoing research will generate more data about the effectiveness of PAE and when to utilize it, Bagla also points out the technical difficulty of performing the procedure.
"You have to plan for each case individually because prostate size varies and has torturous anatomy," Bagla says. "It's a challenge to both recognize the anatomy and to catheterize it.
"It can also be a challenge using the traditional catheters that we have available," he adds.
For now at least, TURP remains the gold standard while the research data build. "Level I studies are under way," Bagla says. "If we can get that level of evidence, then I think we will tip to the other side."
— Jim Knaub is editor of Radiology Today.
1. Bagla S, Martin CP, van Breda A, et al. Early results from a United States trial of prostatic artery embolization in the treatment of benign prostatic hyperplasia. J Vasc Interv Radiol. 2014;25(1):47-52.
2. Postcards from San Francisco — SIR 2012. Radiol Today. 2012;13(4):32-35.
3. Gao YA, Huang Y, Zhang R, et al. Benign prostatic hyperplasia: prostatic arterial embolization versus transurethral resection of the prostate — a prospective, randomized, and controlled clinical trial. Radiology. 2014;270(3):920-928.
[Sidebar]
Other Alternatives to TURP
While there's significant interest in prostatic artery embolization (PAE), it's not the only contender seeking to take the gold standard belt away from transurethral resection of the prostate (TURP).
Three procedures using holmium lasers to remove prostate tissue are seen as TURP potential alternatives by the American Urological Association, according to its 2010 guideline: "Management of Benign Prostatic Hyperplasia." Transurethral laser resection, known as HoLRP; holmium laser enucleation of the prostate, known as HoLEP; and transurethral side firing laser ablation of the prostate, known as HoLAP have been associated with shorter catheterization time and length of hospital stay, and have provided similar results to TURP in certain patient groups, according to the guideline. These transurethral procedures' long-term effectiveness is not yet as well documented in the literature, but there is some evidence supporting the idea that they may be good options for extremely large prostates (>100 g).
Photoselective vaporization of the prostate (PVP) is a relatively new procedure that is a variant of using a 532 nm visible green light laser that vaporizes prostate tissue to a channel similar to TURP, according to the guideline. Results similar to TURP have been achieved in studies, but there is not yet much long-term efficacy data in the literature.
Interestingly, researchers at Royal Victoria Hospital in Quebec, Canada, are enrolling patients in a clinical trial to directly compare PVP with PAE, according to clinicaltrials.gov.
Other less-invasive surgical treatments include transurethral needle ablation, (TUNA) and transurethral microwave thermotherapy (TUMT), according to the guideline. Research has shown a low rate of complications with TUNA and TUMT, but they have a tendency to be either less clinically effective or result in higher rates of retreatment.
Transurethral incision of the prostate is an endoscopic procedure that has produced good results, but only in smaller prostates, according to the guideline.
— JK