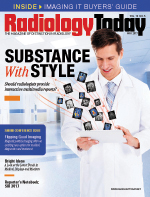 May 2017
On the Case
By Ashok Madan, MD, PhD; Roshan Bhowansingh, MD; and Shikha S. Vasudeva, MD
Radiology Today
Vol. 18 No. 5 P. 28
History
A 67-year-old white male with a past medical history of hypertension, type 2 diabetes, peripheral neuropathy, atrial fibrillation, alcoholic cirrhosis, and hypothyroidism was being treated for recurrent left-foot osteomyelitis with clindamycin and Flagyl (metronidazole). As the treatment progressed, the patient began experiencing new generalized weakness, dizziness, dysarthria, confusion, nausea, and cerebellar signs. The patient denied photophobia or acute vision changes. MRI imaging of the brain was performed.
Findings
Axial FLAIR and T2-hyperintense signal were noted in dentate nuclei of the cerebellum (Figures 1 and 2; white arrows) and in the dorsal pons (Figure 3; white arrow). Increased signal intensity on diffusion weighted imaging (DWI) sequences was also noted in dentate nuclei (Figure 4; white arrows) with variable corresponding signal on apparent diffusion coefficient (ADC; Figure 5).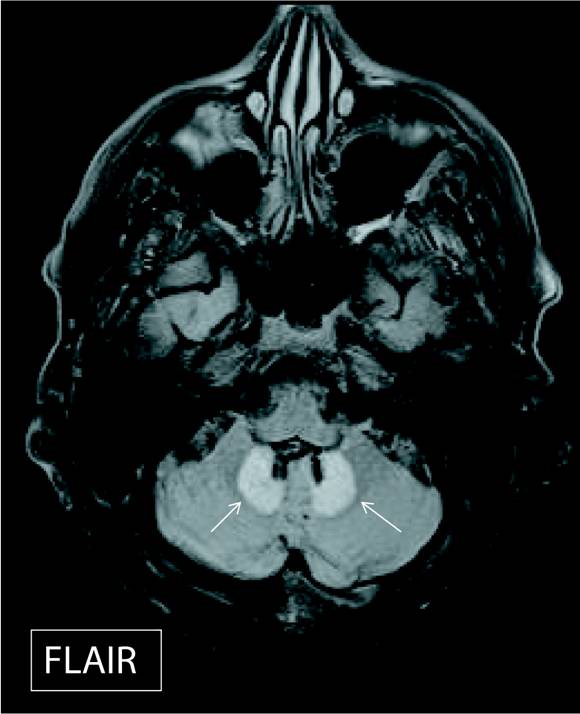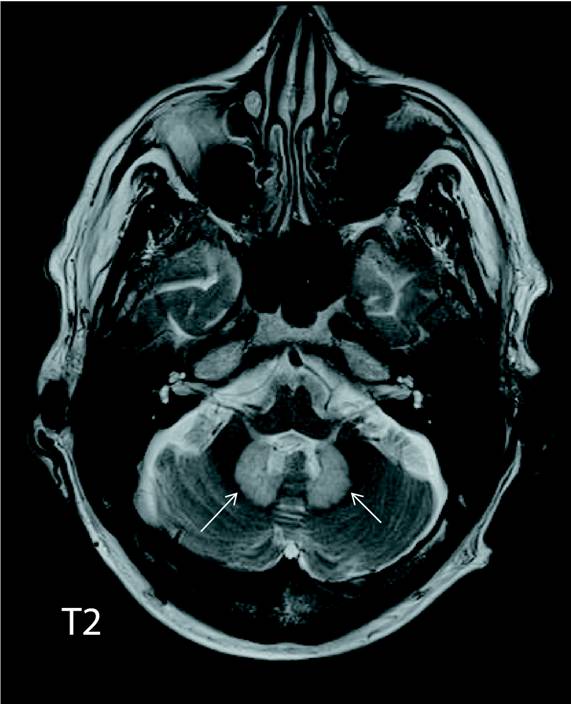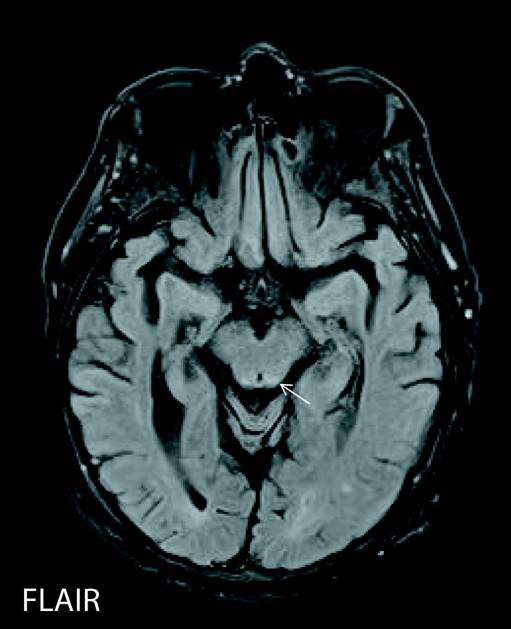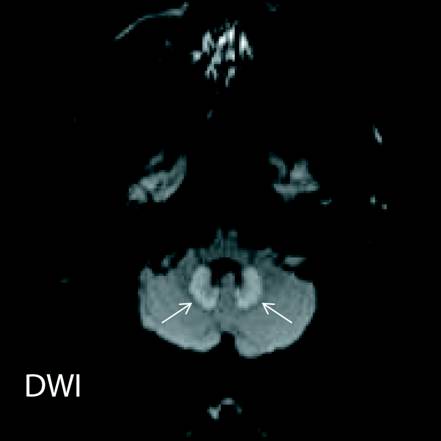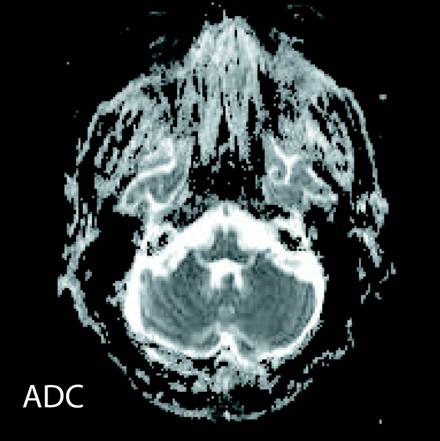 The dentate nucleus is a cluster of neurons, or nerve cells in the central nervous system that has a dentate—toothlike or serrated—edge. It is located within the deep white matter of each cerebellar hemisphere.
Diagnosis
Metronidazole-induced encephalopathy (MIE).
Discussion
Metronidazole is a nitroimidazole compound. It is an antimicrobial agent commonly used to treat a variety of anaerobic and protozoal infections. Side effects such as cerebellar syndrome and peripheral neuropathies have been linked to prolonged use of metronidazole. Neurologic signs that may occur as an untoward side effect of metronidazole are often related to the cumulative dose of the drug and the duration of treatment. Our patient received a total of 78 g of metronidazole intravenously and orally over a six-week period.
Ahmed et al initially described MIE in 1995. The exact incidence and underlying mechanism of MIE, which is reversible, remains unknown. MIE is postulated to be due to increased water content and reversible axonal edema as opposed to demyelination. Once the diagnosis is made and metronidazole is discontinued, the symptoms of MIE typically improve and eventually resolve over a period of several days to several weeks. Imaging findings of MIE include nonenhancing T2 and FLAIR hyperintensity, increased signal intensity on DWI, variable associated ADC values, and no mass effect. Abnormal hyperintensity on MRI is commonly noted in dentate nuclei of the cerebellum, dorsal pons, medulla, and splenium of the corpus callosum. Other entities that may resemble MIE lesions include Wernicke's encephalopathy, osmotic myelinolysis, demyelinating disease, methyl bromide intoxication, and sequela of heat stroke.
MIE is a rare entity but important to diagnose in the appropriate clinical setting, since early recognition and cessation of metronidazole is beneficial and therapeutic.
— Ashok Madan, MD, PhD, is a staff radiologist at Salem VA Medical Center in Salem, Virginia.
— Roshan Bhowansingh, MD, is a staff physician, internal medicine at Salem VA Center in Salem, Virginia.
— Shikha S. Vasudeva, MD, is a staff physician, infectious disease at Salem VA Medical Center in Salem, Virginia.
Resources
1. Kim E, Na DG, Kim EY, Kim JH, Son KR, Chang KH. MR imaging of metronidazole-induced encephalopathy: lesion distribution and diffusion-weighted imaging findings. AJNR Am J Neuroradiol. 2007;28(9):1652-1658.
2. Kalia V, Vibhuti, Saggar K. Case report: MRI of the brain in metronidazole toxicity. Indian J Radiol Imaging. 2010;20(3):195-197.
3. Ahmed A, Loes DJ, Bressler EL. Reversible magnetic resonance imaging findings in metronidazole-induced encephalopathy. Neurology. 1995;45(3 Pt 1):588-589.
4. Heaney CJ, Campeau NG, Lindell EP. MR imaging and diffusion-weighted imaging changes in metronidazole (Flagyl)-induced cerebellar toxicity. AJNR Am J Neuroradiol. 2003;24(8):1615-1617.
5. Huang YT, Chen LA, Cheng SJ. Metronidazole-induced encephalopathy: case report and review literature. Acta Neurol Taiwan. 2012;21(2):74-78.