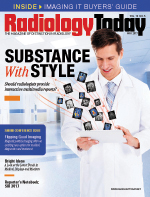 Editor's Note: Consumer-Driven Breast Screening
By Dave Yeager
Radiology Today
Vol. 18 No. 5 P. 3
While it never seems to be completely out of the news, breast cancer screening is once again a hot topic. The latest round of comment and criticism was touched off by a research letter and accompanying editorial in JAMA Internal Medicine on April 10. The research letter summarized the results of a national Breast Cancer Social Networks survey that was mailed to 2,000 internal medicine, family medicine/general practice, and OB/GYN physicians seeking information about their breast cancer screening practices. The survey found that, among the 871 respondents, 81% recommend breast cancer screening for women aged 40 to 44, 88% recommend it for women aged 45 to 49, and 67% recommend it for women aged 75 and older.
Although medical organizations such as the American Congress of Obstetricians and Gynecologists, the ACR, the Society of Breast Imaging, the American Medical Association, and the National Comprehensive Cancer Network have guidelines that recommend annual mammography beginning at age 40, and the American Cancer Society recommends annual mammography for women aged 45 to 54 with biennial mammograms thereafter, the 2016 US Preventive Services Task Force guidelines—which will be used to determine whether private insurers fully cover mammography pending a two-year moratorium scheduled to end on January 1, 2018—recommend biennial mammography beginning at age 50. The USPSTF also recommends cessation of mammography at age 74, while most of the other organizations make recommendations based on a woman's life expectancy and health.
The JAMA editorial authors were dismayed that more physicians don't follow the 2016 USPSTF guidelines, citing the increased risk of harm—namely from false positives and overdiagnosis—in women under 45. They also consider the USPSTF guidelines to be "the most evidence-based, transparent, and conflict-free." Other commentators soon joined the chorus.
There is no question that false positives and overdiagnosis are problems that need to be addressed as part of any screening regimen, but, as we reported in July 2016, the USPSTF guidelines are not without their detractors. A significant weakness of the guidelines is that there were no radiologists or oncologists among the members of the task force. While this was done to avoid bias, it also deprived the task force of valuable expertise in breast imaging, which can be a confusing domain even for physicians if they don't have radiology and/or oncology training. In addition, the task force relied on studies that are, in some cases, three or four decades old to reach their conclusions, without considering newer studies that account for improvements in technology. As Debra Monticciolo, MD, FACR, section chief of breast imaging at Baylor Scott & White Health in Temple, Texas, says in the article, "There is no confusion among the people who understand the data. The data [are] clear. ... The confusion is among people who want to pick and choose isolated studies when making their recommendations."
It is true that uncertainty breeds fear, and fear—of disease for patients and of malpractice claims for physicians—often drives unnecessary testing; discordant guidelines and disagreements about breast screening's benefits don't do much to address those fears. Perhaps, as we tentatively move toward outcome-based, consumer-centered care, the focus needs to shift somewhat from policy to people: The decision to undergo breast cancer screening is an intensely personal choice, after all. The most useful course may be for physicians to assume a more educational and collaborative role in patient care so women can decide for themselves when and whether they want a mammogram.
Enjoy the issue.
david.yeager@gvpub.com