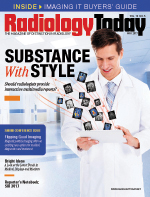 Mammography Matters: Screening for Breast Cancer — Then and Now
By Tracy Accardi
Radiology Today
Vol. 18 No. 5 P. 7
In the wake of Breast Cancer Awareness Month in October and National Cancer Prevention Month in February, we have all heard the countless stories of women whose lives were saved by having their cancer detected early on a mammogram, allowing them to begin treatment sooner. There was a time, however, when women were not so lucky and screening was not as readily available—nor as advanced—as it is now.
Although the concept of mammography as a diagnostic tool was first proposed in the 1920s, it was not until the mid-1960s that modern mammography methods, such as screen-film mammography, began to emerge as an accepted technology—and it took until 1976 for the American Cancer Society to officially recommend it. Once the medical community got over the major scientific and operational hurdles of implementing the necessary equipment and technology to screen for breast cancer, it was then up to women to make sure they took the steps to prevent cancer by getting screened.
Be Your Own Advocate
Prior to the 1970s, breast cancer was a silent killer; no one spoke of it. But with the feminist movements of the decade, it became more socially acceptable to support those diagnosed with the disease and to take a proactive stance in prevention. Awareness of the disease received another boost in the 1990s with the adoption of the pink ribbon symbol and the growth of the Susan G. Komen foundation.
Today, breast cancer awareness is most obvious each October, as the message has shifted from general awareness and more toward the importance of screening. Unfortunately, however, a surprising number of women still are not proactive enough about their health—choosing to take care of others rather than themselves. That's why this past Breast Cancer Awareness Month, one message Hologic championed was for women to be their own health advocates, which goes beyond scheduling and showing up to their annual appointments. Being proactive about your medical decisions involves educating yourself about your options and talking with your doctor about what's best for your health.
According to data released by the Centers for Disease Control and Prevention this past October, from 2010–2014 alone, the mortality rate of breast cancer was shown to have decreased to 21.2 per 100,000 patients.1 This is a significant reduction from the rate reported in 1991 (the early days of the pink ribbon movements), which was at 27 per 100,000 patients.2 This decline in breast cancer death rates since the early 1990s can be attributed, in part, to better screening and early detection, increased awareness, and continually improving treatment options.3
Although we are long past the days of screen-film mammography—it eventually gave way to digital mammography in the 2000s, and now breast tomosynthesis exams are becoming more common—it is important to reflect on just how far we've come. The latter screening technology has only been around since 2011, and many women are just now coming to learn of its benefits.
For example, more than 100 clinical studies have been conducted to date showing the benefits of 3D mammography exams in comparison with 2D mammography alone—including its ability to significantly increase cancer detection.4 Additionally, this screening modality has been shown to reduce recall rates.5 Early detection and screening are our best defense against breast cancer because they make it possible to begin life-saving treatment sooner as researchers search for a cure. Thanks to today's technological advancements, if found early, the five-year survival rate for breast cancer is nearly 100%.3,6
However, a current challenge is highlighted in a recent study that came out during Breast Cancer Awareness Month. The study suggested that mammograms may do more harm than good, due in part to overdiagnosis.7 This research has the potential to cause harm because it doesn't take into account the latest technological developments, from advancements in pathology to new and alternative screening methods, instead looking mostly at the results of conventional mammography, no later than 2002, and not factoring in how 3D breast exams now provide a clearer picture and greater accuracy. That's why an important goal for the coming years is to improve access to these technologies so women can make informed decisions with their doctors.
Fortunately, promising technologies are being developed daily—from new biopsy systems to contrast mammography applications—while researchers continue to study how advancements like these will impact women's health outcomes. Each and every day, manufacturers will keep innovating and working to get the breast cancer mortality rate down even further. We would be doing a disservice to mammography's early founders, and women around the world, if we did not make this our mission.
— Tracy Accardi is vice president of global research and development of breast and skeletal health solutions at Hologic.
References
1. Richardson LC, Henley SJ, Miller JW, Massetti G, Thomas CC. Patterns and trends in age-specific black-white differences in breast cancer incidence and mortality — United States, 1999–2014. MMWR Morb Mortal Wkly Rep. 2016;65(40):1093-1098.
2. Centers for Disease Control and Prevention (CDC). Deaths from breast cancer — United States, 1991. MMWR Morb Mortal Wkly Rep. 1994;43(15):273, 279-281.
3. Breast cancer facts. National Breast Cancer Foundation, Inc website. http://www.nationalbreastcancer.org/breast-cancer-facts. Accessed June 1, 2016.
4. Friedewald SM, Rafferty EA, Rose SL, et al. Breast cancer screening using tomosynthesis in combination with digital mammography. JAMA. 2014;311(24):2499-2507.
5. Rose SL, Tidwell AL, Bujnoch LJ, Kushwaha AC, Nordmann AS, Sexton R Jr. Implementation of breast tomosynthesis in a routine screening practice: an observational study. AJR Am J Roentgenol. 2013;200(6):1401-1408.
6. U.S. breast cancer statistics. Breastcancer.org website. http://www.breastcancer.org/symptoms/understand_bc/statistics. Updated March 10, 2017.
7. Welch HG, Prorok PC, O'Malley AJ, Kramer BS. Breast-cancer tumor size, overdiagnosis, and mammography screening effectiveness.
N Engl J Med
. 2016;375(15):1438-1447.