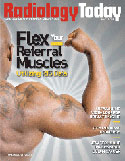 May 19, 2008
ARRS Reporter's Notebook
Radiology Today
Vol. 9 No. 10 P. 14
Editor's note: This article is compiled from information provided by the American Roentgen Ray Society's media relations staff at the 108th annual meeting held April 13 to 18 in Washington, D.C.
Ultrasound-Guided Fine Needle Aspiration of Lymph Nodes Effective for Breast Cancer Staging
Researchers from the Rhode Island Hospital and the Warren Alpert Medical School of Brown University in Providence, R.I., report that minimally invasive, ultrasound-guided fine needle aspiration (USFNA) of the lymph nodes can safely diagnose metastatic disease in patients undergoing preoperative staging for breast cancer.
"We wanted to determine which patients with newly diagnosed breast cancer would benefit most from preoperative fine needle aspiration of the axillary lymph nodes," said Martha B. Mainiero, MD, lead author of the study. "This quick and minimally invasive procedure can assist the surgeon in determining what type of axillary surgery is best for patients with breast cancer. Unfortunately, many centers do not routinely perform this procedure as there is not yet consensus on who will benefit from it."
The study involved USFNA of axillary lymph nodes in 224 breast cancer patients. The researchers measured the cortical thickness of each aspirated lymph node and found that using a cortical thickness measurement of 3 millimeters to determine who gets USFNA would result in the optimum combination of diagnosing metastatic disease preoperatively while minimizing unnecessary USFNA. Patients in the study had primary tumor sizes ranging from 0 to 12 centimeters with a mean of 1.9 centimeters and included 159 tumors that measured less than or equal to 2 centimeters and 65 tumors that were greater than 2 centimeters. The results of USFNA were positive in 52 patients (23%). If USFNA was limited only to axillary lymph nodes with a cortical thickness of 3 millimeters or more, USFNA positivity would have increased to 49%.
New Cardiac CT Technique Lowers Radiation Exposure
A new cardiac CT technique, prospective gated 64-channel cardiac CT, has a significantly lower radiation dose and produces CT coronary angiograms with better image quality than standard retrospective electrocardiogram (ECG) gating, according to a recent study conducted by researchers at the University of Washington in Redmond.
"Standard retrospective gated cardiac CT uses continual scanner table motion and spiral acquisition with overlap of the radiation beam on each spiral, so each piece of tissue gets scanned four or fives times. Retrospective gated CT scans with a broader beam and only one rotation per table location; the table is not moving during scanning and each piece of tissue gets scanned only once. Rather, the table moves every other heartbeat when the radiation beam is turned off," said William Shuman, MD, FACR, lead author of the study. "With retrospective gating, the x-ray beam is on all throughout the entire scan. With prospective gating, the beam is on for only 25% of the scan, like a snapshot."
The researchers compared 50 CT coronary angiograms using both the new prospective gated 64-channel cardiac CT and standard retrospective ECG gating in patients matched for body size, heart rate, diagnosis, age, and sex. The researchers noted image quality and evaluated patient radiation dose.
"We image the coronary arteries in segments," said Shuman. "Of the 621 segments we viewed on prospective gated 64-channel cardiac CT, we rated 70% as excellent, 29% as good, and 1% as adequate. On retrospective ECG, 632 segments were rated with 54% noted as excellent, 36% as good, and 10% as adequate. Radiation dose for the prospective gated CT exams was 76% lower than the standard retrospective technique.
"While cardiac CT technology has made the easy imaging of the coronary arteries possible in only five seconds and without catheters, there is substantial radiation involved with the usual retrospective CT technique," he added. "This new prospective technique results in the same image quality but with a 76% lower radiation dose. This means cardiac CT may be a reasonable test in more patients to find coronary artery plaque or congenital heart disease.
"With this new technique, very useful information about a patient's heart and coronary arteries is quickly available with much less radiation," said Shuman.
CT Provides Efficient Large Bowel Obstruction Diagnoses
CT performed well at confirming large bowel obstruction and identifying its site and cause in a recent study conducted by researchers at the University Hospital of South Manchester.
"There is very little published evidence regarding the diagnostic efficiency of CT in large bowel obstruction, said Sathi A. Sukumar, MD, lead author of the study. "Large bowel obstruction is a common clinical problem and plain films have been shown to be unreliable. Contrast enemas, the conventional way of investigating [large bowel obstruction], is invasive, gives only limited information, and is sometimes technically not possible and difficult to interpret," said Sukumar.
The study consisted of 42 patients who were identified for follow-up after large bowel obstruction, large bowel dilatation, or pseudo-obstruction was noted. On CT, 31 patients were diagnosed with large bowel obstruction, eight with pseudo-obstruction, and three were indeterminate. Of the 31 large bowel obstruction cases, 27 were confirmed by surgery or endoscopy. Of the eight patients with pseudo-obstruction, no surgical/endoscopic intervention was required and follow-up confirmed pseudo-obstruction. The study showed that of the three patients with indeterminate CT, two were later confirmed as carcinomas and the other had a negative laparotomy.
"For the referring physician, CT not only confirms or excludes the diagnosis of large bowel obstruction; it also gives additional information which is important for management, such as impending perforation or perforation. Early intervention in these patients will reduce morbidity and even save lives," added Sukumar.
According to the study, causes of large bowel obstruction varied from common conditions such as carcinoma, volvulus, and diverticular stricture to rare causes such as hernias, inflammatory stricture, and gallstone obstruction at unusual sites. The sensitivity and specificity of CT in diagnosing large bowel obstruction was 94% and 100%, respectively.
"The results of this study could simplify the diagnostic process dramatically. A large number of patients in our study were frail or unwell, so it is particularly important in this group that diagnosis is achieved with the least invasive and quickest method possible," Sukumar said. "Previously and even now at some centers, contrast enema is used, and this can be technically difficult and highly unpleasant in this group of patients. CT in this situation is performed with no bowel preparation and can be done quickly and easily so."
Mammography With Sonography Helps Rule Out Breast Cancer
A new imaging protocol for palpable breast lesions can rule out cancer in most patients, according to a recent study conducted by researchers at Baystate Health in Springfield, Mass. In the study, the combination of mammography and sonography were highly effective for evaluating palpable breast lesions. However, in some cases, malignancies cannot be diagnosed using this imaging protocol.
"We were interested in finding out just how effective mammography and sonography were when used together in excluding breast cancer in women with palpable findings," said Erica Tyler, MD, lead author of the study. "Our study differs from others because after enrollment, we followed patients for at least three years to see if any of the palpable lumps later were diagnosed as malignant."
The study evaluated 414 palpable breast lesions using both mammography and sonography. Imaging for 167 lesions was negative, with normal-appearing breast tissue in the area of clinical concern and no mammographic or sonographic findings to explain the palpable finding. Among the 167 women with negative mammography and sonography, 120 reached a diagnostic end point, with 28 patients undergoing a biopsy that showed no malignancy and the other 92 patients showing no malignancy after follow-up of at least 36 months. There were 118 true-negative and two false-negative cases, said Tyler. The negative predictive value when using mammography and sonography together was 98%, she said.
The study showed that both false-negative lesions "became increasingly suspicious on clinical exam and later became apparent by imaging," said Tyler. One false-negative lesion occurred in a patient with heterogeneously dense tissue and was diagnosed 74 months after initial clinical discovery. The second false-negative lesion occurred in extremely dense tissue and was diagnosed 81 months after initial discovery.
"Our findings support those reported in other studies. Uncommonly, palpable malignancies may not be detectable on both mammography and sonography, and this combination of imaging doesn't rule out malignancy," said Tyler. "Also, based on our findings, long-term clinical and imaging follow-up of over five years may be needed to diagnose all palpable cancers when the initial mammogram and sonogram are unrevealing."
3T MRI Helps Detect Prostate Cancer
MRI without endorectal coil can detect prostate cancer and provide undistorted images with diagnostic image quality and accurate tumor localization, according to a recent study conducted by researchers from Ohio State University.
"The 3T MRI data sets were acquired without an endorectal coil and were used during robotic surgery," said Steffen Sammet, MD, PhD, lead author of the study. "Since the use of an endorectal coil leads to deformation of the prostate and potentially altered microcirculation, our goal was to assess the capability of detecting prostate cancer areas by dynamic contrast-enhanced MRI without endorectal coil at 3T validated by correlation with surgical pathology."
The study included 13 patients with prostate cancer who were scheduled for prostatectomy and imaged on a 3T MRI. The researchers noted suspicious areas, tumor location, extracapsulation (the extent of the tumor outside the capsule of the prostate, which is associated with an unfavorable prognosis), and seminal vesicle involvement. Once this was complete, 3D reconstruction of the prostate, tumor neurovascular bundle, and surrounding tissue was performed and used as an intraoperative "roadmap."
According to the study, cancer was correctly localized in 11 of the 13 patients. There was agreement with pathology in 10 of the 13 patients regarding extracapsulation and 11 of 13 regarding seminal vesicle involvement. The study showed that 3D reconstruction was useful for the surgical roadmap in all 13 cases.
"High-field MRI enables the acquisition of undistorted prostate images without endorectal coil," said Sammet. "The high signal to noise ratio and the image quality of the prostate and the surrounding tissue may, in the future, allow us to detect prostate cancer at an earlier stage."
MRI and PET/CT Reduce Unnecessary Cervical Cancer Treatment
According to a new study, MRI combined with PET/CT can help prevent unnecessary, high-morbidity treatment for patients with clinically operable cervical cancer. However, pretreatment imaging does not lead to increased survival of these patients.
"We developed a decision-analytic model to determine the value of pretreatment imaging in the patients with stage 1B cervical cancer," said Pari Pandharipande, MD, MPH, of Massachusetts General Hospital in Boston and lead author of the study. "What we found was that PET/CT alone best triages patients to the correct primary therapy." The percentage of patients triaged to optimal first-line therapy was 89% with PET/CT, Pandharipande said. That compared with 82% with no imaging, 75% with MRI and PET/CT, and 68% with MRI.
These patients are treated with either surgery, chemoradiation, or surgery followed by chemoradiation (trimodality therapy). "When MRI and PET/CT are combined, it best prevents undesired triage to high-morbidity trimodality therapy," said Pandharipande. The study found that 95% of patients were spared trimodality therapy when both MRI and PET/CT were used, 92% with PET/CT alone, 91.6% with MRI alone, and 82% with no imaging.
While imaging helps define the extent of disease and determine appropriate treatment, the study found that five-year survival estimates were similar (about 92%) regardless of whether the patient had no pretreatment imaging or pretreatment imaging with PET/CT alone, MRI alone, or both PET/CT and MRI. "MRI and PET/CT are commonly used to guide management decisions for patients with early cervical cancer," said Pandharipande. "This study provides us with an evidence-based approach to the role of preoperative imaging for these patients."
MRI Detects Endoleaks Better Than MDCT
Researchers at Ospedale San Giovanni in Bellinzona, Switzerland, have found that contrast-enhanced MRI performs better than 16-slice multidetector CT (MDCT) when detecting endoleaks after endovascular repair of abdominal aortic aneurysms.
"Endovascular repair of abdominal aortic aneurysms has become a viable alternative treatment to open surgery for many patients. Endoleak development represents a complication of endovascular aortic aneurysm repair and is characterized by blood flow outside the stent graft lumen but within the aneurysm sac," said Rolf Wyttenbach, MD, lead author of the study.
"Patients after [endovascular repair of abdominal aortic aneurysms] need lifelong imaging surveillance to detect endoleaks. CT is most commonly used for imaging follow-up of these patients. A few prior studies suggested that MRI may be superior to CT for the detection of endoleaks. However, these studies mostly used single or four-row MDCT and standard gadolinium contrast media for MR imaging," he said.
The study consisted of 43 patients who had undergone endovascular repair of abdominal aortic aneurysms. Each of the patients had both MDCT and MRI within one week of the procedure. According to the study, MRI was performed using a high relaxivity contrast medium, and an iodine-containing agent was used for MDCT. Upon the study's completion, two observers evaluated MRI and MDCT separately.
The study showed that 21 endoleaks were detected in 18 patients. Sensitivity, specificity, and accuracy for endoleak detection were, respectively, 100%, 96%, and 98% for reader 1 and 90%, 81%, and 85% for reader 2 on MRI and 48%, 96%, and 74% for both readers on MDCT.
"The results indicate that MR is a good choice for diagnosing endoleaks. In addition, MRI does not expose the patients to radiation, and the MR contrast agent is less nephrotoxic in the clinically used dose compared to iodinated contrast agents used for CT. For this reason, MRI may become a preferred imaging modality to follow-up patients after endovascular aneurysm repair," said Wyttenbach.
MRI Affects Breast Cancer Treatment Choice, Delays Treatment
A Yale School of Medicine study found that more than one quarter of breast cancer patients who had an MRI examination before their initial surgical treatment had their treatment changed.
The study included 110 patients who had an MRI examination before treatment and 374 who did not undergo an MRI examination. "MRI prompted biopsy of 70 sites in 44 patients," said Carol Lee, MD, an author of the study who is now at Memorial Sloan-Kettering Cancer Center. Sixteen additional cancer sites were found in 13 women (12%), she said.
Surgical treatment was changed in 31 cases (28%). Fifteen patients had mastectomy rather than lumpectomy. Six had more extensive lumpectomy, and three had treatment for cancer that was detected in the opposite breast. "Seven others made a decision to have bilateral mastectomy after a suspicious finding was seen on MRI but before additional cancer was confirmed by a biopsy; it turned out that none had cancer in the contralateral breast," said Lee. "While we can't show definitively that these women made the choice to have a mastectomy due to concerns generated by findings on the MR images, this remains a possibility, and patients and their doctors need to take this into consideration before deciding to have an MRI examination before treatment."
Adding an MRI examination also delayed treatment. "The mean interval between diagnosis and definitive surgery in the group that had the MRI examination was 41 days compared to 27 days for the patients who did not undergo an MRI examination," she said.
"Breast MRI is a very useful tool for assessing extent of tumor in the breast, however, there are downsides that need to be taken into consideration," Lee emphasized.