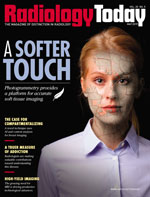 High-Yield Imaging
By Keith Loria
Radiology Today
Vol. 20 No. 5 P. 22
The growing need for MRI is driving productive technological advances.
As the role of MRI has grown, original equipment manufacturers have continued to innovate and strive for a higher standard of care for more users. The latest innovations in MRI are focused on advances in speed, comfort, and confidence.
"It's a very exciting time for MRI technology, as imaging is often the start of a patient's care journey and supports critical clinical decisions from prevention through treatment across the care continuum," says Martijn Hartjes, head of global product marketing, MRI for Philips Healthcare. "With new compression techniques for MR, we can achieve significant increases in the speed of MRI exams without compromising image quality. The shorter exam times increase patient comfort, minimize movement, and increase diagnostic confidence."
In this article, Radiology Today checks in with some of the major manufacturers to find out what they are doing in the space.
Canon Medical Systems
Jonathan Furuyama, senior manager in the MR business unit for Canon Medical Systems, says there's a lot of talk in 2019 about maximizing efficiency and adapting to the nuances of different patients.
"A lot of new features are tailored towards the different types of patients, but manufacturers are also deploying different sorts of technology that help improve workflow, whether that be automation or faster-type scanning," Furuyama says.
Those are ideas that Canon had in mind when launching the Vantage Orian, its latest 1.5 T system, at RSNA 2018.
"The scanner will do a quick localizer [scan], and a computer will analyze the scout [image] and then can automatically determine the planes that need to be prescribed," Furuyama says. "This can be used for automated scans but is also good for reproducibility, taking the technologist's variable out of the scanning."
Another technology that Canon has introduced in 2019 is FSE Dixon, a sequence that allows for the acquisition of as many as four contrasts—in phase, out of phase, water only, and fat only—at once, with the goal being to provide doctors with more information behind a single scan.
"This past year, we introduced Multiband Speeder, which allows for the acquisition of multiple slices at the same time, which cuts down on scan time," Furuyama says. "And k-t Speeder allows for acceleration in both space and time, allowing doctors who are interested in cardiac to increase their scanning."
GE Healthcare
Michael Brandt, GE Healthcare's global chief marketer for MR, says the company is currently focused on AI, coil technology advances, and making scanners smarter. GE's recently approved AIRx—an AI-based, automated workflow tool for MRI brain scanning—was designed to provide automated slice prescriptions to help reduce previously redundant, manual steps.
"It's intended to produce images that have less variability between technologists and between scans, to help lower the chances for a patient to be recalled due to incorrect slice placement," Brandt says. "An increase in consistency is particularly important when doing longitudinal assessments for diseases like Alzheimer's and multiple sclerosis."
The system offers a pretrained neural network model that leverages deep learning algorithms and anatomy recognition based on a database of more than 36,000 images sourced from clinical studies and reference sites. GE also offers the Discovery MR750, a new 3 T platform with a 70-cm wide bore.
"When you make your instruments smarter, you can accommodate a wider range of technologists and patients, and I think the basis of that is having this wide-open bore with the ability to add on easy-to-use coils," he says. "It allows the instrument to select the coil elements that are relevant to the scan."
Philips Healthcare
Hartjes says today's MRI innovation isn't necessarily a new imaging feature or capability; it's a mindset that drives holistic quality.
"Instead of focusing on the technology itself, imaging vendors need to demonstrate how their solutions can reduce costs, improve workflow efficiencies, and increase MRI capabilities to achieve the larger goals of the Quadruple Aim," he says. "We help health systems navigate these challenges with an integrated, solutions-focused approach, rather than simply a product-focused one."
For example, Philips' Ingenia portfolio of digital MRI solutions offers imaging techniques that prioritize a comfortable patient experience and confident image acquisition, while enhancing productivity.
"Ingenia Elition helps to improve productivity with Compressed SENSE acceleration technology that drastically reduces the total exam time while maintaining high-quality imaging," Hartjes says. "New patient sensing technology and AI-driven SmartExam analytics for automatic planning, scanning, and processing of exams help improve the entire MR workflow, from image acquisition to reading preference."
Ingenia Elition's VitalScreen offers operators fully guided patient setup with a newly designed user interface for workflow optimization, and VitalEye brings a unique patient sensing approach, enabling respiratory signal without any interaction from the operator, according to Philips.
"VitalEye technology and algorithms process over 200 body locations in parallel to intelligently detecting signs of breathing—allowing routine exam set-up time to occur in less than a minute, even for less experienced operators," Hartjes says. "Philips' Ingenia Ambition X 1.5 T builds on these same functionalities, while also enabling radiology departments to experience more productive, helium-free MRI operations. This is made possible by Philips' BlueSeal fully sealed magnet, which reduces the chance of potentially lengthy and costly disruptions."
Siemens Healthineers
Heather Lewis, marketing director for the MR business at Siemens Healthineers North America, says the health care industry is moving toward precision medicine with the goal of accurately diagnosing diseases and tailoring therapy to individuals at exactly the right time. With that in mind, the company recently released the Magnetom Sola 1.5 T MR scanner, and the Magnetom Lumina 3 T scanner featuring a wide 70-cm bore. Both models are built upon Siemens' BioMatrix patient personalization technology platform.
Siemens' Magnetom Altea 1.5 T scanner, released in November and also featuring BioMatrix technology, is equipped with Tim 4G coils and Dot [Day Optimizing Throughput] automation that supports standardized, highly reproducible scan procedures, which can better facilitate workflow, Lewis says.
Both the Altea and the Lumina systems are powered by AI, which accelerates the MRI workflow. For example, an entire spine exam can now be performed up to 20% faster compared with a conventional system.
United Imaging Healthcare
In 2018, United Imaging Healthcare (UIH) introduced its portfolio of imaging systems and advanced MRI technology to the US market for the first time, which included an ultra-high-end 3 T with gradient hardware performance of 90 mT/m and a 70-cm wide-bore 1.5 T with best-in-class homogeneity.
"United Imaging is opening access to new, emerging techniques like fast, free-breathing sequences, compressed sensing, and parametric mapping. We are packaging more acquisition and advanced visualization postprocessing as the standard offering with every MR system to expand access to advanced techniques, regardless of patient volume and budget," says Abram Voorhees, PhD, UIH's vice president of magnetic resonance. "We are also differentiating products with core specifications that focus on fundamentals like homogeneity, which is the basis for excellent image quality."
For example, the homogeneity on the uMR 570 1.5 T wide-bore MR resembles current best-in-class 60-cm bore MR performance and is 10-fold higher than many other 70-cm wide-bore systems on the market today.
A Quick Read
With recent technology advances in the speed of MRI exams, many now see MR as a valuable alternative that can expedite diagnostics for a number of diseases currently being diagnosed with other imaging technologies that have been deemed the standard of care.
"For example, MRI's strength has generally been in assessing neurological disorders, and we're seeing the drive toward precision medicine spark innovation toward higher-performing MRI systems that can diagnose neurodegenerative diseases," Hartjes says. "Using MR, these diseases can be detected very early, not just from an anatomical view of the brain but also through functional imaging. This type of early detection, which often takes physicians or psychologists more time through multiple evaluations and trial and error, can make a huge difference in patient care."
Voorhees notes that body imaging and oncology continue to represent growth for MR, while free-breathing radial imaging increases the feasibility of body imaging, regardless of patient tolerance for longer studies and breath holds.
"United Compressed Sensing (uCS) technology is utilizing hardware and software innovations to change how we address the issues of speed in MRI without adding exceptional cost," he says. "The past trend for acceleration requiring more coil elements/channel is approaching a plateau of diminishing returns and drives up hardware costs. uCS is enabling exceptionally fast dynamic contrast-enhanced studies, making it possible to accurately capture critical vascular phases in the liver with unprecedented subsecond temporal resolution."
Extended Duty
As the industry continues to redefine standard of care, most believe there will be a continued effort for AI's use to grow, enabling greater efficiency and aiding decision support.
For example, radiologists need to identify and track the progression of small lesions in the brains of multiple sclerosis patients. Hartjes says AI algorithms can help detect those lesions, recognize them as the same lesions the next time the patient goes into the scanner, and automatically do a volume assessment. This process provides the radiologist with an accurate evaluation of the development of the disease.
Hartjes also explains that although there is currently no cure for Alzheimer's, early detection can help patients delay negative effects of the disease, with, for example, frequent use of mental strength games. While these types of scans aren't currently used in the clinical domain, it's an up-and-coming area that will be more prevalent in the next few years, he says.
"MRI technology has also shown promise in diagnosing other conditions outside of the brain, particularly in cardiology," he adds.
Because of the trends in reimbursement, Furuyama believes there will be a continued push in the years ahead to make scans shorter and provide more quantitative information. He says there will also be more development of AI, which will dramatically change the way people scan.
— Keith Loria is a freelance writer based in Oakton, Virginia.