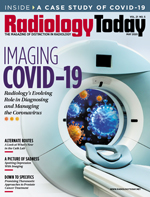 Alternate Routes — A Look at What's New in the Cath Lab
By Keith Loria
Radiology Today
Vol. 21 No. 5 P. 18
In the interventional cardiology segment, physicians are moving away from invasive procedures, such as open heart surgery, and replacing them with procedures done in the cath lab, resulting in an increase in procedure volumes and a greater number of complex procedures. Additionally, physicians are seeing an increase in the bariatric patient population.
"These trends increase the focus on lowering radiation dose, improving workflow, and acquiring high-quality images," says Stefanie Schroeyens, manager of VL solutions marketing for Canon Medical Systems USA. "Physicians are wanting the best image quality possible at the lowest possible doses."
Martin Ringholz, director of global marketing at Ziehm Imaging, says today's radiologists are looking for a system that is a valuable contribution to any clinic's competitiveness and financial performance.
"Surgeons call for intraoperative control features that help to reduce revision surgeries and, therefore, save time and costs," Ringholz says. "Doctors want medical devices that have a user experience similar to a tablet or smartphone. Usability and ease-of-use are key: touchscreens, simplified workflows, and timesaving features support them in their busy daily schedule."
Joe Riley, vice president of interventional radiology and cardiology at Siemens Healthineers North America, has noticed a lot of growth in the segment over the past year.
"In minimally invasive procedures, which are driven by novel techniques and reimbursement shifts between inpatient and outpatient care, you're seeing growth because of those two things," Riley says. "For interventional radiology specifically, the neurovascular space is growing the fastest at an estimated 26% annually with high single-digit growth across interventional oncology and peripheral vascular intervention."
Riley also sees gastrointestinal procedures shifting to the advanced therapy suite as well as the development of new devices, such as the further use of 3D guidance tools and the ability to leverage multiple modalities in one suite.
"Those trends are all opening the door for more complex procedures to become the norm," he says. "Last but not least on the growth piece, robotics I think will play a big role in the future of neurovascular care."
GE Healthcare
Cecilia Felix, manager of interventional cardiology products at GE Healthcare, notes that, historically, angiography was very much about vascular procedures and capital-based techniques, which were performed interventionally. "Over the last 10 years or so, the device technologies have evolved and customers are performing more minimally invasive therapies, moving from open surgery to image-guided therapies," Felix says. "It's not just vascular treatments. Now, there are interventional oncology treatments being done. Structurally, heart procedures are being done. A very wide variety of procedures are being performed in the interventional space."
In interventional oncology, liver embolization procedures have grown significantly over the past year as have new procedures such as prostate artery embolization, which Felix explains can treat benign prostate hyperplasia, a common disease among elderly men. "This is an exciting time for all those playing in this space," she says.
GE Healthcare's entry in this field is the Discovery IGS 7 angiography system, a mobile platform with fluoroscopy image guidance, advanced applications, and 3D image fusion that travels on predefined laser-guided paths. It offers a choice of midsize 31 cm or largest-field-of-view 41 cm detectors to accommodate endovascular, hybrid, and open surgical procedures, free of interference from fixed floor or ceiling system structures.
GE Healthcare also recently introduced its new liver assist virtual injection technology, developed for IR, which incorporates applied intelligence-enhanced software that identifies the feeder blood vessels of liver tumors and the best locations to embolize the tumors.
Felix explains the system's AI can also enhance the blood to look like a contrast injection, to help map the vessels for procedural preplanning prior to having the patient on the table. The software can show the direction of flow in each vessel segment and overlay a vessel map onto 3D rotational angiography images created in the cath lab to aid procedural navigation.
Canon Medical Systems
Canon Medical Systems has responded to the latest trends with the Alphenix family of interventional systems. According to Schroeyens, some features that help accomplish this are DoseRite, a suite of dose management tools such as Spot Fluoroscopy, Dose Tracking System (DTS), Spot ROI, Live Zoom, and Virtual Position; and ImagingRite, a fully customizable package that includes Illuvis triple-phase noise reduction technology and a complete 16-bit image processing chain.
"Another technology that is available is the High Definition Detector, which allows the operator to increase magnification up to 1.5 inches while maintaining image quality," Schroeyens says. "This gives physicians the ability to see fine details during complex procedures."
To help streamline the workflow, a tableside Alphenix Tablet is available.
"Additionally, we continue to see momentum with customers utilizing our Alphenix 4D CT technology, which combines the interventional lab with a complete, real-time, on-demand CT," Schroeyens says.
DTS is gaining popularity among radiologists, according to Schroeyens, as it provides estimated skin dose in real time. The estimated peak skin dose is displayed as a 3D color-coded map on a patient graphic during the procedure. It also provides real-time feedback that enables procedure adjustments and the capability to limit exposure in any area for prolonged periods.
"Spot Fluoro allows the operator to collimate an asymmetric region of interest within the field of view," Schroeyens says. "It superimposes the last image hold over live fluoroscopy and eliminates the need to open up the collimation blades to view landmarks outside the spot field."
Spot ROI provides dose reduction outside the region of interest, while allowing visualization of the surrounding anatomy utilizing an X-ray attenuation filter. Live Zoom can digitally increase the image display in real time during fluoroscopy and radiography, potentially reducing dose compared with traditional field of view magnifications. Virtual Position displays an outline of the last image hold with a center point on the live monitor, providing a reference to reposition the patient without the use of fluoroscopy.
"The outline and the center point moves during panning of the table to indicate the next area of exposure," Schroeyens says.
Siemens Healthineers North America
Siemens Healthineers North America is investing heavily in new products and services as well as acquisitions and partnerships to consolidate tools for interventionalists. For example, in October 2019, the company acquired Corindus Vascular Robotics, Inc, which offers a robotic treatment platform for vascular therapeutic markets. Riley explains that robotic-assisted, minimally invasive procedures have the potential to reduce treatment times, increase precision during treatment, raise standardization levels in clinical procedures, and ultimately improve clinical outcomes.
"Combining these two things shows great promise by finally bringing the physicians' hands and eyes together with enabling technologies," Riley says.
On the product side, Siemens Healthineers offers the ARTIS icono platform.
"The system boasts a new imaging chain called OPTIQ," Riley says. "It [utilizes] AI technology to help deliver a smart experience in interventional space." The OPTIQ imaging chain employs new tube technology and revamped postprocessing software.
"We're working with device manufacturers to study their materials and allow the imaging chain to optimize, in real time, the image for the type of material that is being visualized," Riley says. "If you have a really tough-to-see stent or embolic material, this OPTIQ imaging chain is working behind the scenes to see what type of material you are using to make sure the image shows the best impression of that device." That's important, he explains, because medical devices are getting much smaller and more difficult to visualize.
Siemens Healthineers also has the ability to combine various forms of imaging—angiography, MRI, and CT—in one suite with its NEXARIS Therapy Suites.
"This gives physicians the ability to have the optimal modality regardless of procedure type for one location for the procedures," Riley says. "Caregivers are building with these technologies to treat cancer, neuro, and even cardiac disease states in these rooms."
Ziehm Imaging
Ziehm Imaging recently rolled out a new mobile cath lab concept, the Vision RFD Hybrid Edition, which contains a complementary metal oxide semiconductor, or CMOS, detector and a 25kW generator. Ringholz notes that, compared with cath labs that have fixed, installed systems, the mobile cath lab is a cost-effective and space-saving alternative without the need for a control room.
"It consists of the C-arm and a system-mounted monitor, which displays the live and reference X-ray images as well as the vital functions of the patient," Ringholz says. "Not only are the acquisition costs of a mobile system lower than those of a fixed installation, but also the maintenance costs are lower."
When it comes to intraoperative imaging, Ringholz notes that the latest trend for vascular surgery is 3D stent control.
"In the past, after stent placement and the final contrast angiogram, the patient had to wait for the postoperative CT, which was unsatisfactory for both patient and doctor," he says. "Mobile 3D imaging allows physicians to conduct an intraoperative check on the stent placement. After the placement of the stent, the physician performs an intraoperative 3D scan, which provides the opportunity to control whether the stent has unfolded optimally and, if necessary, make corrections immediately."
Further On Up the Road
In the years ahead, an increasing number of complex treatments will be handled with minimally invasive techniques, helping people avoid open surgery and receive faster treatment. AI will drive more use of advanced tools for faster planning, guidance, and postprocedure assessment.
Schroeyens notes that Canon Medical is focused on providing interventional systems with dose management tools, flexibility, streamlined workflow, and an imaging chain that provides clean, sharp, and defined images during procedures.
Ringholz believes the trend of mobile, flexible solutions is a game changer compared with fixed systems.
"We also assume that the dose sensitivity of patients and clinical personnel is increasing, and [many in the] industry will introduce later technologies bringing radiation exposure down," he says. "Big data is everywhere. We expect more data integration with different modalities also on mobile C-arms, eg, in fusion of preoperative CT data."
Riley feels partnerships in the space are critical for the future of the category. He believes collaborating with device manufacturers is the best way to optimize technology for physicians.
He also notes that 3D segmentation and guidance software are allowing radiologists to treat more patients faster and better, a development that will continue to evolve in the future.
"For example, for a peripheral artery embolization, the ability to acquire a 3D spin in your angio suite—to visualize the fine vascularity in the area—is critical so you can target the area you are looking to embolize with extreme confidence," he says.
— Keith Loria is a freelance writer based in Oakton, Virginia. He is a frequent contributor to Radiology Today.