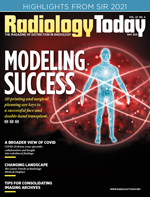 Changing Landscape: The Latest Trends in Radiology Medical Displays
By Keith Loria
Radiology Today
Vol. 22 No. 4 P. 18
There have been significant medical display advancements in both hardware and software over the years, and radiologists are finding that these improvements make their work clearer and quicker while providing a better working environment. On the hardware side, LED backlit displays are providing higher contrast and brightness levels with longer life and higher resolution. Large format options in a variety of resolutions are now available for those users wanting one display vs two. 
"Photosensors built into the displays for autocalibration are more accurate and used in conjunction with sophisticated calibration and display fleet monitoring software," says Tara Neill, director of sales and marketing for Double Black Imaging. "Color and gray levels and colors are calibrated more accurately to much tighter tolerances. With the rise of color use in GUIs [graphic user interfaces] and multimodality imaging, the market has seen a shift from monochrome to color displays."
Another trend is 3D imaging displays. Mike Kelleher, MD, a pediatric radiologist and CEO of Nines Radiology, notes that utilizing 3D imaging not only adds volume to images but also allows for clearer pictures, which is critical for noticing small details. Multiple color mode screens are also in vogue. For example, Barco and EIZO both offer screens that enable monitors to switch between grayscale and color models so radiologists don't have to use multiple displays, decreasing time spent reading an image.
Orit Wimpfheimer, a diagnostic radiologist and CMO for Zebra-Med, says AI is one of the hottest trends in medical displays. "Machine intelligence is increasingly becoming a tool to assist doctors in the analysis of medical imaging," she says.
The idea is twofold: Reduce radiologist workload by taking the more monotonous tasks off their hands, thus boosting efficiency, and enable physicians to detect incidental findings and assist with the actual analysis of medical imaging scans, leveraging advanced algorithms to offer human doctors incredibly thorough and beneficial patient care. "AI medical imaging analysis, when implemented in population health, can support chronic disease management and early detection of heart disease and osteoporosis," Wimpfheimer says.
Geert Carrein, vice president of strategic marketing for diagnostic imaging at Barco, says, prior to the pandemic, many radiologists were already looking for a better work/personal balance and asking for more flexible work conditions. Now that it's become a reality, the medical displays being utilized must be practical for a home environment and designed with more care in mind.
"To cope with more complex medical datasets, we see a growing trend to use more display real estate in diagnostic imaging," Carrein says. "On the image quality level, displays are still progressing towards better technology. [But] there is still room to bring displays with a higher contrast ratio, speed, etc, as in dark reading rooms residual luminance from black is not appreciated."
Barco's recent displays have enhanced contrast specifications that radiologists appreciate. "Technology is also addressing sustainability issues where, through higher pixel transparency and more efficient backlights, lower carbon footprints are realized," he says.   
One problem facing the industry in 2021, Carrein says, is that the supply chain for components used in medical displays is tight, due to COVID-19, with shortages in many areas. "That raises the cost of displays, potentially changing the downward price slope medical displays have followed in recent years," he says. "Getting the displays to the hospitals also is a real issue, as container shipment and air freight costs are heavily impacted by COVID."
Additionally, on the regulatory front, Carrein has noticed that regulatory requirements are increasing everywhere, and it is becoming more difficult to comply with all international regulations. "It is also important that medical displays need to adhere to very specific regulatory requirements controlled by authorities," he says. "In case something happens with the display that might present a safety issue, a medical display vendor needs to be able to recall his equipment. Nonmedical displays are not subject to such safety regulations."
Working During the Pandemic
Over the past year, many radiologists were forced to transition from a reading room to a home office, and that created some challenges, as maintaining the highest level of diagnostic integrity and ensuring diagnostic displays meet DICOM, ACR, and state standards are paramount. Additionally, workstation ergonomics became increasingly important as medical display manufacturers looked to reduce stress and fatigue for radiologists while enhancing productivity and comfort.
Stephen K. Hu, head of medical monitors for LG Business Solutions USA, says reading diagnostic studies from home has been the No. 1 trend among radiologists since the pandemic struck. It has become an essential piece of the health care puzzle, allowing for better flexibility, and, more importantly, enabling images to be read in a timely fashion, around the clock.
"As you might expect, technology companies have worked tirelessly over the last year to ensure remote radiologists have all the tools they need," Hu says. "Not only do they require a computer system to run their preferred PACS, radiologists need diagnostic monitors that allow them to read images with a high degree of accuracy."
When it comes to such monitors, a smart display that will help maintain the necessary luminance levels is required for radiologists who read many studies per day. For example, LG has recently released a medical imaging display that reduces the amount the screen flickers, decreasing eye strain.
"We expanded our medical monitor portfolio to include a number of display technologies compatible with at-home reading," Hu says. "These displays allow for not only CR/DR chest reads, but also a look at CT/MR/ultrasound and cardiology, plus pathology studies with color imaging."
The company's latest 12 MP color mammography monitor also serves as a multimodality display for various required studies. "It's truly a multifaceted workplace, giving radiologists the freedom to adjust luminance levels, depending on the study they're reading," Hu says. "Our displays are plug and play with feature-rich options available so that radiologists are able to work as efficiently as they would in the hospital environment." The 12 MP color monitor enables radiologists to maintain a single workstation to look at all studies, improving workflow while reducing overall capital cost for the hospital, organization, or radiologist.
"On the software side, because radiologists are often paid per study, it's critical for them to be able to diagnose in a timely manner," Hu says.
Double Black Imaging recently released a 12 MP large-format display, allowing radiologists multimodality flexibility in a single workstation, including for digital breast imaging. "We work to ensure the solution we provide fits the specific site need," Neill says. "Large enterprise requirements and budgets differ greatly from a radiologist's home workstation needs." The calibration software for the monitor was developed in the United States and designed to exceed North American standards, which enables quick response to customer requests and incorporates features to improve radiologist efficiency. 
"All our diagnostic displays are autocalibrating, and our enterprise management tools include automatic testing, reporting, and alerting," Neill says. "We recognize the importance of ergonomics in the reading room and incorporate our display solutions into ergonomic workstations." Double Black's proprietary Phoenix Ergonomic Workstation line is fully customizable with corner options, features a tilting ability, and offers multimonitor articulating functionality, as well as single and dual surface configurations with ambient lighting built in and ergonomic seating options. This expertise has been useful during the pandemic.
"Having an experienced partner setting up home read stations is crucial for our customers, freeing up valuable time to handle critical patient care issues," Neill says.
Carrein notes Barco has also brought specific solutions for home reading to market. "Our new QAWeb Enterprise cloud-based QA software guarantees regulatory compliance across the globe, guaranteeing the same quality of reading from home as from the hospital," he says.
A Look Ahead
Carrein expects to see further improvements on image quality, sustainability, speed, and reduction of image artifacts on displays being released in the next few years. He also expects that by 2022 there will become more of a hybrid workspace, as working from home causes some challenges. "It should be no secret that, while working remotely, additional challenges to guarantee security, privacy, and regulatory compliance become important," Carrein says.
With technology in the commercial display and TV market constantly changing and evolving, expect to see many of those advancements incorporated into the medical display market in the not-so-distant future. "We anticipate the incorporation of OLED and QLED technology into medical displays, which will raise brightness while enhancing black and white levels without compromising the color values," Neill says. "Displays will also follow their commercial counterparts, providing higher resolutions, thinner and sleeker footprints, with even longer lifespans."
A read-from-home market was already beginning to form before the pandemic began, but there was one major barrier for entry: cost. Hu explains that industry prices were often very high, and many radiologists were forced to pay out of their own pocket if they wanted to work from home.
"If you asked a group of radiologists in 2019–2020 to pay a premium for a display, most would continue to work from their imaging center or hospital's radiology workspace," Hu says. "Fast forward a year and many radiologists are now required to work from a home office and hospital. So, while the pandemic accelerated market growth, more attractive prices allowed it to happen on such a large scale."
As project-specific displays continue to increase and costs continue to decrease, remote working capabilities will continue to improve. Radiologists will have more options for what monitors they prefer to use and where they prefer to use them.
— Keith Loria is a freelance writer based in Oakton, Virginia. He is a frequent contributor to Radiology Today.