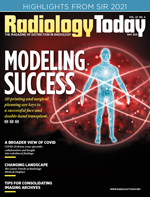 Reporter's Notebook: News From SIR 2021
Radiology Today
Vol. 22 No. 4 P. 28
Editor's Note: This article is based on press materials provided in connection with the Society of Interventional Radiology Annual Scientific Meeting.
Study Finds Minimally Invasive Option Underused for Postpartum Bleeding
Many women suffering significant postpartum bleeding continue to receive hysterectomies rather than uterine artery embolization (UAE), despite evidence that UAE results in reduced hospital stays and costs and offers an opportunity to preserve fertility, according to research presented at the Society of Interventional Radiology Annual Scientific Meeting.
"Giving birth has become increasingly dangerous for women in the United States, and postpartum hemorrhage is a leading cause of the loss of life related to childbirth," said Janice M. Newsome, MD, FSIR, an associate professor in the department of radiology and imaging sciences at Emory University School of Medicine in Atlanta and a lead author of the study. "All patients should have consistent access to a treatment that is safer, has an easier recovery, and could preserve their ability to continue to have children."
The researchers used the Healthcare Cost and Utilization Project Nationwide Inpatient Sample database, which tracks every hospital admission in the United States, and examined the results of significant postpartum bleeding, which occurred in 3.1% of live births. In a review of nearly 10 million hospital births between 2005 and 2017, researchers found the most common intervention was transfusion, but removal of the uterus through hysterectomy was used 60% more often to manage bleeding than UAE, a minimally invasive procedure that uses real-time imaging to release tiny particles into uterine arteries to control the bleeding; it offers quicker recovery times and shorter hospital stays. Hysterectomy was twice as common as embolization in Hispanic patients and also more common in rural and nonteaching urban hospitals in the South and among Medicaid and self-paying patients. Prolonged hospital stays of more than 14 days were twice as likely in patients who had hysterectomies, and the procedure resulted in $18,000 higher hospital charges.
"Postpartum hemorrhage can occur quickly, and effective treatment options should be readily available to every woman having a child in the United States," Newsome said. "For hospitals that have IR services available, this can be accomplished by creating a concrete care plan for new mothers who are at higher risk of dangerous bleeding during childbirth."
Newsome envisions creating postpartum hemorrhage response teams, similar to other trauma teams, that would train together and develop response protocols so they are better able to identify risk factors of postpartum hemorrhage. Such teams would help ensure that the right staff are on hand for delivery to respond quickly and save mothers' lives before they reach the point of needing radical surgery.
Radiofrequency Ablation Provides Fast Pain Relief for Patients With Cancer
A minimally invasive treatment for patients whose cancer has spread to their bones provides quick and sustained pain relief and improves quality of life, according to a study presented at the Society of Interventional Radiology Annual Scientific Meeting. The palliative treatment, known as radiofrequency ablation (RFA), is effective in providing relief in as little as three days, and the benefits last more than 12 months—a significant improvement over radiation treatment.
"Commonly used radiation treatments can take weeks to provide pain relief," said Jason R. Levy, MD, a vascular and interventional radiologist at Northside Hospital in Atlanta and lead researcher of the study. "A few weeks can represent a large portion of the remaining life in these patients, and RFA may be able to give them the best quality of life possible in the time they have left."
RFA is a minimally invasive treatment that uses radiofrequency waves to create heat that kills tumor cells and destroys nerve fibers to reduce or stop transmission of pain signals to the brain. In this study, RFA was used to treat painful metastatic bone lesions and was followed up with cement injection to help stabilize the bone. The cement helped prevent fractures that are known to result following other treatments, such as radiation.
Researchers enrolled 218 cancer patients at 15 sites around the world between October 2017 and February 2020. Patients completed questionnaires to measure their quality of life and pain levels prior to the procedure, three days after, and then intermittently through the one-year mark. Researchers used both the five-level EurolQol scale and the European Organization for Research and Treatment of Cancer Quality of Life (EORTC) measurement.
Significant improvements were seen in 59 subjects who completed the EurolQol at 12 months and similar improvements were seen for 14 patients who completed the 12-month EORTC measurement. Because of the palliative nature of the treatment, many patients were unable to be surveyed through the entire 12-month milestone.
"What set our results apart from prior research is the sheer speed and durability of this treatment," Levy said. "As a result, we believe this treatment should be available to more patients with metastatic cancer earlier in their treatment path."
The research focused on lytic bone metastases, a common type of bone tumor found in many cancer patients, making the treatment an option for a wide range of cancer patients. Predominant initial cancers in this study were of the breast, lung, and kidney. A limitation of the study was that many patients were lost to follow-up due to deaths related to the underlying cancer.
The research was funded by Medtronic.
Nonsurgical Treatment Reduces Arthritis Knee Pain, Improves Function
A nonsurgical treatment for arthritis in the knee is safe and effective in providing immediate and long-term pain relief, according to a study presented at the Society of Interventional Radiology Annual Scientific Meeting. Genicular artery embolization (GAE) reduces inflammation in the knee to improve function and quality of life for people with moderate to severe knee pain. Osteoarthritis is one of most common causes of disability, limiting daily activities of 40% of all US adults.
"Prior to treatment, patients' knee pain had taken over their whole life," said Siddharth A. Padia, MD, FSIR, a professor of radiology at UCLA Health in Los Angeles and lead researcher of the study. "But after treatment, patients who initially could walk only three or four blocks were walking three miles. Some were able to do away with walking aids, such as canes, while others reported being in a better mood now that they were living without pain."
Until recently, arthritis pain was regarded as a "wear-and-tear" disease, but, as the cartilage breaks down, it releases enzymes that can cause inflammation and pain and limit functioning. This treatment cuts down the abnormal blood flow to reduce inflammation. While it quickly improves patients' pain, an even more exciting development is that the pain relief is durable—lasting at least 12 months.
This prospective, single-center, open-label FDA-approved study is the largest in the United States to evaluate the safety and efficacy of GAE for the treatment of osteoarthritis in the knee. The study included 40 patients who were not candidates for total knee replacement but had failed to benefit from more conservative treatments, such as nonsteroidal anti-inflammatory drugs, joint injections, and physical therapy.
Interventional radiologists navigated a catheter through a pinhole incision in the hip into the arteries in the arthritic knee. They then injected tiny particles to control the blood supply to inflamed and painful areas of the knee. The outpatient procedure took approximately one to two hours, followed by a two-hour recovery period. Each patient was evaluated for adverse events and pain scores at one week; one, three, and six months; and one year after the treatment.
Patients saw benefits as soon as three days after the procedure. Average pain scores decreased from 8 out of 10 before GAE to 3 out of 10 within the first week. Additionally, 7 in 10 patients reported more than 50% reduction in pain scores at the one-year follow-up. Minor temporary adverse events such as transient skin discoloration and small bone infarct were reported in 10 patients but resolved without treatment within days.
The researchers plan to conduct a randomized trial with a larger patient population to determine which patients may benefit most from the treatment, as well as the impact it has on slowing the progression of arthritis.