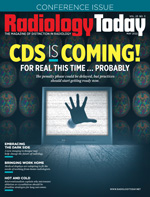 CDS Is Coming! For Real This Time … Probably
By Beth W. Orenstein
Radiology Today
Vol. 23 No. 3 P. 10
The penalty phase could be delayed, but practices should start getting ready now.
The payment "penalty phase" of the Centers for Medicare & Medicaid Services' (CMS) appropriate use criteria (AUC), which was supposed to begin in January 2017, has been delayed four times so far. In the summer of 2021, CMS announced it had once again delayed the start of the penalty phase—this time until at least January 2023.
Kathryn Keysor, senior director of economics and health policy for the ACR, does not anticipate any additional administrative delays. "Were the penalty phase to be delayed yet again, it would be because COVID-19 variants continue to spread," Keysor says.
CMS gave itself some leeway when it said the penalty phase will begin on January 1, 2023, or the January 1 following the end of the COVID-19 public health emergency, Keysor says. "CMS indicated it will be providing at least 60 days' advance notice of when the public health emergency ends," she says. "That's good news because that means we will know by November 1 of this year whether it will be extended into 2023. If it is extended by even one day into 2023, then the penalty phase doesn't begin until 2024."
Keysor and radiology practice leaders are hoping that the repeated delays don't lull practices into a false sense of security. "At this point, we really need to move forward as if it will begin on January 1, 2023," Keysor says. "If you make the assumption that, 'Nay, the public emergency will be extended into 2023,' and you have another year, then you risk getting caught off guard at the end of the year."
To that end, the ACR plans to ramp up its education and let its members know what they should be doing to prepare for the AUC program in the second quarter of this year.
Administrative Requirement
Keith Hentel, MD, MS, executive vice chairman of the department of radiology at Weill Cornell Medicine/NewYork-Presbyterian, agrees that the program will take effect "in some way, shape, or form" and probably sooner rather than later. "CMS has been very clear about this," Hentel says. "This program was enacted through law, and CMS can't just decide to cancel it."
At this point, it would require an act of Congress to change the program, and that is just not likely to happen, he adds.
A key purpose of the AUC program is to help health care providers order the most appropriate advanced imaging tests for their patients by using a qualified clinical decision support mechanism (qCDSM), an interactive, electronic tool that gives users AUC information to help them make the most patient-appropriate treatment decision for a specific clinical condition. Providers must use a qCDSM—a qCDSM is one that CMS has approved—when ordering advancing imaging (CT, MRI, PET, nuclear medicine) for all Medicare claims. Ordering providers must provide documentation that they did so to imaging providers, who must include the information on all Medicare advanced imaging claims.
Once the penalty phase begins, radiologists and imaging programs will not be paid if ordering providers do not include the appropriate codes indicating which qCDSM they consulted. As of early 2022, there are 20 CMS-approved tools available, including three free, web-based options, Keysor says. Some CDSMs integrate into EHR systems, but not all do, she notes.
A significant flaw in the AUC is that ordering physicians are required to use CDS but radiology practices that perform the studies will be penalized if ordering physicians don't use one, Hentel says. Medicare can refuse to reimburse practices if ordering physicians did not consult CDS. "It's our reimbursement for studies that are at risk," Hentel says. As unfair as it seems, radiology practices "have to know how to deal with this type of workflow. We just have to realize what we're up against."
Hentel views the new requirement, whenever it comes into effect, as just one more administrative burden placed on physicians at a time when they already have many. "Most physicians want to order the right exam, do the right thing," he says. "And I think they do. But you shouldn't overlook the fact that this is just another burden we are adding to physicians who already have high administrative burdens. Physicians are already spending more time doing administrative activities, as opposed to spending more time taking care of patients."
Similar to Prior Authorization
The CDS requirement is similar to private insurers requiring prior authorization, Hentel says. In that respect, it shouldn't be too unfamiliar to radiology practices. Still, Hentel says, it is important to include a practice's revenue staff in any implementation of CDS workflows. Hentel has included his billing team, coding people, preauthorization team, and others involved in the practice's revenue cycle on strategy meetings around CDS.
"While CDS is similar to prior authorization, there are inherent differences, and everyone involved needs to know which codes need to be put on the claims for us to get paid for it," Hentel says. He recommends that other practices immediately start involving their revenue cycle team so that "when the penalty phase is eventually implemented, it won't be a concern."
Christopher Roth, MD, MMCi, vice chair of radiology for clinical informatics and IT and the director of imaging informatics strategy for Duke Health in Durham, North Carolina, agrees that whether the penalty phase of AUC is coming sooner or later, "there are steps that radiology practices should be taking now to prepare." He encourages radiology practices to begin engaging with ordering providers now, rather than waiting until the AUC rules are completely implemented.
In doing so, Roth says, it's important that "you do not overestimate what you think your providers know about the services you provide. Providers, even subspecialty providers, may not know exactly how your protocols are defined or what the correct imaging protocols for a given situation are." Many times, Roth says, when engaging directly with providers, he is surprised at how much they have to learn about why radiology protocols are designed as they are.
Duke Health has mandated that its physicians gather information about utilization, population health, and value-based care at the institutional and provider levels and share those data with ordering providers as part of their balanced scorecards. "When we do this," he says, "it very quickly becomes apparent that there is a huge amount of imaging variation for similar diseases, in many cases. They all think they're doing the right things."
When the imagers lead the conversation and are armed with these data, they are able to discuss "optimal care pathways," Roth says. He finds referring physicians are open to participating in such discussions, especially when they are told "we all have a shared interest in doing this."
However, Roth says, he has had similar conversations with some payers, which tended to be "less fruitful." Serving on the utilization management committee for a private payer, Roth knows firsthand that payers have radiology benefit manager organizations they partner with. "They have IT platforms that they are trying to get integrated as part of ordering into the electronic health records that, in many ways, would substitute for CDS scores being necessary," he says.
The payers can be a bit harder to win over on this topic, Roth says.
EHRs Matter
Adam Flanders, MD, a neuroradiologist and enterprise vice chair for imaging informatics at Thomas Jefferson University in Philadelphia, says his practice is taking the stance that CDS is another preapproval mechanism to navigate. Although the codes for CDS are not required this year, it is a "big culture change" for staff, Flanders says. "It's one more approval program that we have to manage prior to performing imaging studies," and it's a good idea to get used to it now before it becomes required, he says.
Flanders says it would help if this approval process were built into all types of EHRs and incorporated in an accessible registry for orders coming from outside providers. "It would make it easier to implement," he says. Unfortunately, it's not, and "it can be a royal pain for all providers and their staff to remember when proof of a CDS consultation is required just for imaging."
Flanders believes that imaging orders from out-of-network providers will be the most problematic. Out-of-network providers typically are not on the same EHR as the furnishing providers, and will have to take extra steps to manually transfer the proper codes to show they have consulted CDS, Flanders says. He also notes that, although consulting CDS is a requirement, physicians can still order any exam they want if they believe it is what's best for their patient's care.
Flanders has no doubt that physician practices will know how to answer the CDS questions so that they can get the answer they need. "As we've already observed," he says, "people will figure out rather quickly how to game the system, how to pick the indication that gives them the right score that they need to get the OK they need to proceed with the test they want."
CMS has said it will eventually investigate physicians who are outliers and who repeatedly order inappropriate tests despite the CDS results. "A few years after implementation begins, outlier physicians who consistently order against the clinical guidelines will be subject to prior authorization," Keysor says. However, she adds, the radiology community is still waiting for more details on that piece of the program.
Think of the Children
Sherwin S. Chan, MD, PhD, vice chair of radiology research at Children's Mercy Kansas City and an associate professor of radiology at the University of Missouri-Kansas City School of Medicine, believes that even those in pediatric imaging should pay attention to the AUC program, even though it is only for Medicare. "Those of us in pediatrics realize that a lot of things that start with Medicare will eventually filter to Medicaid and private insurance companies and, given the way medicine is going—with more value-based care and trying to decrease costs, of which imaging is a big proportion—we can expect this to get to the pediatric realm at some point," he says.
Chan says not only has his health network begun implementing CDS in small steps but his practice also went out and bought CDS software and started using it. "We started with small groups in cardiology, neurology, and neurosurgery," he says. "We've worked through some of the kinks of the system with them and worked through what provider education would look like. The idea is to get them comfortable with the process, and it was a great group to give us clinical feedback on what did and didn't work."
Most of the ACR's appropriateness criteria is designed for adult use, Chan says, noting that "pediatric content is quite sparse." The lack of pediatric content has been a challenge, he says, which the practice solved by writing its own for some imaging.
"I believe that other pediatric hospitals that I talked to have struggled with the same thing," Chan says. "There isn't a ton of pediatric content, and they have had to develop their own, as well."
It's a long process to make clinicians familiar with CDS, Chan says. "It's easier to get those started when you have a long time window, rather than when you're in a big time crunch."
The initial delays in implementing the payment penalty phase of AUC were related to CMS and bugs in the claims processing, Keysor says. She believes all of the details have been worked out and any further delays depend on COVID. "Before the Omicron variant, I would have said we were heading in the right direction overcoming the pandemic, but you never know what's going to happen with new variants," she says.
— Beth W. Orenstein of Northampton, Pennsylvania, is a freelance medical writer and regular contributor to Radiology Today.