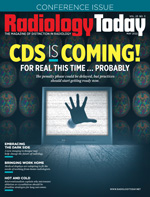 Women's Imaging: Do Not Delay
By Beth W. Orenstein
Radiology Today
Vol. 23 No. 3 P. 6
Despite concerns, women should not postpone mammograms after receiving COVID-19 vaccinations.
It's not uncommon for lymph nodes to become enlarged in response to an infection or vaccine. However, unilateral lymphadenopathy (enlargement affecting one side) also can be a sign of cancer. That's why it was cause for concern when radiologists noticed several cases of unilateral lymphadenopathy on the mammograms of women who had been recently vaccinated against COVID-19.
The lymphadenopathy findings posed a diagnostic challenge in oncologic imaging. Once the word was out, some vaccinated women chose to delay their screening mammograms to avoid unnecessary false-positives and follow-ups. Some medical societies also suggested that women hold off on breast cancer screenings after recent vaccinations.
Researchers in the department of radiology at New York University's Grossman School of Medicine and NYU's Langone Health decided to look into this issue and study axillary lymphadenopathy after COVID-19 vaccination on breast imaging exams. Their goal was to help determine how to best interpret and manage these enlarged lymph nodes. "We also wanted to see how long the swollen lymph nodes would persist in our bodies," says Stacey Wolfson, MD, chief resident of diagnostic radiology at NYU Langone Health.
After completing their study, the researchers concluded women should not delay screening mammograms after being vaccinated for COVID and published their findings in Radiology in February 2022. "We found that swollen lymph nodes after vaccination are common, and the time it takes for these lymph nodes to shrink back to normal is variable," Wolfson, who is the lead author of the study, says. "We concluded that delaying screening is not necessary because the time to resolution of lymph node swelling could be highly variable and long. We do believe that the numbers in our study are large enough to say that women should not delay their screening mammograms due to recent vaccination."
Wolfson says the study is the largest to evaluate axillary lymphadenopathy after COVID-19 vaccination and has long-term follow-up data.
Sign of the Times
"Initially, we didn't know what to expect with the COVID vaccination and its side effects," says Stamatia Destounis, MD, FACR, FSBI, FAIUM, partner/owner of the Elizabeth Wende Breast Care in Rochester, New York; chief of the ACR Breast Imaging Commission; chair of the ACR Breast MRI Accreditation Committee; and a member of Radiology Today's editorial advisory board. "The enlarged lymph nodes in the axilla were concerning, as that can be a sign of breast cancer that has traveled to that area from the breast. It can also be a sign of infection, other cancers that may have traveled there, or lymphomas."
The abnormalities that radiologists were seeing can be quite serious, Destounis says, "and so care had to be taken to evaluate each case, as we did not want to miss a serious finding that would impact the patient in a negative fashion."
Since 2020, breast radiologists have accumulated their own data, within their practices, of axillary lymphadenopathy findings and how they commonly present with patients who have had the COVID vaccine, Destounis says, adding that "this study confirms what breast radiologists have discovered in their daily practices."
When the lymphadenopathy was first noticed, some medical societies suggested a conservative approach and recommended that women not have screening mammography to reduce unnecessary workups and biopsies, says Linda Moy, MD, a professor of radiology at NYU Grossman School of Medicine, radiologist at NYU Langone Health, and coauthor of the study. However, the Society of Breast Imaging recently released updated guidelines taking into account the NYU Langone study as well as others. The revised guidelines specify that the Society of Breast Imaging no longer recommends delaying screening mammograms around COVID-19 vaccinations.
Destounis agrees that vaccinated women should not postpone their mammogram for fear that radiologists will see swollen lymph nodes and call them back for additional studies and biopsies. "If they delay and they have a finding, the breast cancer detected may be larger because of additional delays, thus affecting each person's prognosis, long-term survival, and quality of life," she says.
The NYU researchers identified 1,217 patients who had received the COVID-19 vaccine and breast imaging between December 30, 2020, and April 12, 2021, at 17 sites across one institution. Follow-up exams were recorded through December 10, 2021.
They found that, of the 1,217 patients who received the COVID-19 vaccine and had breast imaging:
• 537 patients (44%) had lymphadenopathy identified on at least one imaging exam;
• 823 patients (68%) had screening exams; and
• 334 patients had mammography and sonography performed the same day.
Of the women in the latter category:
• 29 (9%) had lymphadenopathy identified on mammography alone;
• 203 (61%) had lymphadenopathy identified on sonography alone; and
• 102 (30%) had lymphadenopathy identified on both exams.
"Other studies with lower reported incidence of lymphadenopathy are based on self-reported symptoms or detection solely on mammography," Wolfson says. "In contrast, our study had an incidence of 44%."
Lymphadenopathy was seen in patients regardless of which manufacturer's vaccine they received. Of the patients in the NYU study, 459 reported receiving the Moderna vaccine (46% with lymphadenopathy), while 505 reported receiving the Pfizer vaccine (38% with lymphadenopathy), and 18 received the Johnson & Johnson vaccine (39% with lymphadenopathy). Patients develop lymphadenopathy as soon as a day after the first vaccine dose, and it can last as long as 71 days following a second dose, the researchers found.
Return to Normal
"We found that swollen lymph nodes after vaccination are common and that the time it takes for these lymph nodes to shrink back to normal is variable," Wolfson says. "Some patients' lymph nodes were unchanged with follow-up exams at three months. Some enlarged lymph nodes persisted longer, even 43 weeks after vaccination."
Wolfson says enlarged lymph nodes from the vaccine are not worrisome. "This is a common pattern because normal lymph nodes swell to help the body fight off infections from bacteria and viruses. Lymph nodes usually swell near the site of the inflammation (vaccination)," she says. "Thus, we do expect to see these normal swollen lymph nodes in the armpits. [However], we were surprised to see how long it took before the lymph nodes shrank back to their normal size and appearance."
Destounis was not surprised that some vaccinated women had swollen lymph nodes that persisted. "Every person's immune system may react a little differently with vaccination," she says. "So, some had lymphadenopathy immediately, some later, and some had lymphadenopathy still present many weeks later. These findings are not a surprise because each person is unique."
In light of these findings, Destounis recommends that women should report whether they've had a COVID vaccine, and when, before their mammogram. "This is very helpful information for the breast radiologist to accurately interpret the mammogram and be aware of the date of the most recent COVID vaccine, in case enlarged lymph nodes are identified in the axilla, usually on the same side as the vaccination site," she explains.
Radiologists, Destounis adds, should be aware of a woman's vaccine history and consider it along with any medical history, including prior imaging reports, surgeries, and needle biopsies.
Wolfson notes that enlarged nodes can be seen on other radiology exams and in other areas of the body, as well; those areas include nodes in the armpits, shoulder, chest, and neck. She says it is also important for other researchers to confirm these results.
— Beth W. Orenstein of Northampton, Pennsylvania, is a freelance medical writer and a regular contributor to Radiology Today.