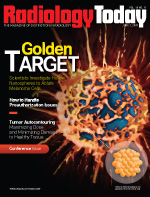 June 1, 2009
PACS and EMRs
By Jim Knaub
Radiology Today
Vol. 10 No. 11 P. 6
I will be curious to hear any discussion about how electronic medical records (EMRs) will affect PACS when I attend the Society for Imaging Informatics in Medicine meeting in Charlotte, N.C., later this week.
The Obama administration is continuing the Bush administration's push for EMRs and backing it with funding. Hospitals and medical practices will be planning to see how they can get their piece of the approximately $20 billion slated for EMR adoption.
How will that affect radiology, specifically PACS and RIS? It's no great cognitive feat to conclude that EMRs need to include access to patients' digital images, but it should be interesting to see how it plays out. The Integrating the Healthcare Enterprise (IHE) Web site sums it up nicely:
"Optimal patient care requires efficient access to all relevant information. Despite the advanced state of technology, however, healthcare enterprises have not yet begun to realize the full potential of computer systems to reduce medical errors, improve the efficiency of care providers and enhance the overall quality of clinical care. To do so requires a framework for information sharing that meets the needs of care providers as well as patients—and gains acceptance among the companies that build the systems they rely on."
So the issue becomes how it will happen. Other than the possibility of federal funds supporting EMR purchases, the issues surrounding EMR adoption haven't changed. But as Cyndi Lauper once pointedly observed: "Money, money changes everything."
And what may happen because of that money intrigues me. Michael J. Cannavo—many know him by his Web nom de plume, ThePACSman—is founder and president of Image Management Consultants in Winter Springs, Fla. He raised the issue of EMR's impact on PACS in a post on AuntMinnie.com.
Cannavo predicted that federal economic stimulus money tied to EMRs will prompt facilities to bundle PACS into an EMR to obtain stimulus funds to help with their purchase. He also warned buyers to beware because numerous new companies will be looking to get a chunk of those federal dollars. Cannavo's post generated a string of replies and questions and also prompted some questions in my mind, such as the following:
• Will facilities with PACS in place swap out those systems for one single-provider solution from a different vendor?
• How will existing RIS data be incorporated into EMRs?
• Will radiologists quietly give up systems they're comfortable working with for the good of a hospital's larger IT objectives?
• How many PACS companies expand into EMRs?
• Will an EMR somehow absorb PACS, or will the market evolve to a point where separate image and records systems pull data from a shared archive?
• Will there be some "standard" that will let existing PACS push images to EMRs and link them to the report for the case?
• Will the EHR push increase the movement toward "native" or "pure" DICOM to avoid the problems with PACS vendors' proprietized DICOM tags?
And those are just the questions from radiology's perspective. Another major question is how will other private practice physicians join the EMR movement? The Centers for Disease Control and Prevention's 2006 National Ambulatory Medical Care Survey of 3,350 office-based physicians reported that 12.4% of physicians used full EMR systems in 2006, up from 9.3% the year before. In the same year, the percentage of medical practices using full or partial EMR systems was 25.9%, up from from 18.3% in 2005.
My family physician falls into that latter category. He's been unimpressed with the quality and cost of the EMRs he's seen but is thrilled with how e-prescribing has improved the workflow and documentation in his practice. But his skepticism and concern about EMRs mirrors that of many doctors: The technology will be clumsy to work with and be too expensive to justify the cost to the practice.
The money the Obama administration promises may help move EMRs toward a tipping point where electronic records become the fashion. It will probably happen more slowly than many would hope but will occur eventually. I think steps more likely to make the difference are either offering the carrot of increased reimbursement for practitioners that maintain electronic records or wielding the regulatory stick of not reimbursing for those who don't. There are many unknowns in this situation, but one thing we can be confident of knowing is that people tend to do things that are in their economic best interest.
— Jim Knaub is editor of Radiology Today.