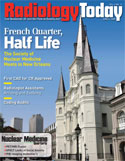 June 2 , 2008
Radiologist Assistants — Arriving & Evolving
By Kathy Hardy
Radiology Today
Vol. 9 No. 11 P. 10
Eleven colleges offer the midlevel provider program since the first graduates entered the marketplace in 2005.
Graduation day conjures up images of caps and gowns, tears of joy, and the promise of an exciting new future. For the upcoming classes of graduating radiologist assistants (RAs), that future includes career advancement and a marketplace in need of their services.
What they also face, however, are questions about the scope of practice, state-to-state licensing, and billing issues. Add to that the debate over the role played by radiology practitioner assistants (RPAs) and there is plenty for educators, professional organization leaders, and practitioners to discuss.
Acceptance of RAs and RPAs as midlevel radiologist extenders is widespread, says M. Diane Newham, MS, RT(R)(M)(CT)(QM), an associate professor of radiologic sciences at Weber State University in Ogden, Utah. The concept of radiologist extenders began at Weber State in 1996 and evolved into the first RPA program in the country.
"Radiologists appreciate the level of education and commitment of RAs and RPAs," she says. "At first, radiologists are hesitant. But once they see RAs and RPAs at work, they want more radiologic technologists [RTs]. They want someone they can come to trust. RAs and RPAs have advanced education and experience. They come with a whole pocket of midlevel technologists tools."
An RA works under a radiologist's supervision to enhance patient care by assisting the radiologist in the diagnostic imaging process. Under radiologist supervision, an RA conducts patient assessments, manages patients through their prescribed imaging procedure, and performs selected exams. Specifically, RAs can perform fluoroscopic studies, contrast media administration, needle and catheter placement procedures, image postprocessing, and patient-centric, outcomes-based, quality improvement procedures related to quality of care, patient flow, and patient satisfaction.
Evolving Job Duties
Where the RA role ends, the radiologist's role begins. The most obvious distinction is that an RA cannot interpret images.
"RAs are radiologist extenders, not replacements," says Christine Lung, director of government relations for the American Society of Radiologic Technologists (ASRT). "The RA position exists to take the day-to-day tasks off the hands of the radiologists, allowing radiologists to spend more time on image review and assessment."
The idea of developing a program to educate advanced clinical practice RTs stemmed from a shortage of radiologists in the U.S. Armed Forces medical programs. A collaboration between the U.S. Department of Defense (DoD) and Weber State established the RPA program. Although the DoD eventually withdrew support, Weber State continued the program.
As radiologist and technologist shortages continued through the 1990s and into the 2000s, the ASRT asked the American College of Radiology (ACR) to consider an advanced clinical role for RTs.
To decide where to draw the line between the RAs' roles and the radiologists' roles, representatives from the ACR, the American Registry of Radiologic Technologists (ARRT), and the ASRT gathered in 2002. A curriculum was developed with input from the three radiology organizations, and Loma Linda University in southern California initiated the first RA program in 2003, with graduates entering the workforce in 2005.
Master's, Mostly
Eleven colleges and universities offer RA programs based on curriculum developed by the ASRT, but Weber State offers the only RPA/RA program. Weber also meets the educational requirements for the Certified Board for Radiology Practitioner Assistants (CBRPA) and the ARRT. Most active RA programs are at the master's level. RTs must be certified as radiographers by the ARRT before enrolling in an RA education program. After graduation, RAs must then pass a certification exam, also offered by the ARRT.
The educational process and levels of training offered differ among institutions. There are on-campus, online, and clinical practice programs, as well as combinations of all three options. The majority of the programs last two years.
"The RA is a midlevel position and with that, the level of education should be at the master's level," says Christine M. Mehlbaum, MEd, RT(R), an assistant professor and RA program coordinator at Bloomsburg University of Pennsylvania.
Bloomsburg's first RA class is graduating this year, with the program having started in the fall of 2006. The two students will receive their master's degree after completing the two-year program. The curriculum is designed for full-time students who will attend three semesters each year, with the first year being all academics. The program is a blend of online classes and two on-campus semesters followed by one year of practical experience either with the student's current employer or in another radiology environment.
"The curriculum is designed to accommodate students who are currently employed as radiologic technologists," Mehlbaum says. "Time on campus has been minimized through the use of distance education and preceptorships. During the preceptorship year, the student also takes an applied research course."
Program admission requirements include a bachelor's degree, ARRT certification and registration in radiography, a minimum of three years of full-time work experience as a practicing RT, and an agreement with a practicing board-certified radiologist to supervise the clinical preceptorship.
While it wasn't part of the university's original plan for its RA program, Bloomsburg now accepts part-time students. "For some people who work, it's difficult to take a full-time course load," Mehlbaum says. "We've had requests for part-time classes, so we have decided to accommodate those people. Part-time students have seven years to complete the program."
Loma Linda offers a bachelor's degree and a bachelor's certificate program rather than a master's program, says Michael F. Iorio, MPA, RT(R)(CT)(ARRT), CRT, director of the department of RA programs at Loma Linda. He notes, however, that it is a good idea to extend the program to the master's level.
"Not everyone offers a master's program, but the intent is to have all bachelor's programs migrate to master's programs," says Paul H. Ellenbogen, MD, chairman of the ACR's human resources commission. "We want this to be the best and the brightest. RAs have a great responsibility."
Licensing Issues
RAs are licensed by each state, similar to the licensing programs for RTs. Currently, only 17 states recognize RAs through state licensing and/or regulations. Radiological organizations such as the ASRT and the ACR are attempting to introduce RA legislation state to state to ensure reliable, consistent work for RAs. Lung says this would allow the state medical boards to define RAs' scope of practice and require any legislation to be consistent with guidelines from the ACR, the ASRT, and the ARRT.
"Until we can establish licensing and acceptance in every state, RAs will have difficulties obtaining jobs where they can perform at the peak of their knowledge base," she says. "They can work in nonlicensed states but without performing all the tasks of an RA. They're not able to provide the help that's needed."
State licensure becomes more of an issue as medical facilities continue to experience radiologist shortages, particularly in rural areas. Added to that is an increase in the number of radiological procedures being performed annually. These new procedures require more time on the part of the radiologist, time taken away from performing tasks for which a radiologist's skills are required.
"In the last 10 years or so, the number of radiology services being performed has gone through the roof," says Ellenbogen. "There's been a 25% increase in the number of procedures but only a 2% increase in the number of radiologists. The public has demanded specialists, but there's no way to produce them. Hiring RAs and RPAs is a way to become more efficient."
Supervision Requirements
The Registered Radiologist Assistant Role Delineation document, created in January 2005 by the ARRT with input from the ACR and the ASRT, characterized RA tasks by whether they require personal, direct, or general supervision. According to Ellenbogen, one of the major stumbling blocks in the RA profession is the determination of the supervision level required for practicing RAs.
"The U.S. government, through the CMS [Centers for Medicare & Medicaid Services], says if I use an RA, I need to conduct a personal level of supervision," Ellenbogen says. "That means a radiologist needs to be in the room with the RA. The intent of the RA is to be a physician extender. But if I have to be in the room while the RA injects a contrast dye, for example, that doesn't save any time. You have two people doing the same thing."
Career Benefits
There are significant career benefits to RA programs. Many educators and radiology professionals see the programs as an opportunity for RTs to advance their careers without leaving the clinical side of the profession or specializing in a particular imaging modality.
"RTs have had a ceiling on their career ladder," Lung says. "Previously, they have had to leave the clinical arena and move into either administration or education to progress in their careers. With the RA program, there is an opportunity for clinically attuned RTs to move into a higher position and experience professional growth."
Loma Linda RA student Rodney S. Carter, CRA(I), RN, CRN, RT(R)(CT), speaks from experience regarding the career opportunities now available to RTs. A certified radiology nurse, Carter was going to further his education as a nurse anesthetist but learned about the RA program and decided to pursue that career path instead. He's graduating this year with a bachelor's degree.
"With the RA program, I am able to incorporate all my skills to help with patient care on many different levels," Carter says. "With both of my degrees, I can take care of patients from both nursing and radiological points of view. I would tell someone that if they want to perform more advanced patient care and like to perform procedures, then RA is the way to go."
Billing Issues
One major hurdle to hiring is the issue of Medicare coverage for the clinical use of RAs. Ellenbogen says Medicare doesn't formally recognize the RA as a specific practitioner category. Consequently, RAs do not have independent billing authority under Medicare. Their services are only reimbursed through their employer's practice expenses. This has prevented some practices from hiring RAs.
"Medicare has stringent rules on who can bill for services," Lung adds. "ASRT is not seeking independent billing rights for RAs, but they need to address how practitioners can recover the costs for procedures"
The same can be said for RPAs, who face business-related workplace issues similar to those of RAs. The differences, however, occur in the scope of practice between RAs and RPAs—the RPA has the CBRPA scope of practice and the RA has the AART role delineation and the ASRT practice standards.
"We have a need for someone who can perform minor invasive procedures when a radiologist is not available," Newham says. "This is particularly true in rural communities. And as radiology services take off, with all the new modalities out there, we will have an even greater need for RAs and RPAs."
Philosophical Difference
Newham believes there is a philosophical difference between RPAs and RAs. While both professions focus on patient care, RPAs have a broader approach.
"Everybody has different strengths and weaknesses," she says. "The idea is to bring everyone into the same level. Some people say the two programs [RA and RPA] will merge, but I'm not sure."
Also, RPAs are not licensed separately but rather are considered extensions of the RT program. They must be certified and registered radiographers and must have current Advanced Cardiac Life Support certification. Representatives from the Weber State program assisted in the creation of the CBRPA, and RPAs can become RAs by meeting all ARRT requirements.
At least one RA program director has moved beyond the RA vs. RPA debate. "The focus should be on the impact these extenders have on the healthcare delivery system," Iorio says.
Ellenbogen says reviewing the scope of practice for RAs continues today, with the formation of the Inter-Societal Commission on the Radiologist Assistant. The commission is comprised of representatives of the ACR, the ASRT, and the ARRT, as well as the National Society of Radiology Practitioner Assistants.
Mehlbaum says the next step will be to expand the types of procedures RAs can perform. "As they get out in the workplace, they'll see what else they can do," she explains.
She also sees RAs moving into research, assisting radiologists with clinical trials and other studies. "That's why we include a research project in Bloomsburg's program," she says.
"The field is fluid right now," Iorio says. "We will continue to see change as new legislation is introduced, programs continue to develop, and scope of practice becomes more refined."
— Kathy Hardy is a freelance writer based in Phoenixville, Pa., and a frequent contributor to Radiology Today.