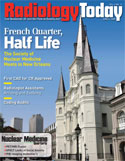 June 2 , 2008
Where to Go for Coding Answers
By Jean Stoner, CPC, RCC, PCS, and Donna J. Richmond, CPC, RCC, PCS
Radiology Today
Vol. 9 No. 11 P. 8
So your coders are busy with their 389th radiology report of the day and they come across a complex ICD-9 coding issue that they are not sure how to code. What should they do? Do they conference with a coworker? Ask a supervisor? Post a question to an e-mail forum group?
These are all good options, but the first resource for ICD-9-CM coding questions should always be the American Hospital Association's (AHA) AHA Coding Clinic for ICD-9-CM. The AHA Coding Clinic is a quarterly publication that provides answers and clarifications for all kinds of ICD-9-CM coding questions. The publication is produced and sold by the AHA but is sanctioned by the American Health Information Management Association (AHIMA), the Centers for Medicare & Medicaid Services (CMS), and the National Center for Health Statistics (NCHS).
Given that both the CMS and the NCHS, the organizing groups that maintain and update the ICD-9-CM codes every year, have given this publication their imprimatur, the Coding Clinic is the coding clarification source for all coders, not just facility coders. There are issues addressed in the Coding Clinic that are rarely seen in the physician coding world, but there are also quite a few clarifications critical to physician coding—and to radiology coding in particular. For example, the Coding Clinic recently featured an extensive question-and-answer series on acute fracture vs. fracture aftercare, complete with answers to several common fracture scenarios and how to code them.
The following are additional common—and sometimes confusing—radiology issues to watch for, along with reference information to learn more through the Coding Clinic:
Trauma: Did you know that if the reason for the radiology service is specified only as trauma, coders cannot code it as an injury and should instead assign V71.4 (observation following other accident) (Vol. 23, No. 1, first quarter, 2006).
Consistent with: Language such as "consistent with," "compatible with," "indicative of," "suggestive of," and "comparable with" are probable or suspected conditions that cannot be coded in the outpatient setting. Instead, coders should code the condition to the highest degree of certainty for the particular encounter, using indicators such as signs or symptoms or other positive findings in the medical report (Vol. 22, No. 3, third quarter, 2005).
Coronary artery disease: You would think that a diagnosis of coronary artery disease would be coded 414.00 if the physician does not specify whether the disease was in a native artery or graft. However, the disease is presumed to be in a native artery if there is no mention of coronary artery bypass graft and 414.01 would be coded. Code 414.00 if there is a known history of a graft and the physician does not document whether the graft or native artery is diseased (Vol. 14, No. 3, third quarter, 1997).
Bilateral occlusion and stenosis of precerebral arteries: There are individual codes for disease of the basilar artery (433.0x), carotid artery (433.1x), and vertebral artery (433.2x). There is also a code for multiple and bilateral precerebral artery disease (433.3x). Many coders assign 433.3x when there is bilateral disease in either the carotid, vertebral, or basilar arteries. While that is correct, it should be assigned as the second code. Code 433.0x, 433.1x, or 433.2x should be assigned first to specify which artery is affected, and 433.3x should be assigned to indicate the disease is bilateral (Vol. 23, No. 1, first quarter, 2006).
Carotid occlusion with stroke: Just because a patient has had a stroke and also has carotid artery disease, it is not appropriate to code 433.11. The radiologist must document causality—that carotid artery disease caused the stroke—before the fifth digit of 1 can be coded. Without that documentation, 433.10 and 434.91 would be coded (Vol. 12, No. 2, second quarter, 1995).
Other Coding Resources
The NCHS and the CMS release an official ICD-9-CM coding guidelines document every year, which includes a section titled "Diagnostic Coding and Reporting Guidelines for Outpatient Services." This provides information on coding issues such as coding from the final impression vs. clinical indication, as well as tips for consistency with language and coding preoperative evaluation services. A free download of this document is available at www.cdc.gov/nchs/datawh/ftpserv/ftpicd9/icdguide07.pdf.
Where do you or your coders turn if there's a coding issue that cannot be resolved through research, advice, or manuals? You can certainly ask other coders, specialty societies, consultants, and listservs, but remember that they are not the official resource for ICD-9-CM coding guidelines. That authority rests with the AHA Central Office on ICD-9-CM and the Coding Clinic. Consider writing the central office and requesting information and verification. Download the question form and instructions at www.ahacentraloffice.org/ahacentraloffice/images/AdviceRequestForm.pdf. Submit the completed form to the central office.
It may take a while to get a response. If the question has never been asked before, it has to be circulated among the organization's editorial advisory board. Once an answer is determined, consensus must be reached among the AHIMA, the AHA, the CMS, and the NCHS. The organizations may then accept or request additional research and review.
To add to the coding confusion, your organization may have an insurance company, possibly the CMS, which gives ICD-9-CM coding guidelines contrary to the Coding Clinic. To work through discrepancies with the CMS, write to the carrier and present them with the official Coding Clinic interpretation of the issue. The CMS is one of the official cooperating organizations for the Coding Clinic and thus one would expect the carriers to follow the Coding Clinic recommendations. For private insurance companies, this strategy will have less influence, as they are not cooperating organizations for the Coding Clinic. If your physician has signed an agreement with the insurance company, there is little recourse but to accept their ICD-9-CM coding guidelines. Nonetheless, it is always worth presenting the Coding Clinic interpretation to the payer as they may accept the guidelines and you can code correctly and receive appropriate reimbursement.
— Jean Stoner, CPC, RCC, PCS, is the lead subject matter expert in natural language processing for CodeRyte, Inc.
— Donna J. Richmond, CPC, RCC, PCS, is the coding services supervisor for CodeRyte, Inc. Radiology Coding