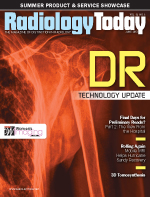 June 2013
Technology Update: DR — Industry Experts See Mobile Systems and Dose Reduction Driving the Market
By Keith Loria
Radiology Today
Vol. 14 No. 6 P. 14
Over the last decade, digital technology has become the norm in X-ray departments at hospitals and other medical imaging facilities. Most understand the value of CR, direct DR, or a combination of both in making the transition from an analog to a digital environment. While both digital techniques are widely used, DR has become the preferred choice of most in the hospital radiology environment because of its improved image quality, workflows, and dose reduction.
According to industry insiders interviewed for this article, the current buzz in DR is on mobile digital X-ray systems and dose management. Offering a seamless workflow in these cases when it is not safe or practical to move a patient from his or her bed to the radiology unit lately has been a focus of equipment manufacturers.
Meanwhile, hospitals have begun preparing for new or anticipated dose reduction and monitoring regulations that began with the CT industry and pediatric task groups. Some hospitals reportedly are beginning to justify budget approvals based on quantifying the new technologies' ability to lower dose.
Robert Fabrizio, director of marketing and product development for digital X-ray for Fujifilm Medical Systems USA, says the company's reenergized focus on dose and image quality has led to the development of new innovations in detector technologies. That includes the company's patented ISS capture technology, its latest dynamic visualization image processing, and other detector advancements that utilize engineering to realize dose savings and enhance image quality.
X-ray manufacturers say the industry is developing international standards that would be accepted globally from one manufacturer to the next so that radiologists in different countries could all calculate dose in the same way and keep track of the total dose amount that patients receive in their lifetimes.
Frans Venker, global marketing lead for diagnostic X-ray for Philips Healthcare, sees two current trends in the DR sector: ongoing digitization of radiography because of the inherent workflow advantages of DR, and making X-ray mobile and providing bedside digital X-ray solutions.
"Mobile X-ray solutions provide excellent diagnostic capabilities that are almost uncompromised compared to fixed DR systems. Therefore, we see a major increase in the use of our Mobile Diagnost in the [emergency department] and ICU in particular," Venker says. "The advent of direct DR in the mobile space has moved forward in that time frame. We see multiple new offerings in various configurations and price points. This is truly a fast-moving market that transforms the way care is being delivered by care providers to patients."
Another trend is DR becoming widely available beyond the "premium" radiography room space because of the introduction of more quality DR systems at lower price points.
"A current area of focus at Philips Healthcare includes providing wider ranges of direct DR solutions with more cost-effective solutions that target growth markets—for example, emerging markets—but also developed markets," Venker says. "We continue to focus on workflow optimization and enabling diagnostic capabilities in X-ray. Everything is about diagnosis, efficiency, and throughput."
Viola Fernandes, Siemens' radiography product manager, believes that a demand for analog still exists because of the infrastructure in place. Even digital improvements and decreasing costs are not enough for everyone to turn over. "We all know that digital is faster and DR is done with a lower dose, and those that are upgrading want to also go wireless," Fernandes says. "We offer the Ysio, a digital radiography system with a wireless detector that offers increased flexibility via the fusion of an integrated and wireless detector into a single digital radiography solution."
The chief concern Siemens hears is whether the product is flexible for upgrades. Radiography department management does not want to find out five years down the line that it must change its infrastructure again. "Typically, they are thinking of upgrading three to five years once they are in the digital realm," Fernandes says. "Speed and image quality are always important, but dose is what we'll probably be seeing improve most in the years ahead. There are a lot of vendors now, and all vendors are trying to get the best image quality at the lowest possible dose."
Customer Wants
Beyond dose issues, most customers' checklist of needs focus on three points: extremely reliable direct DR solutions, flat-panel detectors providing excellent image quality, and systems with flexible usability. Of course, this all must come at an affordable price point.
Bao Ho, director of national sales and marketing for Canon USA Healthcare Solutions, says the company has been focusing its efforts on the speed of detector integration. "A lot of hospitals and facilities are looking for a detector that has an enterprise-type solution that they can bring in any room in a digital, mobile, or fixed environment but need it to instantly sync with the generator," he says. "Today there's usually a five- to 10-second lag time, but customers want it instantaneous."
During the past six months, customers also have been clamoring for low-price detector upgrades with some type of cloud-based PACS or archiving solution. "A lot of people are saying, 'I need to convert CR, but I'm not sure if I am ready to go full DR, so I need some type of low-priced detector because the place I'm upgrading doesn't have the volumes to really substantiate a full DR purchase,'" Ho says. "They need a PACS solution. I recently did a presentation at a large GPO [group purchasing organization], and they are asking for that hand over fist, and that's something we need to put together."
Additionally, customers are asking vendors for detector replacement programs, and many have responded with an almost free upgrade or replacement out of fear of losing business. "[Customers] are fearful of dropped detectors, and they use that as almost a deal breaker," Ho explains. "A dropped detector is more rare than you think. It [sometimes] happens out of negligence and abuse, but it's not widespread. Customers are looking for very aggressive [low price] or free replacement programs, and that's something we have noticed for about two years now."
Customers also have been asking for improvements in detector durability and dependability. "The newest thing we are hearing is that customers want a detector that is waterproof. They want to submerge it in water and not have it break, but that's impossible," Ho says. "Canon has responded with some new detectors coming soon with enhanced protection, not fully waterproof but with improved water resistance."
Wireless battery charging is yet another customer request, but that hasn't yet come to fruition. While further advancements may be made regarding battery life, this is not something manufacturers see as feasible in the immediate future.
DR vs. CR
Most hospital purchases for new X-ray equipment are gravitating toward DR, especially now that DR detectors have become more portable, wireless, lighter in weight, and less expensive. New purchases are focused on rooms that accommodate both DR and CR instead of sophisticated fixed DR detector rooms. However, the majority of hospitals unquestionably are continuing their use of existing CR and converting to DR in steps.
"The more practical and well-established hospitals have a mix of CR and DR, and continue to see both as important to the efficiency of their clinical imaging. However, some new builds where buying decisions are not well influenced by the actual users of the technologies are fixated on the idea that DR only is the way of the future," Fabrizio says. "Either way, both will need a complement of CR sooner or later. They may find that DR is not practical for all exams, for example, such as with long length stitching and even portables."
In 2007, DR had a roughly 20% to 25% acceptable rate, but if it was "battling" with CR today, Ho sees DR winning. "I don't know why anyone would even buy CR today," he says. "If they are, it's a clear indication that they don't have the volume or cash to do it or the staff to do the paradigm shift to the DR workflow. So they are trying to find a CR solution with a PACS."
While DR offers many workflow improvements, some in the industry still see a few specialized areas in which CR may be the better choice. Fernandes says that long-length imaging still presents a challenge for DR because of its standard-sized detectors, unlike CR cassettes that are available in various lengths with multiple plates. Manufacturers have been trying to address this problem, and most expect that customers will have access to a wider range of DR detector sizes in the years ahead.
What's Selling
Looking at recent National Electrical Manufacturers Association market trends, hospitals with 250 beds or more appear to be buying more DR and DR portables than ever before. However, there are many manufacturers from which hospitals can make purchases, and the big-box companies can have an advantage in bundling with other larger-scale needs, particularly in new builds.
"Currently, due to the significantly higher implied costs of DR, it would seem that more of the nonhospital market is looking at CR and maybe the cordless flat panel," Fabrizio says. "The DR flat-panel market is now becoming very competitive. It's great for the hospitals but not so great for manufacturer's profits." That's why most original equipment manufacturers have looked to new ways of balancing competitive selling prices with lower manufacturing costs.
To counteract the problem, Fabrizio says Fujifilm is further complementing its capture technologies with a wide range of imaging solutions (eg, complete DR rooms, retrofit room and portables integration, complete portables) to provide a complete solution with one consistent workstation user interface and advanced applications such as stitching and linear tomography.
Money Matters
"Prices for DR systems have dropped considerably in the past few years—as much as 20%," Fabrizio says. "However, like the hospital market several years ago, this market is not as educated on the technologies and are not expected to be willing or able to pay as much for digital X-ray, especially when CR works so well, costs so little, and is proven to be very, very reliable."
Also, as hospitals face reimbursement cuts and steep financial challenges moving forward, many have undergone steps to minimize cost, which has meant slower adoption of DR updates, Fabrizio says.
The initial impact of the health care reforms combined with the sluggish economy have dramatically stifled spending for the general X-ray market. It's common for equipment to be utilized well beyond its expected life, with more organizations holding out until the equipment can no longer be used. Some observers note that as customer budgets began to show signs of easing, 2013 brought the new 2.3% medical device tax and $800 million in reimbursement imaging cuts. Subsequently, cost will remain a driving factor regarding DR purchases.
Still, digitization is in full swing. Most hospitals have completed turning analog images into digital ones but, according to Venker, the digital evolution has only started: "Digital technology will offer exciting opportunities, from increased automation in the image acquisition to distribution, diagnostics, and getting DR to remote areas, providing medical expertise in real time anywhere, anytime."
— Keith Loria is a freelance writer based in the metro Washington, DC, area.