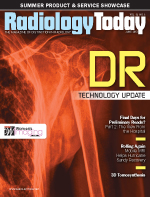 June 2013
Managing Outside CDs
By David Yeager
Radiology Today
Vol. 14 No. 6 P. 6
Outside images are a fact of life for modern hospitals and, for large institutions especially, managing all those images—specifically the CDs—directly affects workflow and patient care. The Cleveland Clinic is one such institution.
Along with its main campus, which is an academic medical center and a stroke center, the clinic comprises 16 family health centers and eight community hospitals. Because it handles thousands of patient visits, it imports close to 80,000 outside exams each year into its archive.
To handle this volume, Cleveland Clinic uses a few different strategies. In some cases, images are received through virtual private networks from hospitals with which the clinic has business arrangements. The hospitals transmit exams to a temporary storage area, where Cleveland Clinic converts them to nonbillable, nonreportable radiology exams and assigns them medical record numbers. For stat cases, the exams are given temporary numbers that don't overlap with existing patient numbers. If the patient is admitted, the exams are reconciled and assigned permanent numbers.
Cleveland Clinic also belongs to a small number of ad hoc networks that allow outside hospitals to upload images through a secure portal. It only has arrangements of this nature with a few hospitals, though, and these uploads account for a small percentage of outside images. Still, by far the most outside images arrive on CDs.
CD Tsunami
David Piraino, MD, a diagnostic radiologist and the imaging informatics officer at Cleveland Clinic, estimates that 85% to 90% of all outside images are brought in on CD. With that many discs floating around, effective management is a necessity. Aside from the ability to view images when care is rendered, Cleveland Clinic needed an efficient way to select images for archiving.
To make CD images accessible, each of the approximately 12,000 clinical workstations were equipped with an ETIAM application that automatically opens CDs and displays the images in the clinic's common viewer, regardless of the system that created it. Physicians then can designate which exams they want to keep. The radiology department subsequently produces a nonbillable order, and the images are stored in the PACS and archive.
The application also allows physicians from different departments to more easily communicate with each other and makes critical information available to all PACS users. Administrators also can use the application to track traffic from outside hospitals, define statistics for specific workflows, and extract statistics from keywords such as "trauma," "stroke," "orthopedics," and "oncology."
But adjusting to CDs has required new technology plus a new workflow. As film has been phased out and CDs have become the predominant portable image storage media, Cleveland Clinic has shifted its personnel from manual film filing to CD importation. Four years ago, the clinic began training some of its film library staff to handle the quality assurance (QA) process for archived CDs.
The QA process is similar to what a technologist does when an image is acquired in-house. Film library staff confirm that the file contains the correct patient information, correct exam, and correct number of images that the referring physician specified. The clinic's image library oversees all of the CD importations to ensure quality standards are met.
The Shopping List
Piraino says Cleveland Clinic still is considering its long-term options for outside image management. Security always is at the top of the list, but there are specific capabilities that can enhance the image transfer process. One is the flexibility to customize.
"The ability for us to not only have a nonreconciled portion of the images available, especially for those stat cases, but also the ability to switch it to our medical record number and our registration information, either when care is delivered or at a later date, is an important consideration," Piraino says.
Another important feature is the ability for outside institutions or even patients to send images to Cleveland Clinic without having to install software. Yet another desired feature is the ability for medical providers or patients to easily upload to a Cleveland Clinic portal if they prefer to share images that way. It's also important for large institutions like Cleveland Clinic to route images to different intake areas, such as a trauma or stroke center, in a timely manner.
Piraino says one difficulty in assessing new systems is that there are many vendors working this niche. Deciding between a single vendor or a mix of vendors can be a challenge. But no matter which direction Cleveland Clinic takes in the future, Piraino says scalability is likely to be a determining factor.
"I think the big thing is the volume. We're probably archiving a couple thousand exams a week, and it's really just a volume problem," he says. "We have had to scale up our servers that do this and our software as well as the number of people that do the QA. So scaling it up to our size has been the biggest issue."
— David Yeager is a freelance writer and editor based in Royersford, Pennsylvania. He writes primarily about IT in imaging for Radiology Today.