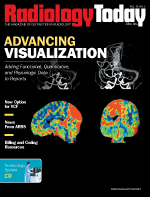 June 2014
Still Sensible — Technology Update: CR
By Keith Loria
Radiology Today
Vol. 15 No. 6 P. 14
In many environments, CR still is sensible and serving both imagers and patients.
Much has been written in recent years about CR supposedly being a dying medium, and that imaging centers need to get on board with direct DR. Yet here we are in 2014, and several manufacturers still are finding success with their latest CR models.
"Size, speed, image quality, reliability, and price are key aspects when making purchasing decisions for new CR systems," says Heidi McIntosh, Carestream's marketing manager for global X-ray solutions. "Tabletop systems are very popular with health care providers that need fully featured systems with a small footprint."
CR remains viable for practices that want an efficient digital imaging solution but do not have the imaging volumes to justify the higher cost of a DR system. Improvements to CR equipment and the continued decrease in price have made the allegedly obsolete modality thrive in some areas. While DR may stake its claim in hospital radiology departments, CR remains a viable choice for private medical practices, urgent care centers, orthopedic practices, mobile imaging companies, chiropractors' offices, and even veterinary facilities.
"New practices are installing CR systems to achieve affordable digital imaging, and established health care providers continue to migrate from film to CR systems," McIntosh says. "CR imaging technology provides digital images with excellent image quality at a very affordable price point."
Still Relevant
Ron Batory, Konica Minolta's product marketing manager for CR and conventional imaging products, says CR still is recognized as the system of choice for late digital imaging adopters, thanks to rapid technological developments and decreasing CR prices over the past few years.
"The CR systems offered today are simple to use, provide good images, and are cost-effective in the final film-to-digital conversions that we still experience," he says. "CR is an easy transition for film users. In emerging markets, many are in the early adoption phase, converting from film to digital. Maintaining our CR customers and our CR base allows our satisfied customers to view our DR offering with greater buyer confidence."
Konica Minolta's CR product line has been simplified to offer fewer product selections for low-cost film conversions and simple replacements to accounts with Windows XP–based systems currently installed and no budget for DR upgrades, according to Batory.
"The company is dedicated to providing primary imaging solutions—the right solutions at the right time—that meet the needs of health care providers," Batory says.
Rob Fabrizio, director of marketing and product development for digital X-ray for FUJIFILM Medical Systems USA, says people still are drawn to CR because it always has proven to be reliable. "It reduces the risk of fragile, expensive detectors when dropped, and it's been proven very effective over the years, so for the money, it's perfect for smaller facilities that can't go full-out with DR," he says. "We are still investing and promoting CR prominently in the nonhospital markets as a viable option."
Eddie Massetti, manager of distributor and original equipment manufacturer sales at FUJIFILM, points to a small orthopedic clinic as an example of where CR is a good fit.
"We are enhancing our software to provide better image quality, similar quality to our DR as well," he says. "There are still some customers out there using analog film, and the jump from film to CR is a little less painless than jumping right into DR as far as a workflow standpoint."
Backup and Satellite Sites
Fabrizio says some hospitals will maintain a CR presence because they have had it for so long and are comfortable with it. Sometimes it is used as a backup system, but there are cases where hospitals still use it as their preferred system.
"There's still a big, viable market out there, including emerging markets like China, India, and [others] overseas, so there's still a large market, and it's not going away," Massetti says. "Everyone talks about price, but as the price for DR comes down so does the price for CR, so it's more viable for those using film."
Canon's radiology solutions department doesn't offer a CR component, focusing on DR exclusively, but that doesn't mean it doesn't follow the CR trends. James Hamilton, manager of Canon's health care solutions division, says as DR use increases, CR continues to be relevant because of budget constraints. Many hospitals are relying on both for their imaging solutions.
Workflow Integration
Carestream's Image Suite software offers Web-based patient scheduling, image review and reporting, orthopedic/chiropractic measurement tools, and flexible archiving solutions for users of its DirectView CR systems. It also supports Carestream's wireless DRX-1 DR systems and offers an optional mini PACS.
"This flexible platform enables practices to efficiently manage imaging studies from DR and CR systems from Carestream," McIntosh says. "The newest version of Image Suite software recently received FDA 510(k) clearance for a tablet-viewer option that allows viewing of X-ray imaging studies on tablets and smartphones. This equips physicians with rapid, convenient remote image viewing and allows them to show images to patients during consultations."
FUJIFILM's latest CR system was introduced less than one year ago, with advancements in both the modality level and the software level. "CR is becoming smaller and faster. Most of our advances have been focused on DR equipment, and the resulting changes and improvements we've made have benefited the CR business as well," Fabrizio says. "We are also streamlining our software platforms to one so both our CR and DR can use the same software. This dramatically improves the diagnostic visibility for both DR and backwards compatibility with CR."
Siemens radiography product manager Viola Fernandes says even though everyone thought CR would go away once the flat-panel detector came out, CR still is being widely used today.  Therefore, the company continues to invest in its CR segment. "At Siemens, CR is still a big market for us," she says. "Just two years ago, we came out with the Multix Fusion, which offers a higher table read capacity with the ability to have more functions."
The Multix Fusion is designed to be comfortable to maneuver, so users easily can position patients or take the detector to patients. For example, patients undergoing ankle or lower extremity exams had to stand on a stepstool, but now this is no longer necessary. This makes the patients feel more comfortable, and the ease of use gives the technologist the ability to do more exams.
"Siemens strives to work to make sure that the room doesn't look that cluttered; the whole system can actually perform whatever you need; and you need less accessories to get the tests done," Fernandes says. "The main thing we have noticed is customers already have the infrastructure and want to continue with it, so they update it as a backup room."
Obviously, if money wasn't an issue, DR would be the preferred choice for most, but CR systems are compact, flexible, cost less, and can be placed in tight spaces often found in smaller offices and clinics. CR plates also come in more sizes, and that's a big consideration for many physicians, although DR systems also are starting to offer detectors of different sizes.
Newer CR systems also can be used for mammography, which streamlines workflow and eliminates the need to maintain film and chemicals for mammography exams. "Removing film and chemicals from their facilities is a newer priority than in the past," Batory says. "Peer pressure and digital success stories from their own colleagues help to convert the remaining film-based facilities." Plus, dropping a CR cassette doesn't mean it can't be used again, but dropping a DR panel means it must be replaced.
Massetti says CR still is the best option for certain exams. "It is still a great option for specialty exams like scoliosis," he says. "We have a 14- by 34-inch cassette where you can take a scoliosis test with one exposure vs. using three on a DR detector."
Fabrizio says people don't always consider CR as a digital system, but it is. "Images come up on the computer, and they are truly digital radiography, especially for those customers converting from film," he says. "With the quality capable today, it's very cost-effective."
Cost-Effective
According to McIntosh, suppliers of CR systems continue to invest in enhancing the image quality and capabilities of hardware and software for CR platforms, as the CR systems that are marketed today offer many advantages over those purchased just a few years ago.
"People tend to think that because DR is a newer technology, CR is obsolete, but this couldn't be further from the truth,"  she says. "The image quality is excellent, and Carestream CR systems utilize the same software and user interface as our DR systems."
Many facilities have both CR and DR systems on site, but there still is a market for CR systems because it serves the needs of a broad base of health care providers and practices. "Obviously, DR is the future and is very solid already, but CR is still very practical for many places. With the changes in health care, everyone is trying to do a lot more with a lot less," Fabrizio says.
Fernandes believes that even 10 years from now, people will be using CR because they have invested so much in it. "People probably think a CR system is old, boring, and not necessary, but companies like us are out there trying to make it more patient centric and user-friendly for the technologist so if you have the infrastructure built in, it's easy to use the system," she says. "Customers looking to purchase a CR system should be looking at all the specifications: the reliability of the system, the service that comes with it, the training customers get."
As hospitals install and expand their base of DR systems, they often move CR systems to satellite locations, allowing the provider to boost volumes at these facilities and maximize use of existing equipment.
"There is also a fast-growing population of specialty markets such as urgent care facilities, chiropractors, mobile applications, and smaller clinics that are currently transitioning from film to digital imaging," McIntosh says. "CR provides an excellent imaging solution at a reasonable price and allows these sites to have the benefits of digital image capture and management."
 — Keith Loria is a freelance writer based in Northern Virginia.