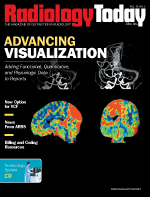 June 2014
New Option
By Beth W. Orenstein
Radiology Today
Vol. 15 No. 6 P. 18
Editor's Note: This version replaces an earlier version that incorrectly attributed some comments to Benvenue Medical CEO Rob Weigle.
A recently cleared system for vertebral compression fracture hints at reducing future fractures.
Five years ago, two studies in The New England Journal of Medicine (NEJM) questioned whether patients with vertebral compression fractures (VCFs) benefit from the minimally invasive procedure vertebroplasty. The studies compared two groups of patients with osteoporotic compression fractures—one treated with vertebroplasty and one with a sham procedure—and found both groups reported similar improvements in pain. Although the researchers' methods and results were questioned, some private payers used the studies to deny claims.
A new vertebral augmentation procedure by Benvenue Medical, which recently received FDA clearance, is reopening that debate. Some believe Benvenue's Kiva VCF Treatment System improves on existing compression fracture interventions for those who don't respond to conservative treatment using painkillers, bed rest, bracing, and physical therapy. Others aren't convinced that the new procedure is any better than either vertebroplasty or balloon kyphoplasty and won't change the treatment options they offer their patients.
Each year, about 700,000 to 1 million Americans suffer VCFs; osteoporosis and cancer are the main causes. The microbreaks can lead to severe pain and disability, and the problem is expected to grow as the population ages. Sean M. Tutton, MD, FSIR, a professor of radiology and surgery at the Medical College of Wisconsin in Milwaukee, works to make sure patients with fractures that don't heal on their own are treated. "Your grandmother who was a gardener and who liked to ride her bike gets one of these fractures, and it's devastating," he says. "If you don't do anything, she can quickly become housebound and has to transition to a nursing home."
While the majority of patients do get better on their own in 10 days to two weeks with conservative treatment, 20% to 25% don't. Tutton, who is a consultant for Benvenue, believes it makes sense to treat those patients who don't respond to conservative treatments with vertebral augmentation procedures that have been shown to improve pain and mobility, he says.
Vertebroplasty was the first minimally invasive procedure for the treatment of VCFs to be made available. It was introduced in the United States in the early 1990s. Typically done as an outpatient procedure, vertebroplasty involves inserting a small needle under X-ray guidance and injecting a specially formulated acrylic bone cement into the collapsed vertebra. The cement hardens within minutes, strengthening and stabilizing the fractured vertebra.
Balloon kyphoplasty was introduced about eight years later and now has become the standard of care. With kyphoplasty, two small balloons are placed in the vertebrae where the fracture has occurred. The balloons are inflated to create space that's filled with the cement. Like vertebroplasty, balloon kyphoplasty usually is an outpatient procedure and can be done in about two hours.
In January, Benvenue Medical received FDA 510(k) clearance for its Kiva system that uses an implant to hold the cement. The implant is made from a medical polymer and is designed to provide a predictable structural support for the vertebral body and a reservoir to contain and direct the flow of bone cement. Since the Kiva system is a minimally invasive procedure done under X-ray guidance, it takes about the same amount of time as vertebroplasty and balloon kyphoplasty and can provide immediate pain relief in some cases, its users have found.
Better Tool?
Tutton believes the Kiva system is the best option yet for most patients with compression fractures who haven't responded to conservative treatment. He was the lead author of KAST (Kiva System as a Vertebral Augmentation Treatment — A Safety and Effectiveness Trial), which was presented at the Society of Interventional Radiology's recent annual scientific meeting. The study compared 153 patients with one or two painful osteoporotic VCFs who were treated with the Kiva system implant and 147 patients who underwent balloon kyphoplasty. It was a multicenter trial, and patients from 21 centers in the United States, Canada, Belgium, France, and Germany were followed for one year. The study found that both groups had the same amount of pain relief and improvement in daily function. Researchers used two accepted measures to determine pain relief and function: visual analog score and Oswestry Disability Index.
Pain and mobility improvements were equal, but the study also reported that those treated with the Kiva system were less likely to have the bone cement leak and were less likely to suffer a fracture in adjacent vertebra than those treated with kyphoplasty, though the difference wasn't statistically significant. Tutton says patients who had the implant were more likely to benefit from a reduction in the curve of their broken spine that kept them hunched over. "Balloon kyphoplasty doesn't allow us to correct kyphosis [curvature] as much as we would like," he says. And correcting kyphosis is key to preventing future fractures, he adds.
Tutton says the results of the Kiva study are particularly impressive given that, even though it was a randomized trial, the patients receiving the Kiva implant turned out to have more severe osteoporosis than those in the kyphoplasty cohort. The Kiva system cohort also had more people who smoked, and smoking causes osteoporosis, he says. The Kiva cohort also had more people who had previous fractures. "A history of fractures means you're more likely to get more fractures," he says. He notes that more patients were enrolled in the Kiva trial (300 patients) than in either NEJM study (78 and 131 patients) that questioned the use of vertebroplasty procedures to treat VCFs.
A Swiss study published in October 2013 in the European Spine Journal found that patients who had a greater than 30 degree curvature of the spine and comorbidities such as rheumatoid arthritis and cardiovascular disease were at high risk of adjacent spine fractures six months after undergoing balloon kyphoplasty. The study also found that patients who suffered adjacent spine fractures had more back pain than before their treatment. "If you can reduce future fractures in a given patient with the Kiva, you can make a good justification for using it," Tutton says.
Adjacent Fractures
A companion study to the KAST trial, published in Pain Physician in 2013, by Lucia Otten, MD, of the University Hospital in Bonn, Germany, supports the finding of reduced adjacent and subsequent level fractures when Kiva is used. Otten's study strengthens the evidence that Kiva likely leads to fewer new fractures, Tutton says. In the long run, preventing adjacent fractures and helping people with VCFs regain their mobility would save the health care system a great deal of money, he notes.
Wayne J. Olan, MD, director of minimally invasive and endovascular neurosurgery at George Washington University Medical Center in Washington, D.C., has tried different products available for the treatment of VCFs in his career. Like Tutton, he believes the Kiva system is superior because, while the pain relief is the same as with vertebroplasty or kyphoplasty, it's the only way to reliably restore the height of the vertebrae. Restoring the height helps reduce the rate of subsequent adjacent level fractures. "If you were to offer patients two devices and tell them that both will take your pain away but one is going to make it less likely it will come back, it's easy to see which one they'd choose," he says.
The Kiva system also requires considerably less cement, which could mean less leakage, Olan says. While balloon kyphoplasty has less leakage than vertebroplasty, the risk of cement leakage is low with any of the procedures, he explains.
Tutton says he has found the Kiva system easy to use. "It's more intuitive than balloon kyphoplasty," he says. He also likes that it takes less time than either of the other procedures. "The injection of the cement is pretty quick," he says. "This was studied in Europe, where it's been used for a while, and it was found that the Kiva took less time."
Olan notes that because the Kiva system is different, requiring a transpedicular approach and only one entry, "it requires some training in how to place the implant where you want it," but it's not difficult to learn.
Patient Selection
The Kiva system is indicated for use from thoracic vertebrae T6 down to lumbar spine L5. "It's not indicated above there," Olan says, and not designed for use in bone that is very hard. Balloon kyphoplasty doesn't do well in hard bone either, Tutton notes, Certain cancers cause bones to become very hard or sclerotic, and others form lytic lesions that eat away at the bone material. Tutton generally discourages any of the minimally invasive procedures for bones that are very hard.
In 2009, researchers in Australia and New Zealand and at the Mayo Clinic in Rochester, Minnesota, raised questions about the benefits of vertebroplasty for the treatment of compression fractures. In their two separate studies in the August NEJM, the researchers found little benefit to patients with compression fractures undergoing vertebroplasty. "There was no statistically significant improvement in patients who underwent a vertebroplasty vs. a sham procedure," says Stephen T. Kee, MD, MMM, FSIR, chair of the Society of Interventional Radiology Foundation Los Angeles and an associate professor of radiology and chief of interventional radiology at the Ronald Reagan UCLA Medical Center.
Although the studies were considered to be scientifically weak by some, the research questioned the need to be aggressive in treating certain patient populations, Kee says. While Medicare covers vertebral augmentation, be it vertebroplasty, balloon kyphoplasty, or Kiva, Kee doesn't believe that private health insurers have forgotten those results and believes they could be reluctant to pay for any minimally invasive procedure for treating compression fractures, including Kiva. "There are some payers who are reluctant to consider vertebroplasty and kyphoplasty as something they reimburse for on a regular basis and are trying to reduce payments," he says. So where, he wonders, would the Kiva system fit in?
Unanswered Questions
J. Kevin McGraw, MD, FSIR, an interventional radiologist at Riverside Radiology and Interventional Associates and the medical director of interventional radiology at Riverside Methodist Hospital in Columbus, Ohio, says he hasn't been impressed by the results of the Kiva trial and doesn't believe it's worth the extra cost. McGraw says when he researched pricing, he found the Kiva system would cost his hospital about 3 1/2 times more than a standard vertebroplasty procedure and 50% more than the single balloon kyphoplasty system it uses.
According to Rob Weigle, CEO of Benvenue Medical, the Kiva VCF System is priced comparably to the Medtronic Kyphon Balloon system.
While the Kiva trial showed a trend toward lower rates of adjacent compression fractures, it wasn't statistically significant, McGraw says. "And until there is some more data that there's additional patient benefit, I'm not convinced the added cost justifies using their product at this time."
McGraw says the studies that questioned the use of vertebroplasty for treating compression fractures had numerous flaws. It's not easy to do studies where patients undergo sham procedures. "But the NEJM studies make me question whether we need to do more complex procedures such as the Kiva vs. what's already being currently performed until the question of vertebral augmentation efficacy is definitively answered," he says, noting that he's not changing his practice until he sees more evidence that Kiva has added benefit for patients.
— Beth W. Orenstein, of Northampton, Pennsylvania, is a freelance medical writer and regular contributor to Radiology Today.