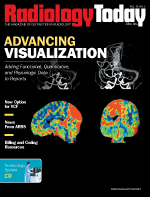 June 2014
Reporter's Notebook: ARRS 2014
Radiology Today
Vol. 15 No. 6 P. 22
Editor's Note: This article was produced from press materials released at the American Roentgen Ray Society annual meeting last month in San Diego.
CT Research
Automated CT Dose-Tracking Software Effective in Clinical Setting
Dose-tracking software provides effective and easy monitoring of radiation dose exposure in a busy academic practice, according to research conducted at Massachusetts General Hospital. For commonly ordered abdominal CT exams, iterative reconstruction techniques enabled approximately 50% radiation dose reduction compared with the national averages reported in the Dose Index Registry.
"A busy practice with diverse CT technology and remote scanner locations encounters challenges in assessing institutional performance in lowering radiation doses," said Yasir Andrabi, MD, MPH, one of the study's researchers. "Software-based dose monitoring simplifies the complex and essential quality and safety assurance with CT scanning irrespective of the scanner location."
Irreversible Electroporation Safe in Unresectable Pancreatic Cancer
A small group of study patients with locally advanced unresectable pancreatic carcinoma suffered no major ill effects (pancreatitis or fistula formation) after undergoing percutaneous CT-guided irreversible electroporation (IRE) as a therapy.
IRE is a nonthermal ablation technology that is safe near vascular and ductal structures. The treatment creates permanent holes in the cell membrane that disrupt cellular homeostasis and result in cell death from apoptosis. Thermal and radiation-based ablation techniques kill cells through necrosis.
"These early results represent a good alternative to intraoperative IRE ablation and offer a safe and feasible primary local treatment for locally advanced pancreatic cancer," said Maria Paola Belfiore, MD, a researcher at the Institute of Radiology at the Second University of Naples in Italy.
ASIR Techniques Reduce Radiation Dose for Pediatric Brain CT
A study conducted at Massachusetts General Hospital and Harvard Medical School found that estimated radiation doses are substantially lower for pediatric CT brain exams that used an adaptive statistical iterative reconstruction (ASIR) technique compared with those that didn't use ASIR. The researchers found that the brain and salivary gland doses were much lower for ASIR-enabled exams compared with those without the ASIR technique. However, no differences in the estimated organ doses were found for the thyroid gland, skeleton, and eye lenses across these two cohorts of CT exams.
"CT radiation dose is an important concern with all imaging sites, especially for children," said Ranish Deedar Ali Khawaja, MD. "We performed this study to do a preliminary analysis of pediatric head CT examinations and to assess the factors influencing radiation doses."
Mean estimated effective dose was 1.6 ± 1.5 mSv in pediatric head CT. In addition to ASIR, patient age and effective body diameter significantly affected the doses.
SPECT/CT Improves GI Bleeding Localization
A study at the Cleveland Clinic found that prompt and accurate localization of the site of bleeding is critical for the management of patients with acute gastrointestinal (GI) bleeding. Planar Technetium-99m–labeled (99mTc) red blood cell scintigraphy is sensitive enough to detect acute GI bleeding, but its accuracy for localization of a bleeding source is arguable, particularly in patients with complex GI anatomy from prior surgeries.
Researchers reviewed cases of GI bleeding in patients who had a concurrent hybrid SPECT/CT for evaluating equivocal 99mTc-labeled red blood cell activity on planar scintigraphy. Of those patients whose GI bleeding was confirmed (as opposed to abdominal red blood cell activity due to other causes), SPECT/CT was 100% accurate in identifying the location of the bleeding.
"Judicious utilization of hybrid SPECT/CT for localization of the site of GI bleeding has the potential to improve clinical care by eliminating the ambiguities of planar scintigraphy," said researcher Ajit Goenka, MD. "Based on the performance of SPECT/CT in this study, we are [working] to make it a routine practice at our institution."■
Breast Imaging
Nonscreened Patients With Breast Cancer Need More Treatment Than Screened Patients
Screening women aged 40 to 49 for breast cancer has additional benefits beyond the proven decrease in mortality rate, according to researchers at Case Western Reserve University. Patients screened with mammography are statistically less likely to undergo chemotherapy, avoiding the associated toxic morbidities. Screening mammography also helps identify a subset of patients at increased risk of breast cancer by diagnosing high-risk lesions.
The majority of high-risk lesions identified in a retrospective chart review were found in screened patients. Identifying patients at high risk may allow for the administration of chemoprevention, decreasing the risk of subsequent breast cancer development. The identification of high-risk lesions also may lead to supplemental screening MRI, which has the added benefit of detecting future mammographically occult malignancies in high-risk patients.
"When the US Preventive Services Task Force guidelines were published in 2009, confusion was created among patients and primary care providers on when and if 40- to 49-year-old women should be screened," said Nelly Salem, MD, of University Hospitals–Case Western Reserve. "Without screening mammography, these asymptomatic high-risk women would be unaware of their risk and the opportunity to decrease their risk of subsequent breast cancer development with use of chemoprevention."
Tomosynthesis After Screening Mammography Reduces Need for Ultrasound, Biopsies
Breast tomosynthesis in the diagnostic workup for one- or two-view focal asymmetry detected at screening mammography resulted in less ultrasound use, fewer biopsies, and higher positive predictive value for cancer than when diagnostic exams involved only 2D mammography, according to a study conducted at the University of Virginia.
"Tomosynthesis has been evaluated in screening populations and been shown to decrease recall rates," said researcher Brandi Nicholson, MD, "but studies in the diagnostic setting are lacking."
The 532 patients who were recalled for a focal asymmetric density discovered at screening were analyzed across three categories: women recalled prior to the availability of tomosynthesis in the practice (PT), those who did not have tomosynthesis at diagnostic evaluation after it was available (NT), and those who had diagnostic tomosynthesis (YT). There were 238 patients in the PT group, 145 in the NT group, and 149 in the YT group.
The researchers found that additional full views and ultrasound were performed significantly less frequently in the YT group than in both the PT and NT groups. They also found that the positive predictive value was increased for the YT group compared with both the PT and NT groups.
Overestimation of Radiation Exposure May Keep Women From Screening
Misinformation and misunderstanding about the risks associated with ionizing radiation create heightened public concern and fear, and may result in avoidance of screening mammography that can detect early cancers.
In a study to determine the baseline understanding of the radiation associated with mammography among patients presenting for initial or follow-up imaging, women were asked to rate the amount of radiation received in a single mammogram as being significantly less, slightly less, about the same, slightly more, or significantly more compared with a series of radiation benchmarks. None of the subjects correctly ordered all six of the benchmarks; on average, they significantly overestimated the amount of radiation associated with a mammogram in comparison with other radiation benchmarks.
"Our findings indicate a need to educate patients about the amount of radiation they are exposed to during a single screening mammogram," said Jacqueline Hollada, a member of the UCLA research team. "Using everyday sources of radiation exposure as benchmarks can help add perspective and improve patients' understanding of radiation levels associated with mammography, thereby reducing anxiety related to the examination."
The authors concluded that medical personnel should make concerted efforts to accurately inform women of the risks and benefits of mammography, specifically highlighting the low dose of mammographic ionizing radiation, and provide objective facts to ensure that women make informed decisions about screening. ■
Other News From ARRS
Image-Guided Placement of Peritoneal Dialysis Catheters Reduces Complications
Patients undergoing peritoneal dialysis catheter placement via fluoroscopy and ultrasound guidance experienced significantly fewer complications at one-year postinsertion than did patients whose catheters were placed laparoscopically, according to researchers at the University of Alabama at Birmingham.
The first of two study groups received catheters using fluoroscopy and ultrasound guidance under conscious sedation by interventional radiologists. In the second group, the catheters were inserted using laparoscopy under general anesthesia by surgeons.
"Our results showed that the overall complications at one year were significantly higher for the laparoscopic group, and that the laparoscopic approach is more likely to be complicated by catheter malfunction and peritonitis," said Ahmed Kamel Abdel Aal, MD, MSc, PhD, chief of interventional radiology. The image-guided insertion technique may allow for expeditious catheter placement in late-referred patients with end-stage renal disease, thus facilitating urgent-start peritoneal dialysis and avoiding the need for temporary vascular-access catheters. ■