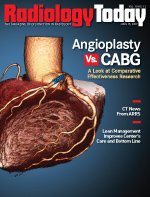 June 15, 2009
Reporter's Notebook — CT News From ARRS
Radiology Today
Vol. 10 No. 12 P. 18
Editor's note: This article was based on information provided to the press covering the American Roentgen Ray Society's annual meeting held recently in Boston.
CT Histories Should Be Part of Decision to Image Again
Physicians should review a patient's CT imaging history and cumulative radiation dose to assess increased cancer risk when considering whether to perform another CT exam, according to researchers at Brigham and Women's Hospital in Boston and Washington University School of Medicine in St. Louis.
Their study included 130 patients who had at least three emergency department visits within one year in which they had a CT scan of the neck, chest, abdomen, or pelvis. The study was published in the April issue of the American Journal of Roentgenology.
"We gathered the recent CT exam histories for each of these patients and found that half had undergone 10 or more CT scans in the previous eight years, up to a maximum of 70 CT scans," said Aaron Sodickson, MD, PhD. "Using typical dose values and standard risk estimation methods, we calculated that half of our group had accrued additional radiation-induced cancer risks above baseline greater than one in 110, up to a maximum of one in 17.
"A patient's cumulative risk of radiation-induced cancers is believed to increase with increasing cumulative radiation dose. The level of risk is further increased for patients scanned at young ages and is, in general, greater for women than for men. There is no absolute threshold, however, and the potential risks of radiation-induced cancer must be balanced against the expected clinical benefits of the CT scan for the patient's particular scenario," he continued. "CT is a tremendously valuable clinical tool in a wide variety of settings and disease processes and, as a result, CT utilization has grown rapidly in recent years. Continued attention will be needed to keep radiation risks in check through a combination of technological advances, optimized imaging techniques, appropriateness criteria, and patient-specific risk/benefit assessments."
Study Examines CT Dose During Pregnancy
A 64-slice CT scanner delivers the most efficient radiation dose to pregnant patients with possible pulmonary emboli (PE), providing less risk to the fetus, according to a study performed at New York's Stony Brook University Medical Center.
Simulated pulmonary and pelvic studies were performed on humanlike phantoms to determine the estimated dose range for fetal exposure using CT scanners.
"The 64-slice is the most dose efficient when the fetus is outside the direct scan field for pulmonary angiograms," said Anthony Gilet, MD, lead author of the study. During the first, second, and third trimesters, the four-slice scanner measured 0.082, 0.077, and 0.067 cGy; the 16-slice scanner measured 0.054, 0.025, and 0.084; and the 64-slice scanner measured 0.032, 0.016, and 0.053.
"For all three trimesters, the 64-slice scanner imparted a statistically lower fetal dose than the four- or 16-slice scanners," Gilet said. "This is attributable to shorter scan times and less scatter radiation."
However, the results were different for abdominal exams. The 64-slice scanner for abdomen exams was 20% higher in dose during the third trimester than the four- and 16-slice scanners. "This is likely attributable to the increased energy utilized to penetrate the larger amount of soft tissue in late pregnancy," said Gilet. "Pregnant patients are always going to be at a greater risk both for PE and symptoms closely mimicking PE, so we will probably continue to do a significant number of pulmonary angiograms on these patients. These patients really need definitive diagnosis, and CT has shown to be the most accurate test at the most reasonable radiation exposure.
"Pregnant patients are also more likely to present with an atypical or clinically confusing case of possible appendicitis, so CT does play a role in diagnosing these patients. However, it is important to emphasize alternative modalities with less or no radiation dose. As MR technology continues to improve, it will likely take on a larger role in imaging during pregnancy," Gilet added.
VQ Scanning Reduces Patient Radiation Exposure
Educating physicians about ventilation-perfusion (VQ) scanning as an alternative to CT for the diagnosis of pulmonary embolisms led to a 23% decrease in patient exposure, according to a study performed at the Albert Einstein College of Medicine Montefiore Medical Center in New York City.
"VQ scanning is a nuclear test which shows blood flow to the lung and airflow. When there is a pulmonary embolism, the air can enter normally, but the blood flow will be disrupted, resulting in an abnormal scan," said Linda Haramati, MD, lead author of the study. "We are very conscious of radiation exposure in our population."

Collaborative and educational seminars were held among radiology, nuclear medicine, and emergency medicine departments regarding the radiation dose and comparable sensitivities of VQ and CT pulmonary angiography for pulmonary emboli. "The proportion of CT to VQ changed dramatically after our seminars. In 2006, about 60% of the studies were CT, while in 2007, about 60% were VQ. When we looked at radiation exposure, the mean effective dose was reduced by 23%, from 11.5 mSv in 2006 to 8.9 mSv in 2007," Haramati said. "CT confers a much higher radiation exposure than VQ scans. However, VQ scans are harder to interpret in patients with abnormal chest x-rays, so we, along with our emergency department physicians, have decided to perform VQ scans as the preferred imaging modality in patients with normal chest x-rays who were suspected of having pulmonary embolism in order to decrease radiation exposure."
Telerad Can Extend Colon Screening to Rural Areas
CT colonography (CTC) is feasible in rural health centers with the help of teleradiology, according to a study performed at the University of Arizona in Tucson.
Remote CTC was performed on 86 patients at two remote medical centers (343 and 337 miles, respectively, from the university). Technologists at the facilities performed CTC on the patients, and the data obtained were then sent to a local teleradiology server where they were uploaded to a CTC workstation and interpreted by an off-site radiologist.
"Out of the 86 patients who had CTC examinations, we obtained 77 technically satisfactory examinations," said Arnold C. Friedman, MD, FACR, lead author of the study. "In many remote health centers, there are not enough personnel and resources to use optical colonoscopy as a colorectal cancer screening test. Most centers have CT machines modern enough to do these exams but do not have the resources to perform optical colonoscopy screening. This is an excellent model for rural centers.
"Availability of CTC permits access to a robust method of colorectal screening for these rural patients. Using an existing teleradiology network is the most cost-efficient way to get the datasets for interpretation," he added.
Study: CTC Should Be Primary Colon Cancer Screening Test
CT colonography (CTC) allows radiologists to predict, with a high degree of confidence, whether a polyp needs to be evaluated through colonoscopy or removed through polypectomy, according to a study performed at the University of Wisconsin School of Medicine and Public Health in Madison.
The study included 479 patients with 739 CTC-detected lesions. "In our study, we found that when a clinically important polyp is found with CT colonography, a corresponding polyp will be identified at colonoscopy greater than 90% of the time," said Steven M. Wise, MD, lead author of the study. Results from the study show that 677 of 739 lesions (91.6%) detected by CTC were also found during optical colonoscopy or surgery.
"This means that when a radiologist calls a CTC exam positive, the endoscopist can be confident that a treatable polyp is present. The CTC exam can also show the endoscopist where the polyp is located," Wise said. "The results of this study add even more strength to the argument that CTC is an effective primary screening test for colon cancer that can be used to select out patients who will need colonoscopy and polypectomy. CTC is a good screening option for those patients who wish to avoid the sedation and higher complication rate associated with colonoscopy.
"The finding that the vast majority of polyps found on CTC do represent true polyps will help better establish CTC as a first line screening test for colon cancer in clinical practice. Hopefully, this will increase the number of people screened for colon cancer and therefore enable early detection and prevention of this deadly disease," Wise added.

CAD Improves Early Lung Cancer Detection
A computer-aided detection (CAD) method may help radiologists identify cancerous lung nodules at an early stage, according to a study performed at the University of Maryland Medical Center in Baltimore.
"In our study, we identified 88 nodules that were not detected at the time of interpretation but visible in retrospect and were subsequently determined to be lung cancers," said Joseph Jen-Sho Chen, MD, lead author of the study. "CAD was applied to the overlooked nodules, and we found that 45% to 55% of the missed nodules were found using the CAD software.
"The implication of our study is that it is possible that at least some of the nodules representing lung cancer might have been diagnosed at an earlier stage, resulting in early treatment and perhaps a better outcome," Chen said. "The complexity of the structures in the chest, including the ribs, mediastinum, and pulmonary vessels, can make it difficult to identify separate pulmonary nodules that may represent an early lung cancer from normal anatomy.
"Computer-aided detection can help radiologists by highlighting abnormalities that may be overlooked by the radiologist on an initial search," he continued. "The use of CAD may be particularly valuable in early lung cancer, where the findings are often subtle. We hope ultimately that studies such as ours will determine whether CAD should be adopted as part of the standard armamentarium for evaluating lung nodules."
Using CT to Evaluate Patients With Chest Pain Costs Less
Using cardiac CT to diagnose low-risk patients with chest pain is significantly cheaper—44% less than the standard of care—and can decrease the length of hospital stays by up to 20 hours, according to a study performed at the University of Washington in Seattle.
Fifty-three low-risk chest pain patients were compared using results from a cardiac CT-based workup and a traditional standard of care workup using nuclear stress testing. "Nothing was cut from the standard of care workup," said Janet May, MS, lead author of the study.
"The current emergency department standard of care workup for low-risk chest pain patients often involves serial cardiac enzymes, serial ECGs [electrocardiograms], and a nuclear cardiac stress test. Such a workup can take up to 30 hours and is expensive. The mean cost for the standard-of-care workup in this study was $7,597," May said. "With new, lower dose cardiac CT options available that lower the patient radiation dose, patients get a faster evaluation and are discharged much sooner with a cardiac CT—in less than six hours.
"Once you know the case is a low-risk patient with chest pain, the sooner the cardiac CT is done, the better. Speed results in cost savings without compromising accuracy," May said.