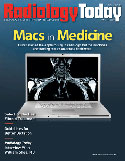 June 16, 2008
Radiology Today Interview With William Shea, MD —
Teleradiology and Coronary CT Angiography
Radiology Today
Vol. 9 No. 12 P. 24
William Shea, MD, is vice president of 3D imaging services for Idaho-based NightHawk Radiology Services, which recently launched its 3D imaging and coronary CT angiography (CTA) services. An imaging organization can contract for a complete turnkey solution, purchase preliminary or final reads, and utilize only the company's 3D reconstructions—or any combination in between—as dictated by the organization's specific needs.
Radiology Today (RT): NightHawk's CTA service is up and running. Would you describe what your company offers?
William Shea, MD: We're offering preliminary reads and final reports for those physicians who want to get the program going but don't have the reading experience at this point in time to offer the service to their patients.
We also offer postprocessing. What we're doing there is having our "supertechs" receive the entire data set from customers and then create a series of reconstructions using all of the different types of postprocessing that are available, such as surface-shaded volume rendering, maximum-intensity projections, and multiplanar reconstructions.
Once completed, the techs send those postprocessed data sets in three different directions. One is to our NightHawk physicians for an interpretation. The second is back to our customer so the images can be archived in our customers' PACS. And the third place is to our thin-client server. This allows both access by our physicians and enables our customers to log on to that server if they want to and do additional postprocessing themselves if they feel there is an area that they need to further investigate. So we are doing both the postprocessing and the interpretation of these exams.
RT: This is a new service. Do you expect what you've offered your customers to change?
Shea: I do expect it to change. With time and technology, the ability to use that thin-client server model will continue to improve and the capabilities will expand. That is the greatest area of change that we see.
Typically, our customers already have a workstation, which could be any brand. That customer would have the option of going to work the next morning, or Monday after a weekend, and loading the images onto their own workstations and doing their own postprocessing. Then they can compare it to the postprocessing NightHawk did. They also have that option of streaming off our thin-client server and working that way.
RT: Are you finding that facilities are coming to you to get in the game before they have all their people trained, or are they already up and running and seeking additional support?
Shea: The latter. Most of our clients have already bought a 64-detector CT, have bought a workstation, and have gone and learned how to do postprocessing and reporting of coronary CT. They've started to offer the service, but they don't have either the technical or professional support on a regular basis to fully maintain it. So if you have just one or two physicians who are expert at reading the exams, you're not prepared to provide the service 24/7. Or the facility may have a single tech do some postprocessing for them, but that person is not available 24/7. That is where we provide that valuable backup.
RT: So in most cases, NightHawk's role is providing expertise and additional capacity?
Shea: Correct.
RT: Going forward, that seems to be what the teleradiology model is going to be—or for that matter, the radiology practice. Groups will do their work and use teleradiology providers to support and augment their practice. Presuming they are good, capable groups at the beginning, they will move in that direction and it will become the modern practice of radiology.
Shea: I think that is an accepted stance.
RT: It's hardly an earth-shaking opinion.
Shea: Yes, but there is a shortage of radiologists, and there is an increasing demand for imaging at all hours. There is no "let's wait until tomorrow morning," it's "let's get the job done now." We are able to provide that support for our radiology partners.
RT: It also seems that for the foreseeable future, demand is going to far exceed supply. So if you are doing good work as a radiology group, you are going to be busy.
Shea: Exactly. It gives practices the confidence to expand knowing that if they get into a pinch they are going to have backup.
RT: So how has demand been so far? Is it about what you have expected? Have you struggled to keep up?
Shea: The CMS [Centers for Medicare & Medicaid Services] coverage determination that came out in December put a damper on the development of coronary CT for a few months. As I understand it, that determination has generated a significant reaction from the American College of Radiology, the American College of Cardiology, and even the legislation. When that coverage determination came out, things dramatically slowed down in our development.
In the United States, we spend a tremendous amount on healthcare and the outcomes aren't particularly wonderful. So I understand fully why we need to evaluate what we do and that we need to do it well.
RT: Most physicians agree on the rule-out side of coronary CTA, but there is a lot more debate on its accuracy for diagnosing problems. Does NightHawk have an eye on the cardiac screening market?
Shea: We do. We were involved with the High-Risk Plaque Initiative. Right now, the Framingham score is used to identify who is at risk of heart attack and stroke. That was developed by that large cohort of patients in Massachusetts in the 1950s, and it's been a great study.
But today there have been several other imaging modalities that have come along to evaluate the risk of stroke and heart attack. There has not been a study to evaluate those modalities. That's what the High-Risk Plaque Initiative is all about. It is a consortium that is going to take a large cohort of asymptomatic Humana patients and follow them for many years. Each one of the study patients is going into a large study where their lab work will be evaluated for biomarkers. They'll also have screening carotid sonograms, resting ankle brachial indices, and CT calcium scores. Those asymptomatic individuals that fall into a higher risk group are going into an imaging algorithm and get coronary CT and cardiac MR.
The scientific advisory council is incredibly impressive. When they designed the study, they realized that if they were going to do calcium scoring CT, coronary CT, and cardiac MR in asymptomatic individuals, any incidental critical finding, that critical finding must be interpreted and communicated to the primary care physicians and then acted upon appropriately for both ethical and moral reasons.
NightHawk ended up winning the contract to do exactly that. We expect to read approximately 6,000 calcium scoring CTs and 1,000 coronary CTs over the next 12 months. So the patients will be followed for many years and the data will be analyzed by the scientific advisory panel. This is a great example of a well-designed, highly prestigious screening study on the risks of heart attack and stroke. NightHawk has we have the infrastructure and the expertise to help in this study.
One last thing, just so we touch upon it, the radiation exposure has been an important aspect of the development of all types of CT and radiologic images. The manufacturers have really stepped up and lowered the radiation dose of these procedures. I really don't think the dose is going to be a major issue as we move on. I do think that the reimbursement is going to be a sticking point in the development. I just don't think the manufacturers are going to do the R&D [research and development] to improve the product if the reimbursement isn't going to be there and people aren't going to use the product.
RT: Are your coronary CT clients primarily new or existing clients?
Shea: We have 15 different contracts that are actively using our services now. [Shea said that represents less than 1% of NightHawk's client base.] Many of them are our full-service customers who want to take advantage of this service. We've also gone into contractual arrangements with entities that have never worked with NightHawk in the past that specifically want to develop cardiac CT. It's about a 50-50 split at this point and still in the nascent stages.
RT: Is there a certain kind of institution that is jumping in early?
Shea: We have a fairly broad group, but if I was going to highlight, I'd say we have the small, rural hospital on one end. They just don't want to lose the patients to other hospital systems in the region. And on the other end, it's the large medical centers that have the programs set up but don't have the technical or clinical expertise to provide it 24/7. It's sort of on either end of the bookends.
RT: If you have a small facility setting up a cardiac CT service, it's likely that they don't have the people and expertise to staff it 24/7.
Shea: Yes. We have contracts where we do preliminary reads when their expert is around. When that radiologist goes on vacation or is away, we do final reads. You can't wait for a week until he comes back.
RT: What about the turf issues? Are you reading for cardiologists?
Shea: I don't think it's an issue for NightHawk. We're an extension of our radiology partners' practice. We are not doing any final reads for cardiology clients. We're of the belief that the radiology and cardiology entities should work together and bring the expertise that each has to the table for the benefit of the patients. So we encourage that type of relationship and try to bridge any gaps that might be there. And it hasn't been much of an issue since taking that approach.
RT: It seems that as the baby boomers start to clog the healthcare system, radiologists and cardiologists are going to have to have each others' backs a little bit so all those patients can be seen.
Shea: I think that is a great way of looking at it. That's certainly our mindset.
RT: There is pressure on public companies to grow and return value to shareholders. How does that affect practicing radiology? At some point, will your growth put you in competition with practices that are now your clients?
Shea: We have administrative staff and an executive network that is expert at dealing with those pressures so that those of us involved with the practice of medicine and the development of programs can practice our expertise. There definitely are pressures that come with being a publicly traded company and you deal with them appropriately. But they don't change our goal, which is to make our radiology partner practices better and to improve care to the patient. Paul Berger, MD, our founder, is adamant about that.
RT: Is it fair to say that those competitive problems probably won't be a significant problem until supply gets closer to demand?
Shea: Yes, that's fair.
RT: Someday, when the market is a little closer to equilibrium, when a company is looking for growth, will it have to compete against practices it now serves?
Shea: That's definitely a long way off in radiology, and in providing medical care in general.
RT: The 64-slice CT lit the fuse to coronary CTA. How do you see the technology evolving and changing things?
Shea: Eventually we'll have flat-plate digital imaging and the speed at which we will be able to study large portions of the patient's anatomy will continue to advance. The dose and dose processes are going to continue to advance, reducing radiation dose to the patient. The computing capabilities are continuing to advance.
RT: Was 64-slice technology a minimum point of technology to really do this right?
Shea: Yes. You can do CT angiography and coronary CT with 16-detector scanners, but you have to be spot on in all your technical components in both the data acquisition and the postprocessing. There is no room for error.
Both 32- and 40-slice scanners are significantly better than 16-slice scanners. And 64-slice scanners are significantly better than 32 or 40 slices.
I believe that most of the local coverage determinants require 64-detector CT, and I think there is good reason for that supported by the literature. I think that with 16-detector CT there are too many segments of coronary vessels that are uninterpretable because of artifacts. You don't run into that issue with 64-detector CTs. At this point in time, all of our coronary customers have 64-detector CTs.
RT: Is CT a short-term or long-term tool for cardiac angiography? Is MR going to come along and take the job or will some other technology?
Shea: That's a great question. I've seen, over the years, CT and MR leapfrog each other … and in the heart right now, we are not able to visualize the coronary arteries. But cardiac MR gives us incredible evaluation of the myometrium and the valves.
RT: In an interview with Radiology Today, Ricardo C. Cury, MD, of Massachusetts General Hospital, said his view was that, right now, the technologies do different things well.
Shea: If you look at any division of diagnostic imaging, whether it's musculoskeletal, neuro, interventional, or abdominal imaging, each modality offers a complementary assessment of either the pathology or physiology of what's going on, and they don't replace each other. They complement each other. Will they come up with a way of cardiac MR that leapfrogs what we have now in coronary CT? Perhaps.