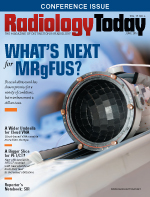 June 2016
Reporter's Notebook: SIR
Radiology Today
Vol. 17 No. 6 P. 16
Editor's note: This article is based on press materials provided by the Society of Interventional Radiology (SIR) in April at its Annual Scientific Meeting in Vancouver, British Columbia, Canada.
Research Shows Improved Sexual Desire, Function With Nonsurgical Fibroid Treatment
Women who underwent a nonsurgical, image-guided treatment, uterine fibroid embolization (UFE), for the treatment of uterine fibroids experienced improved sexual function and a higher overall quality of life. The research, part of a French multicenter study, presented at the Society of Interventional Radiology (SIR)'s annual scientific meeting, also found the vast majority of women treated with UFE sustained improvement for more than a year.
"Women with uterine fibroids often experience troubling symptoms and significant discomfort, which diminish their sex lives and reduce their quality of life. These symptoms include heavy menstrual bleeding, pain during sexual intercourse, pelvic pain, and back and leg pain," says Hélène Vernhet-Kovacsik, MD, the study's lead researcher and an interventional radiologist in the department of vascular radiology at Centre Hospitalier Universitaire in Montpellier, France. "Working in collaboration with a patient's gynecologist, interventional radiologists can now offer these women a treatment option which alleviates chronic pain within the female reproductive system and allows the opportunity to lead a full and more normal life."
Researchers from 25 centers throughout France conducted a prospective study involving 264 women who underwent UFE to treat benign fibroid growths. A common condition, fibroids develop in the uterine muscular wall, varying in size from one-quarter of an inch to larger than a cantaloupe. Most women with uterine fibroids also have more than one.
During UFE, an interventional radiologist makes a tiny nick in the skin in the groin or wrist and inserts a catheter into the artery. Using real-time imaging, the doctor guides the catheter into the uterine arteries and releases tiny particles the size of grains of sand to block the blood flow that supplies oxygen and nutrients to the fibroid tumors, causing them to shrink and die.
Study participants completed the Uterine Fibroid Symptom and Health-related Quality of Life Questionnaire (UFE-QoL) to report their quality of life before and one year posttreatment. The women were also asked to complete the Female Sexual Function Index (FSFI), a brief questionnaire developed for the specific purpose of assessing sexual function in clinical trials, to track their sexual function, including items such as desire, arousal, lubrication, and orgasm.
At the beginning of the study, 189 of the 264 women suffered abnormally heavy menstrual bleeding and 171 experienced pain, among other symptoms associated with pelvic pressure. When researchers followed up with participants a year after treatment, only 39 of those 189 continued to experience abnormal bleeding and only 42 of the 171 women still dealt with pelvic pressure.
Nearly 8 in 10 (78.8%) women who completed self-reported assessments at the one-year mark demonstrated improvement in sexual function, including pain, desire, arousal, and satisfaction—as measured by the FSFI. Additionally, about 9 in 10 (90.2%) women who completed the UFE-QoL assessment reported a better overall quality of life, with average scores increasing from 45 at treatment to 71 one year after. UFE-QoL scores range from 0 to 100, with higher scores indicating a better health-related quality of life.
"Through our expertise in performing image-guided therapy, interventional radiologists pioneered the treatment of uterine fibroids using this much less invasive technique. Compared to surgery such as hysterectomy, which requires significant recovery time and increases health care cost burdens, UFE gives women the opportunity to return to their daily routine as quickly as possible after treatment," says Marc R. Sapoval, MD, PhD, one of the study's coauthors and an interventional radiologist at Hôpital Européen in Paris. "My patients have told me their general well-being has improved because they are not as tired and feel less depressed because of the reduction in bleeding, pain, and the other related symptoms of uterine fibroids."
"The significant quality of life improvements demonstrated in this study should help put an end to any debate on the effectiveness of UFE and its numerous benefits for women with symptomatic fibroids," says Alan H. Matsumoto, MD, FSIR, FACR, FAHA, an interventional radiologist, a professor and chair of the department of radiology and medical imaging at the University of Virginia in Charlottesville, and an expert in minimally invasive treatments for uterine fibroids. "Although in use for more than 20 years, UFE is rarely offered as a treatment option to women in the United States, despite the fact that it is a proven, safe, and effective treatment that spares women from the risks and long-term consequences of a hysterectomy," says Matsumoto, who is also the SIR 2015–2016 president. ■
Treatment Eases Enlarged Prostate Symptom of Nighttime Waking
An innovative IR treatment for men with enlarged prostates decreases the number of times they wake to urinate in the night, according to research presented at SIR's 2016 annual scientific meeting.
Researchers said the majority of men with enlarged prostates and lower urinary tract symptoms reported better sleep that resulted in an improved quality of life after they underwent a treatment called prostatic artery embolization (PAE).
"Waking in the night with an urgent need to urinate, or nocturia, significantly disrupts the lives of men by preventing them from having a full night's sleep," says Sandeep Bagla, MD, the study's lead researcher and an interventional radiologist at the Vascular Institute of Virginia. "For many men, the cause of their discomfort is an enlarged prostate and these results show men can live a more normal life once they've undergone PAE to address this condition. For these individuals, PAE has the added benefit of being less invasive compared to other treatments and is performed on an outpatient basis, allowing many men to go home the same day."
Bagla and his team conducted a retrospective analysis of 68 men who had an enlarged prostate (benign prostatic hyperplasia or BPH) and lower urinary tract symptoms and underwent PAE at two centers: the Vascular Institute of Virginia and the University of North Carolina at Chapel Hill. The team examined patient-reported quality-of-life scores, ranging from 0 (delighted with their current status) to 6 (current condition is unbearable). Patients also used a seven-question symptom index from the American Urological Association (AUA) to report the negative effects of urinary symptoms, with scores ranging from 0 (not bothered by urinary symptoms) to 35 (very bothered by urinary symptoms). This analysis examined both scores before and after treatment, at one month and at three months.
Before treatment, patients reported having an average AUA score of 23.9 and average quality-of-life score of 4.8. They also indicated a nocturnal frequency of urination at 3.3 episodes. Follow-up with 46 of the original 68 patients was conducted one month after treatment. Improvements in nocturnal urination frequency, with an average absolute reduction of 0.85 episodes per night were reported by 25 of these 46 patients (54.4%). All 46 patients also reported an average 10-point reduction in AUA scores and an average quality-of-life score improvement of 2.1, indicating that their urinary symptoms bothered them less and their quality of life showed improvement.
At the three-month mark, 28 of the 38 patients (73.7%) who followed up reported an average reduction of 1.4 episodes a night. They also indicated a 13.4-point reduction in AUA scores and a 2.8-point improvement in their quality-of-life scores.
In PAE, a catheter is inserted into the femoral artery and guided to the prostate artery on both sides of the enlarged prostate gland. Once positioned next to the prostate, the catheter is used to deliver microscopic spheres to block blood flow, causing the prostate to shrink.
Bagla notes that interventional radiologists are the specialists best suited for the performance of PAE because of their knowledge of arterial anatomy, experience with microcatheter techniques, and expertise in other embolization procedures.
"Many of my patients who have undergone PAE have told me that reducing the need to go to the bathroom at night has improved their daily lives by reducing sleep deprivation, which takes a toll," Bagla adds. "They're able to enjoy their daytime activities—including quality time spent with their family and friends and hobbies. They have even noticed increased work productivity. Anecdotally, patients who show signs of a better quality of life three months after the treatment appear to continue their progress two or three years after undergoing PAE."
While this research demonstrated that PAE resulted in the reduction of nocturia for men with lower urinary tract symptoms and BPH, Bagla notes that the treatment may not completely eliminate nocturia. Men should speak with their interventional radiologist and other members of their health care team if additional treatment options are needed.
Bagla's study is the latest in a series of rigorous scientific studies that found PAE to be a novel and promising therapy for the treatment of enlarged prostate, showing benefits toward quality of life improvement.
The performance of this and other high-quality clinical research to expand the numbers of patients studied and to extend the duration of follow-up is vital to developing a definitive comparison of PAE with existing surgical therapies. ■
Potential New Intervention Emerges for Morbidly Obese Individuals
A safe, new, minimally invasive treatment, developed by interventional radiologists, led to sustained weight loss in severely obese people, according to research presented at SIR's annual meeting.
Researchers said the treatment—bariatric arterial embolization (BAE)—could offer individuals a viable, safe alternative to surgical weight-loss treatments.
Researchers designed the Bariatric Embolization of Arteries for the Treatment of Obesity (BEAT Obesity) pilot clinical trial to evaluate the safety and effectiveness of BAE as a minimally invasive, image-guided treatment option for obese people struggling with weight loss.
"These early results demonstrate that BAE appears to be effective in helping patients lose a significant amount of weight in the short and intermediate term," says Clifford Weiss, MD, FSIR, an associate professor of radiology and radiological science and director of IR research at the Johns Hopkins University School of Medicine. "Compared to a surgical gastric bypass procedure, BAE is significantly less invasive and has a much shorter recovery time."
BAE targets a specific portion of the stomach (the fundus), which produces the vast majority of the body's most powerful hunger hormone, called ghrelin. BAE is performed exclusively by interventional radiologists, who use image guidance and catheters to access the specific blood vessels to this portion of the stomach through a small nick in the skin at either the groin or wrist. The physician then injects microscopic beads to decrease blood flow to that portion of the stomach, thereby suppressing some of the body's hunger signals, leading to reduced appetite and weight loss.
Weiss and his team enrolled seven severely obese, but otherwise healthy, adults with a body mass index (BMI) ranging from 40 to 60, far above the obesity threshold level of BMI of 30. The researchers worked collaboratively with a multidisciplinary team that included weight loss physicians, hormone specialists, gastroenterologists, and surgeons. All study participants were enrolled in the Johns Hopkins Weight Management Center so they could understand and implement critical lifestyle and diet changes before and after the procedure. After the treatment, researchers tracked the subjects' weight loss, ghrelin levels, hunger and satiety assessments, quality of life (using surveys), blood pressure, and adverse events at one-, three- and six-month marks.
In these first seven patients, bariatric embolization was safe, with no major adverse events. All patients demonstrated weight loss and dramatic hunger reduction levels after the procedure. Ghrelin levels trended down, and quality-of-life scores improved.
In the first month following BAE, participants had an average excess-weight loss (the percentage loss of the pounds above the patient's ideal body weight) of 5.9%. After six months, the participants' excess-weight loss increased to an average of 13.3%.
"Obesity is a highly prevalent, detrimental, and costly disease in the United States and abroad," Weiss says. "Currently, interventions to treat this condition include behavioral modifications, diet and exercise, medications, and surgery. We're excited about the promise of bariatric arterial embolization as another tool for health care providers to offer patients in the effort to curb this epidemic. As this study expands and includes more patients, we will be able to gain more insight into the efficacy of BAE and the role interventional radiology can play in the critical battle against obesity."
Weiss stresses that this research is still in its early stages. Now that the safety of this procedure has been demonstrated, more clinical trials are needed to evaluate larger numbers of patients to determine the treatment's efficacy and durability over time. ■