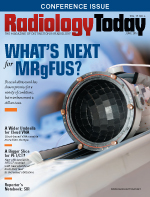 June 2016
Imaging Informatics: In Your Back Pocket — App Helps Determine the Best Radiological Exam
By Dave Yeager
Radiology Today
Vol. 17 No. 6 P. 27
Ordering the right test at the right time is one of the cornerstones of value-based care. Determining what that test may be can be challenging, though. To help take the guesswork out of ordering imaging tests, Winnie Tsao, MD, a third-year resident in the department of family medicine at the Jacobs School of Medicine and Biomedical Sciences at the University of Buffalo, has developed Radiology Consult, a mobile app that helps primary care physicians and trainees determine the most appropriate medical imaging test at the point of care. Tsao says she had doctors in clinic settings in mind when she conceived the app.
"As you're going around seeing patients, time is of the essence, and you also want patients to get the best care," Tsao says. "You never want to send a patient for a test and then, a month or two down the line, find out that the patient needs more testing and you still haven't been able to determine a diagnosis. It's frustrating for the patient, it's frustrating for the doctor, and it's a burden on the health care system because you're wasting health care dollars by inefficiency."
The app is available for Apple products, but Tsao and her collaborators plan to release an Android version as well. Tsao got the idea for the app from Cost-Effective Diagnostic Imaging: The Clinician's Guide, a textbook that was written by her onetime professor and eventual collaborator, Zachary D. Grossman, MD, FACR, a professor of radiology at the State University of New York at Buffalo (SUNY Buffalo) and the chair of the diagnostic radiology & nuclear medicine department at Roswell Park Cancer Institute in Buffalo. In addition to Grossman, Tsao developed the app with Peter Loud, MD, an associate professor of radiology at SUNY Buffalo; Ronald A. Alberico, MD, an associate professor of radiology at SUNY Buffalo; Douglas S. Katz, MD, FACR, a professor of radiology at SUNY Stony Brook; Jiang Yio, MD, MBA, a first-year resident at Catholic Health System in Buffalo, who wrote the code for the app; and Anna Rich Waller, a fourth-year medical student at SUNY Buffalo.
Climbing the Tree
Radiology Consult provides workup steps for 34 medical conditions, such as acute chest pain, acute head trauma, bone metastases, pleural effusion, and stroke, as well as selected etiologies for some of the conditions. The topics are organized alphabetically and by organ system: neurologic, respiratory/pulmonary, cardiovascular, gastrointestinal, renal, genitourinary, hematologic/oncologic, endocrine, infectious disease/immunologic, and musculoskeletal. Decision trees point the user toward the relevant information, which can typically be accessed in two or three clicks.
"It gives them what we think is the next best test to work up the chosen condition," Tsao says. "By 'best test' we mean that it is the next logical step in diagnosis, but it's also the most cost-effective next step. Our thought process was to try to find a compromise or a happy medium between time-to-diagnosis and cost-effectiveness."
Does the patient have an acute gastrointestinal bleed? If the patient is an adult, the app recommends a Technetium-99m-labeled red blood cell study as the first step, unless the patient's blood pressure is unstable. In that case, it suggests conventional angiography or possibly surgery. What about acute spine trauma? Radiology Consult says an X-ray of the affected spine region is usually the first step, but a follow-up CT or MRI may be needed, depending on the patient's symptoms and X-ray results. The app also lists the strengths and limitations of each test so the attending physician can better determine the appropriate clinical action.
"For example, ultrasound is a great noninvasive test that can provide imaging inside the abdomen, but it also depends on the ultrasound tech to be able to get the right angle to give you the answer you want," Tsao says. "Or where your bowel is lying in your belly might be obscuring what you're trying to find, in which case you go on to a different test."
Preprocedure preparation sections are also included for certain tests, such as PET scans. The preprocedure sections provide information about what patients need to do or avoid to prepare for a test and ensure that it produces the most accurate result possible. In addition, the preprocedure sections provide information about how to proceed with patients who have previously had allergic reactions to contrast media. Although contrast media should be avoided in patients who have had a severe reaction, Tsao says premedication may be helpful for patients who have had mild allergic reactions.
Tsao and her colleagues would like to expand the scope of Radiology Consult in the future. She says it may eventually include additional topics and allow them to be typed and searched. For now, doctors can use the app for some of the most common medical conditions. Tsao hopes that it provides a basis for doctors and patients to choose the best possible test.
"We can talk to them about the likelihood that this test will give them the answer or that it may not, in certain instances. How does the patient feel about going for a test like this? It's a collaborative process, when we decide to send a patient for a test," Tsao says. "The ideal test would give you the answer right away, but that doesn't always happen in the real world. There are limitations, and that's something that's helpful to discuss with patients."
— Dave Yeager is the editor of Radiology Today.